Apollo Tramplr ST Review: Going Beyond Sameness? 1st impressions
October 17, 2022
Apollo Tramplr ST Review: Introduction
Apollo Tramplr ST tyres are a product that you wouldn't really have quantifiable access to. The reason is simple – short quick reviews that barely scratch the surface on the subject. With a personal and keen interest in the dual purpose tyre segment we simply went and bought a set for ourselves. To make this more interesting we bought a size that fits most of the motorcycles in the 150cc motorcycles and above segment 100/140 setup. We added this setup to a first generation 2012 Bajaj Pulsar NS200.
As on date the Bajaj Pulsar NS200 is a decade old. When the tyres took over the reins from the MRF tyres running a 110/140 section setup it clocked just 92,800 kilometers. Given that the Bajaj Pulsar NS200 was given a re-birth in the BS4 Avataar with a bigger product portfolio, the NS 200 can be directly analogized to the likes the Toyota Innovas. Well, before we digress let us get acquainted with the Apollo Tramplr ST.
Proluge – Apollo Tramplr ST Review
As a motorcycle, the Bajaj Pulsar NS200 has:
Launched initially as a Naked sports motorcycle, it became a popular touring motorcycle
Enjoys exclusivity with one of India's largest owners group – The Naked Wolves, which is present outside India too.
Resurrected in the BS4 Avataar owing to its popularity in a special TVC by Bajaj Auto & Naked Wolves
Moved up to speed with the BS6 compliant specifications
Spawned to the lower ranks with the Pulsar NS160 & NS125
The Why? Apollo Tramplr ST Review
Dual purpose tyres for the  2012 Bajaj Pulsar NS200 motorcycle
Currently at 92,000 kms awaiting immediate replacement, prior set being a 110 front & 140 rear tyre.
The stock setup is 100/130, over the last 10 years the 110 & 140/150 combination has delivered better handling
Additionally the offering overall better performance with minimal impact on mileage or engine stress.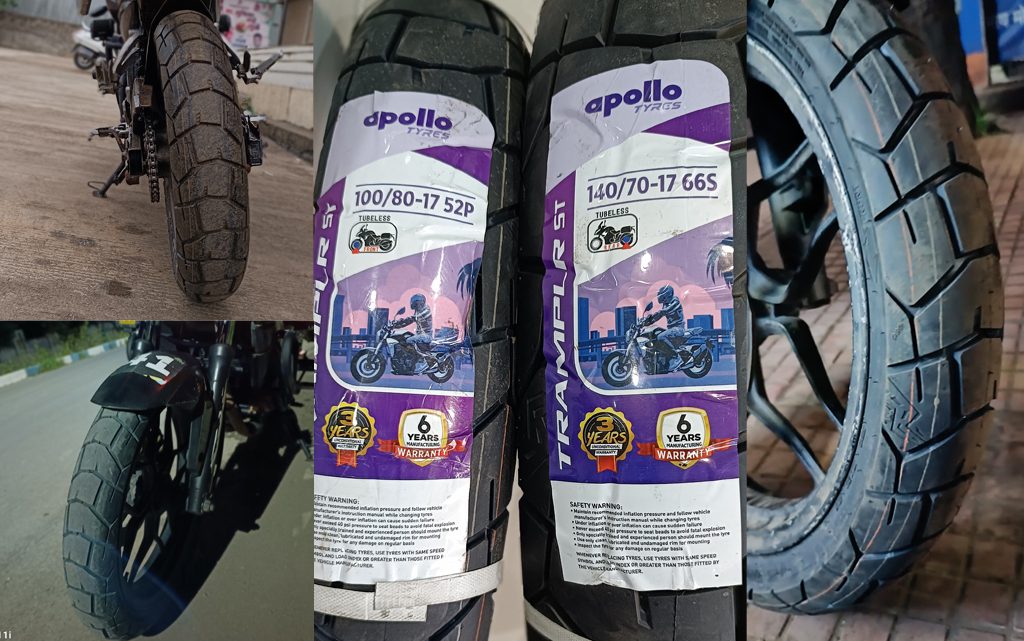 Apollo Tramplr ST Review: Chapter 1- DE Breakless
Riding without brakes is like shooting fish in a barrel. For that matter riding without either is a much a concern. Add to this, the front setup on a non ABS braking system needing a replacement. Owing to getting the right parts from the authorized sources took some time. Even more importantly, getting the new parts installed correctly.
The few days between post replacement of the new tyres and installing an all-new rotor, master cylinder and new brake pads allowed us to test the mettle of the new tyres. Specially, when your braking style is front focused with a 70/30 to 60/40 ratio. Stay rest assured that, the front brakes were operational at 40% efficiency. Keeping the gap between traffic and not sliding indeed, made easy by a set of tyres that just started its break in period.
Apollo Tramplr ST Review: Chapter 2 – The Urban Jungle
Cruising through the Peths of Pune – the heart of the city meant unexpected motorist with super-human skills darting out of nowhere and bylanes riddled with obstacles and potholes in places you would least expect. Yes, it does take time to adapt to a narrower 100 from the 110 that I've been using for over five years now. Sans abs, with an all-new front braking system in place these tyres do not let you down. Was I surprised? Yes, pleasantly.
Apollo Tramplr ST Review:Chapter 3 – Ride the rain
Expecting the unexpected rains, not so expected especially when you are carrying your rain gear and have a new "rain compatible" helmet to help see you through. But then again, the rains of Pune this season are anything but forgiving. Driving through your rainwear and wanting to pierce through the riding jacket the storm drops lay determined to keep most motorists off the road and the potholes at full capacity.
Yes, a ten year old motorcycle can potentially stall should you miss your footing in waterlogged locales. No, we won't paint such graphic images. Suffice to say the Apollo Tramplr ST tyres, although barely 300 kilometers old and facing its first downpour seemed at par with most of its compatriots from competing brands.
From Slick stones to slush and unexpected braking maneuvers the tyres took it all without the fear of skidding of the road. Also, as a bonus we ran through a railway underpass dodging footpeg deep slushy waters. Here too, the tyres went straight through without much of a fuss. Ideally, one would expect some slipping and sliding owing to the grooves filled with muck. However, it just went through without a fuss.
Apollo Tramplr ST Review: Chapter 4 – Because babies sleep at night 
Taking the October heat into consideration we decided to meet up with our friends from The Lycans Pune. Pre-Diwali season weekend, well how bad could the traffic be? Bad enough, but hot high enough to keep the camaraderie spirit low. Darting through the urban landscape we arrived at our destination. A few rounds of Parathas and discussions and the motorcade was ready.
From the Sus Pashan road exit we got on to the Mumbai Bangalore bypass to reach Somatane Phata – to meet the old Pune – Mumbai highway. For a short yet quick run, this route is ideal. A six lane highway laden exits and a service road for the most part. After all, babies sleep at night and truckers drive through it. To, our surprise the heavy vehicle traffic was more than expected, no?
Right at night has its own hazards:
Sleepy motorists veering off the road
Unexpected potholes catching you off guard
Sudden maneuvers or braking by heavy vehicles
Poor visibility due to factors like bad stock headlights, weather conditions and no street lighting
Indeed, we met some of these conditions at night. However, the Apollo Tramplr ST holds the road and does give you the ride comfort of a "premium tyre" made by an international tyre. Be it reflex induced lane switches or sudden braking the motorcycle fails to flinch. Icing on the cake –  allowing the motorcycle to be stable at 130 kmph and yet stay in control sans ABS is definitely noteworthy.
Apollo Tramplr ST Review: Chapter 5 – Lavasa, The motorcyclist's Paradise
India is a diverse country with diverse terrains and geography. To get a dipstick measure of a motorcycle or a product related to motorcycles one needs to spend enough time before forming an opinion – be it in favor or against.
Lavasa – The holy ground to motorcyclists
Those who have honed their cornering skills and today are established track racers
To those who aspire to join the ranks of track racers
Nevertheless, post lockdown a handful of riders who hold a deeply rooted connect make the pilgrimage to this place. One of the major factors being the road conditions. The road to Lavasa is pothole ridden and sand glazed for most part of the journey. Miscalculate and its a drift to the ER room. Well, this state of disrepair enroute makes for the perfect premise.
Ride Sunday to Lavasa
Riding down the Mulshi landscape with a large motorcade in a single line formation maintaining a constant pace and dodging potholes is a different experience. Adding to this, the ascent to our destination allows for the tyres to perfectly set in and shave off some chicken strips. Yes, this isn't a typo error. The Apollo Tramplr ST tyres are not just good for off-roads but they also are as good in corners too! With every bend the handling confidence just grows, so what if there are bad roads? The motorcycle just glides smoothly without a fuss.
Apollo Tramplr ST Review – Going beyond Sameness?
Does the Apollo Tramplr ST tyre allow the rider go beyond breaking the monotony or limitations as compared to stock? To answer this – Yes, it does. The Apollo Tramplr ST is a dual purpose tyre that allows your motorcycle to break its standard form and take it where you wish to.
Additional notes – Apollo Tramplr ST Review
Unlike, the standard 29,front and 33,rear – PSI used on the earlier MRF 110/140 setup we used the stock configuration.
After all, this time around the tyre size 100/140 is almost close to stock – 100/130. Thus, for the ride to Lavasa and the night before we used 25F and 32R PSI.
Given, that as a city Pune has hotter days and cooler nights for the winters we are going with air rather than opting for nitrogen.
Why 100/140 – with the exception of some, most motorcycles in the 150 -200cc come with this setup. Thereby, we opted for this sizing so as to give a fair idea to those motorcyclists who are considering the Apollo Tramplr ST for their next set of tyres.
Yes, we will be adding a list of motorcycles in this article soon that fit in this sizing bracket.
Apollo Tramplr ST Review: Acknowledgements
We would like to thank the Dealer for Apollo Tyres – Ashok Tyres – Super Zone
Address: No 28, Shankar Sheth Rd, near Vega Centre, Swargate, Pune, Maharashtra 411037
Connect with them on WhatsApp here or call them on +918291087807
Connect with them on Instagram
Also, Subhash Motors – our partner for the assistance with installation of the tyre
Shop no-4,5 , Tirth Kunj Apartment opp HDFC bank,
Aranyeshwar chowk city light bakery lane, Maharashtra 411009
Motolethe Home