Bajaj Dominar Polar Odyssey – #WithlovefromZana
August 2, 2020
It is not commonplace to write about what is trending in the "everything but a motorcycle". Today we take a closer look at the Bajaj Dominar Polar Odyssey. The Bajaj Dominar 400 is here to dominate the night. However, with its launch:
The Dominar ventured into territory of pachyderms.
It's DNA is blended with a sage of rage of sorts.
In its own right the motorcycle is a niche product
It can be a time traveler in the world of motorcycles.
A wait and watch game is now a new land of opportunity.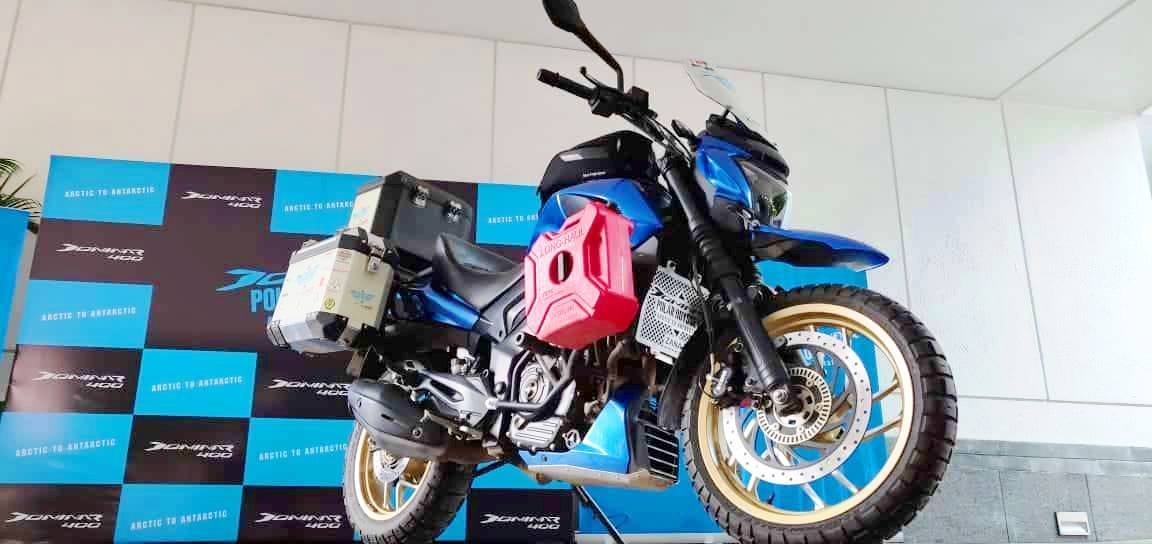 Arctic to Antarctic!
The advent of the Bajaj Dominar 400 is a new wave of  –
motorcyclists,
Video loggers and
entrepreneurs too.
With the hyper riding concept, Bajaj Dominar conquered terrain and territory with finesse like no other.
This, under the aegis of seasoned motorcyclist Mr. Deepak Kamath ( on the Trans Siberian Odyssey about a year ago.)
The stupendous success story is just a Google hunt away.
The current generation Bajaj Dominar 400 is en-route to the first ever historic journey. This is to go from Arctic to Antarctic!
For this journey not just planning and logistics or a plethora of connected activities are at stake. But, also an ample amount of love! Yes, as astounding as it may sound if you study the journey of this odyssey you will see the love for motorcycling. This is not just from the riders but is from every individual connected. After all, joy is love when it's shared, isn't it?
The was word on the street is about a forthcoming ADVENTURE BAJAJ DOMINAR 400. This is if the rumors are to be believed. So we decided to tune in to the real story of this.
The details is something like this:
Three BONE Stock Bajaj Dominar 400 – each in the colours currently available in the market
Aftermarket tyres procured specially to suit the terrain
Specially designed rider seat for this journey
Touring set up of accessories for the journey
There are many stakeholders connected to this project. Today we are going to talk about one of them. Those behind these aesthetically handsome yet stylish head turners that you see in the photograph below. We are referring to the motorcycles!. The touring modifications are by Zana Motorcycles. Some of the items are first in its segment. Also, at this point of time the only 3 built in the entire country! Now when you are working with Mr. Armstrong, anything first in "class" or "segment" can be expected.
ADVENTURE DOMINAR – No?
Incidentally this piece of work is a first of its kind where we will talk about:
The Polar Odyssey Dominar is not an "ADVENTURE DOMINAR" as mentioned elsewhere in cyberspace.
Indeed this act of omission gave us an opportunity to bring the readers and not just Bajaj Dominar owners closer to these motorcycle's setup process, in a way.
A long drawn conversation that will otherwise require a tappit banging ride of over 2000 kilometers. As an option, a boarding pass to get this story from the manufacturer.Thankfully these options are sidelined. Thus made possible courtesy the responsiveness, patience and #zanalove. This was evident in its exhaust note (READ – tone of conversation).
We do thank Team Zana for their time and patience in answering all our queries to build this piece of prose.
Without further Ado we give you a list of the accessories installed on the Dominars for this journey. Yes, we have kept the words close to original. The technical jargon are in the words of the manufacturer so as to maintain its originality. For further reading we have provided a link to the story below and a link at the end to the Bajaj Auto website.
For those of you who wish to connect with Zana Motorcycles we have listed the platforms that you can connect with the team.
Crash Guard
The Set of crash guards mounted on the Polar Odyssey Bikes are the tried and tested legendary design. This is already in use by most of the Bajaj Dominar 400 riders across the country.
It is made using the most robust of materials and welds.
Accompanied by CNC machined sliders made using Du Pont Polymer. This has proven time and again its capabilities.
The design saves the petrol tank, the radiator and much of the engine casing
It also, incorporates Jerry cans on both the sides (5 Liter each side)
Top Case Rack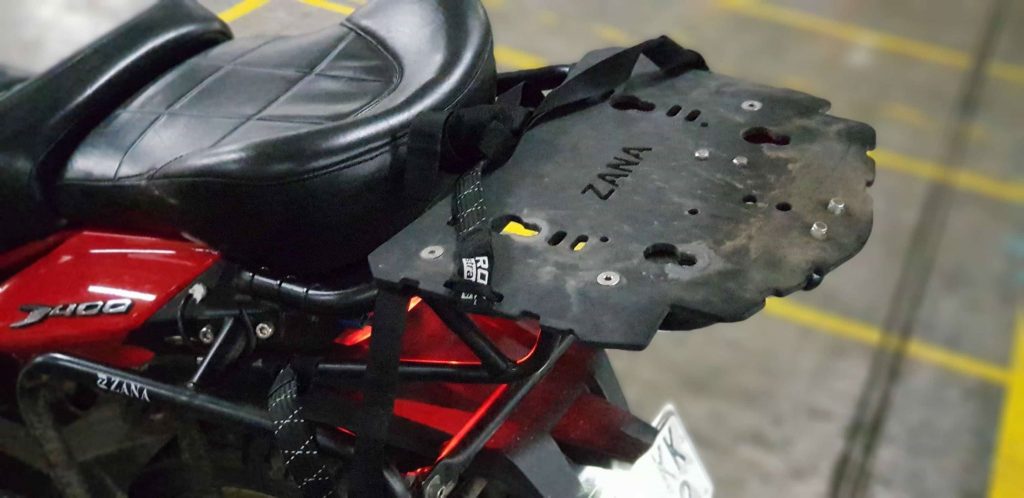 The Type 3 top case rack is made by Zana Motorcycles
The plate on the rack is a 6mm 6082 grade aluminum specially cut to hold the mounts and the locking mechanism for the top cases.
It is tested for 30 Kg loads on good terrain.
Bajaj Dominar Polar Odyssey challenges Zana to test the same in the worst of terrains as well.
Side Pannier Racks
These racks come across as simple metal tubes. They are the most critical in the whole luggage setup.
They are mounted on the same brackets being used by Zana for their current saddle stays.
However, they are trip reinforced to carry the weight of 6 Kg Pannier boxes.In addition to 10-12 Kg of luggage inside bringing it to approximately 20 Kg of load each side.
The reinforcements keep the vertical and lateral movements under control. This, under huge loads at the toughest terrains on earth that these motorcycles will be thrown at.
Radiator Grill
The all aluminium ultra-light weight Aluminium Grill is a direct bolt on. It sits on the standard Dominar radiator.
Designed to dissipate heat in the most efficient manner, it is approved by Bajaj Auto R&D Department.
It has proved its worth as shown in the pictures.
The design is a blend of optimum window size and wall size to keep stones and debris at bay. Also, it allows the radiator to breath and keep cool.
Handle bars with GPS/Phone/Go Pro Mounts
The FIRST IN CLASS and FIRST IN SEGMENT handle bar by Zana Motorcycles.
They bring in the same riding position as available on original handle bars.
Vibrations are further minimized by additional dampening.

Incorporated

 

into

 

this

 

mount is a 

GPS/GO Pro mount 

that

 

can

 

mount

 

any

 

type

 of 

mount

.

Purpose-built to house a big screen phone and at least two movie cameras.
Camera Mounts
The last, but the most prominent items mounted on the crash guard is the Fog Lamp/Camera Mount.
Developed by Zana International, for maximum grip and stability.
To keep the rider's precious equipment like cameras and fog lamps, vibration free.
Du Pont sourced material used.
To know more about the Bajaj Dominar Polar Odyssey Click on the link below:
Bajaj Dominar on its way to world's First Polar Odyssey – Arctic to Antarctic
About  – ZANA INTERNATIONAL
Founded in 2001, Zana International is dedicated to providing high-quality and world class Motorcycle accessories, products and services in the TWO WHEELER INDUSTRY.
 Zana is India's leading manufacturers of Royal Enfield and luxury motorcycle accessories in India. They also export their motorcycle accessories to many countries like:
USA
Singapore
Spain
UK
Australia
Philippines
Portugal
  They understand that motorcycling or long distance touring on a motorcycle is not just a sport or hobby. It is a lifestyle choice. Zana motorcycles thus makes the experience of motorcycling all the more safe yet stylish for motorcyclists. They have on offer a wide range of patented motorcycle accessories. Customer satisfaction is paramount. They endeavor to deliver only the best for the motorcycling community.
 They have customized accessories for the top brands of motorcycles like: 
KTM
Royal Enfield
Kawasaki
Harley Davidson
Triumph
Bajaj Auto
Yamaha
Honda
They believe in continuing their efforts in providing a vast range of premium quality motorcycle accessories at competitive prices.
To connect With Zana Motorcycles:
EMAIL
HAVE A QUERY? Click here to drop them a line
You can also reach them at 

9953112277 

(

Call in orders- Mon -

 

Fri : 10.30 AM - 6.30 PM)
SHOP No. 4 Building number 2290, Arya Samaj Rd, Opp Bikanerwala, Block 25A, Beadonpura, Karol Bagh, New Delhi, Delhi 110005