RRGear Raptor jacket review
February 7, 2017
RRGear Raptor jacket review – A complete wash-out
With mounting costs and an ever-increasing demand for riding apparel it is indeed a challenge for manufacturers to go a notch above. Not all budding motorcyclists are cash rich individuals with gallons of fuel to burn. There are however some individuals who want to pursue this hobby. They are on a budget that limits their costs. The RRGear Raptor jacket review will explore the possibilities of owning a pocket friendly and robust option.
The RRGear Raptor jacket review – Cost of ownership
Just like its name – the RRGear Raptor riding jacket takes a jawful of the piggy bank. It walks over big names in the industry not because it cost 4500/- to own one.  But more so it is beyond itna paisa mein itnaach milega. Its is also adding utility and sense of design too its main purpose. It is a mesh jacket with a water resistant liner that has served it due purpose during the chills of winter too.
Typically the jacket application is as follows:
A daily use jacket since the average commute distance covered is about 100 kms
Weekend touring apparel for short trips
Used for an interstate ride that covered 1200 kms in about 48 hours
A storage solution for everything from a power bank to vehicle documents
Side pocket that are seemingly spacious to stuff a mobile charger, a few cables, earphones etc.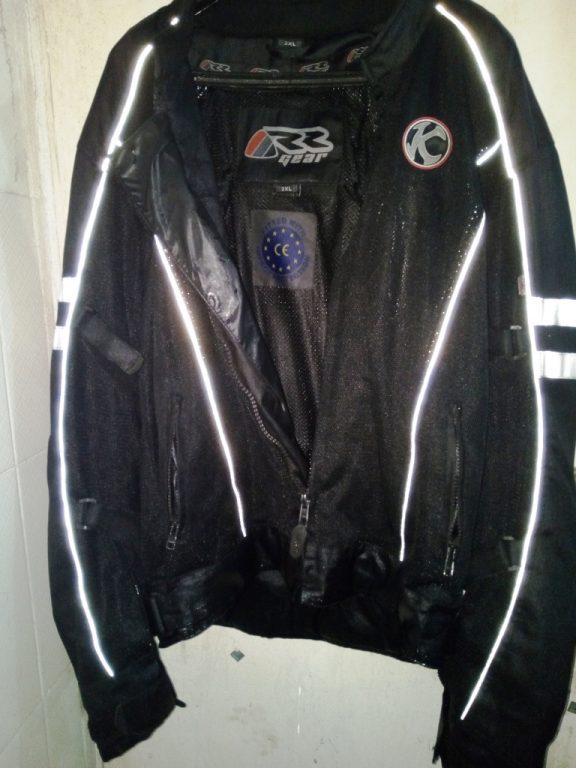 Front View – Open zipper.  Do take note of the attention to detail and branding here. The raptor also sports the "CE label". The XXL tag also doubles up for way to open the Velcro pocket that houses the back-protector.
Front View – closed zipper. when all "zipped up", the jacket gives a slim fit look and feel. Also seen are the Velcro- retainers that keep the arms from fluttering. Interestingly all pockets are accessible with gloves on and the main zipper too.
Rear View – In case you were wondering why the reflective panels are not mentioned earlier in this review. It has been saved for this very picture. On the 1200 kms trip that took us from Pune to Goa on New Year's Eve 2016 my fellow rider was able to track me due to these reflective panels. That too, in spite of a backpack that was strapped onto the rear seat of the Pulsar 200 NS. When asked him why so? It was then when we realized that the tail light had stopped working. The "ARC" on the back served as a beacon for him to track and follow me on the highway.
"Tags" Close up View – The flap is easy to access in case you do decide to give this jacket quick wash.
The washing process
Am sure you are wondering where these pictures are taken. The jacket is washed using 2 buckets full of hot water. And each time allowed to soak until the water stopped to change color (The back protector is removed before wash). The excess water drained out before the next fill. It was then hung up in the bathroom to drain the excess then kept in the bedroom to dry. Just to test how soon it dried, It was taken off the hanger about two hours from wash, with the back protector in place the jacket added a cooling effect to the Sunday evening heat.
The RRGear Raptor jacket review – Conclusion
Thus the jacket was washed and before I know, was out of the house wearing the same washed jacket. Indeed a great wash – out (wash and wear on your way out). Summing the review up, the jacket is the ideal choice for use in summer. It dries quickly and fits the budget while giving the added safety and yes Utility comes as an added bonus!
RRGear Raptor jacket review  2022 update
We understand there is also Hi-Viz Yellow available on Amazon as on date (do check for availability & sizing)
RRGear Raptor jacket review piece was purchased from:
  Vendor partner Probiker Helmets (click here to visit them on facebook).  
We thank them for their continued support to make biking a pocket friendly hobby for all budding enthusiasts.