The Sagar Sheldekar Story – Motolethe Valentine's Day Special
February 14, 2018
"Badan Pe Sitaare Lapete Hue" a song that is as flirtatious as it can get. With the legendary Late Shammi Kapoor crooning over the voice of Mohd. Rafi Sahab it is "poetry in motion". The month of February marks not just the advent of the onset of summer. It in fact, is also a week that leads up to Valentine's Day. The Sagar Sheldekar Story is phrase and a story in itself. NO?
Keeping in with the time and theme it is but right without further ado to bring on board Sarge.
The profound presence of an earth shattering background score that brings to the celluloid an almost vertical engine block mounted on two wheels. The rider is setting the road on fire with his knee sliders. All this while, he gives his audience a breathtaking review of the motorcycle in question. Now that is poetry in motion. As agile as Bruce Lee yet with the grace of a ballerina in every frame. Sagar Sheldekar holds captive the audience's heart beat with every reflex of his slick and flawless maneuvers.
After keeping the motorcycling enthusiasts glued to the screen ever since he began doing so, not too long ago he stunned us with the news of him setting a foot for another course. This move, after bidding goodbye to the #PDArmy. There indeed have been and probably to come many a presenter on a global level. However, in the time he has gained dominance if there is anyone who could break or set a new record would be Sarge himself.
Team Motolethe with the man himself over a first ever Audio interview with the questions as follows:
So crank up that volume there's a SURGE (Sarge) on the way !!
1. As per our sources we understand that you begin your tryst as a presenter somewhere in 2013, however prior to that you were a corner carving fiend, how did your association with motorcycling begin?
"The Sagar Sheldekar Story" began over 7 years ago with Power To The Rider (Powerdrift). However, his first experience with motorcycling was when he was taken on a trip to Mahabaleshwar by his elder brother. On the descent his brother was cornering his Hero Honda CBZ all the way down the ghats. Sitting behind, the fully geared up Sagar at that point of time was scared to the extent that he thought his elder brother wanted to kill him! Somewhere in the middle the adrenaline rush got the better of his fears and he began to enjoy the descent with every curve that came its way.
2. Tell us about your first motorcycle
He got his first motorcycle, the Yamaha R15 honed his skills at the California Superbike School. In time to come he started racing on the the racetrack. The Yamaha R15 had him hooked from the first time he glanced upon it. A game changer in ever sense, a fuel injected 4valve miniature R6 and a complete package to master the art of cornering for Sagar. In short – A beginner's race motorcycle.
3. If you had to bring back a motorcycle from the past it would be a _________
Being an optimist he looks to the future that reminisce the past. While he has had the honor to ride the best of motorcycles ever, he does however really look forward to the future.
4. If you were not a motorcyclist (as you are today) you would have been a _________
A lifeless soul, prior to motorcycling and was into other non motorcycling pursuits. But nothing compared to his life (career) when he is with a motorcycle. He is a successful entrepreneur of his firm, but is best when it comes to speaking the languages of motorcycles.
5. We hear that you have spent some time on the track as an athlete can you shed some light on those days spent on track
The first race he took part in, the Yamaha one make championship was a "stay over" according to his folks at the beginning. Four days spent at the track egged him to sharpen his skills. That is when he attended California Superbike School. He attributes his skill set to all the 4 courses that paved way for the rider that he is today.
6. Any plans to take part in international competitive/ non-competitive motor-sports/tours
Sagar has crossed the age limit for competitive racing. Also, he has broken too many a bone and has stopped competitive racing. Recently, he has visited The Isle of Man and it is his dream to do a lap on a motorcycle the next time around. He would love to ride on his favorite track – Phillip Island  and Laguna Seca someday in the future.
7. Your idea of your dream motorcycle (Do not specify any brand or type)
He would like a motorcycle for every genre of motorcycling. A motorcycle that he can take to the race track is his idea of a dream motorcycle. Aprilia RSV V4RS and the Ducati Panigale V4 are the benchmarks that stand out in every sense as compared to the others in its class. If he were to be non brand specific – a motorcycle with:
Handling as its strongest attribute
Good linear power delivery
Strong braking
These would be the core elements that he would look for in a motorcycle  amongst others.
8. You wear a helmet because 
He has one head and just one life. Even then, all the protection he has is less and that led him to invest in a race suit. He recommends investing  in the best riding gear that your money can buy. Because best protection is what will let you continue living your dream of motorcycling.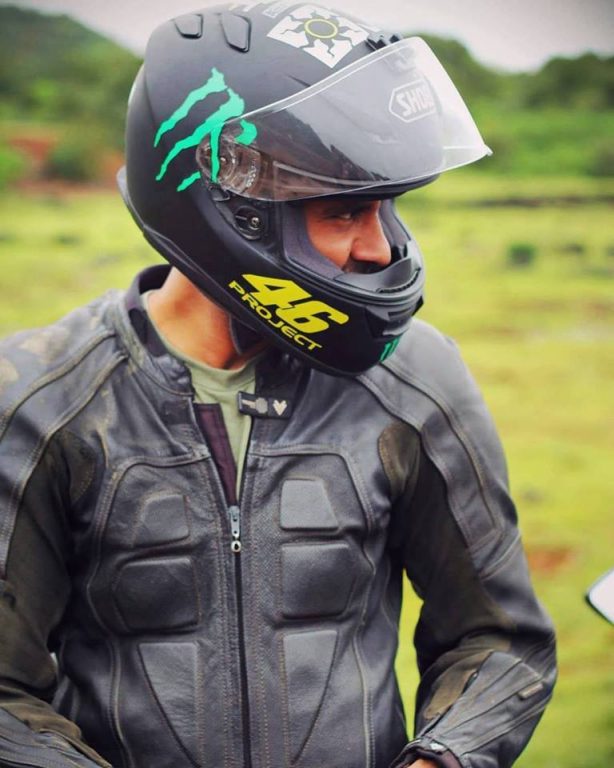 9. A message for budding presenters and Vloggers
Follow your heart and follow your passion. And if your are willing to put in the hard work then the sky is the limit. Once you become the voice that people are willing to hear you also share the responsibility. That, of making a good example for others to follow. Its not just about the fame, you be an example for people to follow…
With this we conclude 'The Sagar Sheldekar Story' and we do congratulate Sarge as he rides towards his next assignment at the  California Superbike School
DISCLAIMER: The images are taken from Sagar Sheldekar's personal photo collection with explicit permission for use in "The Sagar Sheldekar Story". Should you choose to use the above images we recommend that you contact Sarge over here
Update
Here is a bit of nostalgia from the archives of Sagar's motorcycling pursuits around the time he started his journey in the automotive media industry.
August 28, 2009
An ardent Vale fan and a cornering junkie, Sagar took to biking at the age of 14 and has not looked back ever since. Biking forms an intricate part of his life. While most of his friends turned to alcohol or cigarettes to escape from their cubical life, Sagar's R15 was his ticket to freedom. There are very few things that he enjoys more than laying his knee on the ground as he push his bike to its limit on the flowing corners of Mutha. Sagar plans to transform his passion into a career in the near future and spread the message of safety among the biker brothers.
Indeed just like the last line, 10 years on Sagar has followed his vision and has taken it to the next level with the Living it up series. It been a year now and he has achieved what he envisioned overa decade ago. Truly he is not only an inspiration but a visionary!
Source: Motoroids
To look up the content in its original form click here
We would like to thank Team Motoroids for permission to post and share this with us.