Tapan Jadhav – The Motopreneur: Where Barageness GFX begins
February 25, 2022
Tapan Jadhav – education, automotive related skills, car/motorcycling experience.
I am Tapan Jadhav – a diploma holder in automotive design from DYPDC Center for Automotive Research & Studies in Pune. We met (the Barageness Co founder – Dhrumin Giasotta) during the same time while we did the same course. I specialized in motorcycle styling from my initial student level projects to my later professional experiences. In design, my skills range from conceptualization – car/motorcycles, industrial / product design, exterior styling, interior styling, vehicle customization – body kits, CTG  design (Color, trim & graphics), Brand collateral design, extending to conceptual renderings for vehicle display console UI, web/app UI etc. 
I've been a motorcyclist from 2008 starting from a 1988 Bullet Standard 350 to now having adopted KTM as a religion. Also, I've been a part of a few motorcycle clubs from Enfield's to big adventure bikes. I took up off-roading in 2011 and managed to participate in a few autocross races in the novice class but with no trophies to show for it. Racing is scary!
Over the years, I've worked with a lot of custom bike builders, moto tourers and motorcycle media icons to learn more about the "Indian Biker Community".
Tapan Jadhav 's Automotive Acquaintance 
A bunch of people contributed to this. My mom's brother used to have a large stack of Autocar magazines in his room with a large Arnold Schwarzenegger poster from Terminator 2. The poster had him on a Harley Fatboy sporting a black leather jacket, ray ban aviator shades and a shotgun in one hand. I was around 12-14 at the time, so you can imagine how much of a lasting image that poster left. It was the "badass biker stereotype" before the internet hit us.
In a world without the internet and discovery turbo, the magazines became a doorway for me into the global world of:
Performance cars

Concept cars and

Also, my introduction to global design.
This same Uncle of mine used to ride a Royal Enfield and the magazines had pictures of Enfields in Ladakh. This led to my first bike being a Bullet which I bought with the intention of rebuilding and customizing. 
While doing up that bike, I met Murthaza Junaid
He is an accomplished MX racer, Enfield tourer and a part of over 10 motorcycle clubs. A fun person, great human being, and a great mentor. He found me sitting in a Garage sketching a motorcycle engine lying in front of me – a magical moment for a 17 year old when an apparent motorcycle GOD takes notice and chooses you as his apprentice. With him, I learnt a great deal about motorcycles in general and the biker community in India.
One of our other riding buddies during the time was Deepak; who was also 10 years senior to me. He had a great taste and appreciation for classic cars, classic bikes, scale models, a deep knowledge of world automotive history and history of racing globally. Discovery turbo's Westcoast customs, Overhauling and OCC choppers helped a lot as well. 
Tapan Jadhav – Life before turning a Motopreneur (work/ employment) 
Originally I wanted to be a concept artist for sci-fi movies and work in Hollywood designing Ironman's suits and Star Trek spaceships. The education for this obviously was not possible in India and going abroad was too expensive so I chose Automotive Design instead. 
Since I was 17, almost anything and everything I did was around motorcycles.
My first job was as a custom bike/car designer for AUTOLOGUE DESIGN.

Also, I tried my stint as a shop manager at ART OF MOTORCYCLES while also freelancing as a graphic designer.

Then came my first real job in 2016 which was TORK MOTORCYCLES.
Tork had a senior designer – Meerak Subba who was Ex-TVS.
He mentored me in how the OEM Industry works and changed my life professionally so to speak. My core design learning came through him. I then worked for 3M R&D Bangalore in automotive graphics for OEM clients. Collectively, all this helped with my current venture where we try to deliver OEM / International quality with aftermarket industry requirements. 
The All Spark inspiration – origin story to Tapan Jadhav 's venture
I've watched the decal kit industry in India very closely for the last 8-10 years so I knew the good and bad sides of it. I had watched people do it wrong for so long that it was frustrating. 
I wanted to do it the right way for those 8 years but walking out of a well paying job for your own business isn't easy. The confidence came after my time in 3M, having learnt from the company that invented the concept of vinyl wraps and the decal business. My personal off road riding included watching YouTube videos of rallies / supercross races and these bikes always had amazing graphics and liveries with team branding. That international exposure also made me believe in the possibility and feasibility of getting into this space. 
Spanner in the works – challenges faced and (how you overcame them)
This is my favorite subject to talk about or rather 'rant' about. As any entrepreneur would tell you, it's a never ending learning curve. We wanted to be the best in the country but that came at a cost. When you have a monopoly, then you need to attend to a lot of customers and enquiries.
We were in no way prepared for that. So time has always been the enemy where I worked from 10am to 5am with 5 hours of sleep for over a year. It took a toll on my health, personal life, social life and left me constantly stressed and short tempered.
Over and above all of this, there were other challenges like:
Finding credible designers to help was not easy since freshers just don't have the experience and skill.

We have a website with existing designs but 80% of our customers in the earlier days wanted customization which was again a time problem.

We've not always been able to deliver to everyone. 

Sometimes people have waited for months and lost interest.

Initially we never charged an advance so we have been conned by some customers who never responded even after we finished their designs.

After good design, quality prints, we faced issues with applicators not doing things right where customers blamed the product.

Even print vendors mess up occasionally with color calibration of the machines, lamination errors etc.

Sometimes, templating and sizing for vehicles is an issue with no time for size testing.

We now just spend some money and buy templates for imported vehicles.

For offroad racers, the material laminate was an early issue where MX boot buckles would damage the graphic overlaminate.
"We keep experimenting with materials to have better durability, anti skid properties, chrome / gold finishes etc."
We've addressed a lot of application challenges by providing a detailed 3 page manual with application instructions and material spec sheets.

We now have a network of over 22 applicators pan India who have done good work at good prices and we guide our customers to them based on which city the order comes from.

We have a portal for custom design requests and we have set an SOP for our sales people who deal with requests.

My Partner and I still attend personally to the more premium client base.

In less than two years, we have done over 900 vehicles,

We sponsor 16 racers in India, we represent 5 racing teams,

Currently,  we have 4 work spaces – Mumbai, Bangalore, Indonesia & UK. We also have international racers / teams as clients.

We have print production in 4 countries and we use over 16 different types of materials and finishes.

Indian consumers still want more so we are now working on a video series through a YouTube channel to help answer all their doubts and questions. 
Beast Mode – A memorable feat/ achievement /anecdote for Tapan Jadhav
There are a bunch of them. We recently did a couple of ATVS in Delhi inside a truck while it was in transit to Jammu. Imagine that!
We have a sprint week every month where we line up all the crazy projects for that month and then work on it at warp speed.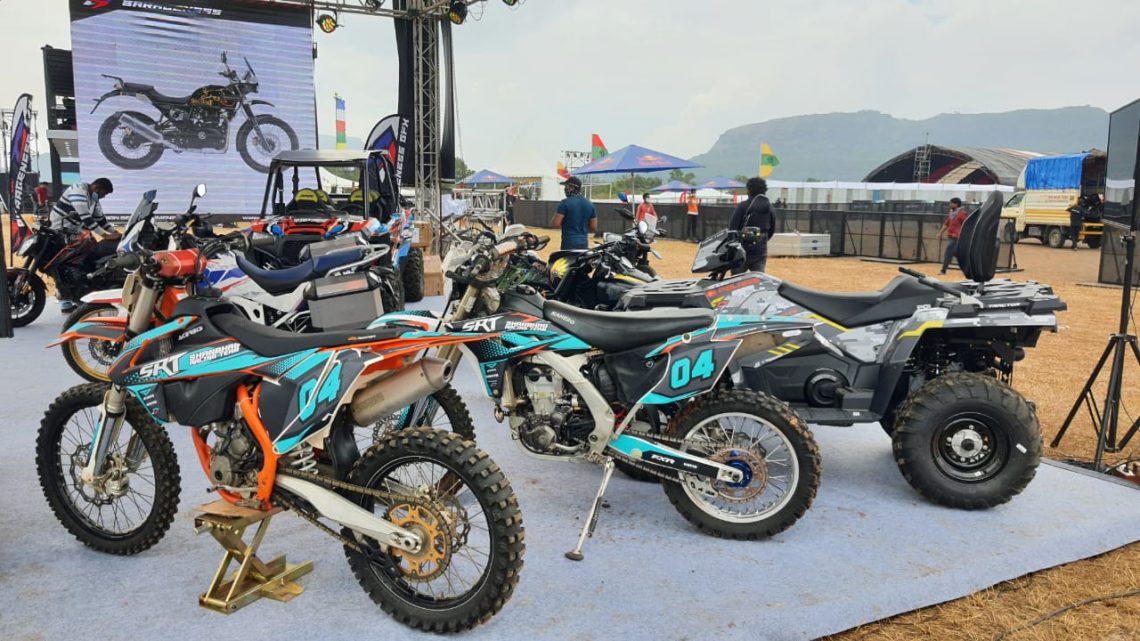 Personally, IBW2021 would have to be the best "Beast mode" experience for me.
As a team, we  pulled off the impossible with all the vehicles and stall in 10 days. It was my partner – Dhrumin's dream to put on a grand show at IBW and we all got on board. We must have slept for 1-2 hours a day in the last 5 days. It was unreal! From finding donor bikes to planning and execution of the entire setup, it was a crazy undertaking. I was in Bangalore, my partner was in the UK and our office was in Mumbai so you can imagine what a challenge it would have been in execution.
My partner handled all the logistics, planning, finances for the stall
He found all the potential donor vehicles and I kept churning out design after design. We have a great and supportive team in our Mumbai office who pushed hard to get things done. The print vendors operated overtime during nights for us, our star applicator Siddharth, from wrapshop.in was driving to customer locations at night during storms in Mumbai to get the application done. It's a long and crazy story but IBW2021 is our best achievement yet.  
My way to the highway – Future plans of Tapan Jadhav
For 2022, we are enroute to be a global player with our international print & ship vendors. We are building a strong network in Europe and Indonesia through which we will have a lot of superbikes and ADVS. In India, we are slowly working on product offerings for cars so that is something new and exciting to look forward to. OEMs have also started taking notice. We hope to bag our first large OEM project by the second half of 2022. One of the surprise projects I can reveal is stunt planes. We're in talks with an aerobatics team in Michigan to do a livery series for their stunt planes. 
Tapan Jadhav – Advice to Budding Motopreneurs
HARD WORK!!! – Commitment to delivering quality in your work and product is key.
We all live on the internet now and consumers have access to the world so they have grown to understand quality. Spend time studying your field of work in detail because you just have to know your market and consumer. Look at international trends, keep yourself updated and spend at least half an hour a day studying competition. 
SMARTWORK – For a new business, time is crucial.
We use over 18 different excel sheets to monitor our everyday work. Planning your work, being organized, having a simple system for your employees to follow will help. Finding interesting and unique projects that get people to notice and talk will help you get noticed faster. Initially, don't chase money but instead chase the right kind of clients and projects. 
NETWORK – Social media is crucial, our business would not exist without Instagram!
Most social media is free so use it well. Reels, posts, stories on a regular and consistent basis is crucial. Study how social media works with hashtags, trends etc. Collaborations with other businesses that address your target audience will also help. We have worked with our clients closely who have connected us to other customers and other businesses for Collab's. 
ETHICS – For us good karma is very important. When people pay you money for your product, value it and respect it.
You have a responsibility towards their hard earned money. Be fair in costing while still knowing your worth. I've seen a lot of people overcharge and virtually con uninformed customers. Remember; karma bites you back 5 times worse. 
Live Location (official contact details) – You can connect with Barageness GFX
here:
Send in a query on WhatsApp – 9321093799
Dial in on their Phone number – 9902477766
Barageness GFX is about redefining the custom graphic and decals market in India. They have a base of operations in Mumbai and their design studio in Bangalore. It started as an outlandish lifestyle with a bunch of adrenaline junkies with their motorbikes scouring for hard ridden miles and exploring the wilderness. Having met each other while riding some mountain trails, the blokes found common passion in all things good under the sun –
Beer
Motorbikes
Hotrods
Racing legends
Fighter jets &
Battle tanks
"701Barage – Where the Barageness began…"
Bikes & beers forged a bond between them former nomads and led them towards shacking up together in an apartment numbered 701. Knowing the only things they knew back then;…they set up the crib with one mentality – 'Life In The Bar & Garage', which ultimately became known as the mancave – "701Barage."
Since then, all the rad times, memories & stories together are shared with a feeling that is "Barageness". For us, Barageness is a feeling…A feeling of happiness, of tipsiness, of craziness, of togetherness, of thrills, of speed, of adventure and the feeling that resonates in the souls of all free spirits.
The Founders:
Dhrumin Giasotta heads the Business Development & Operations of the company
Tapan Jadhav is the Creative Director