The Lycans India Story
December 4, 2015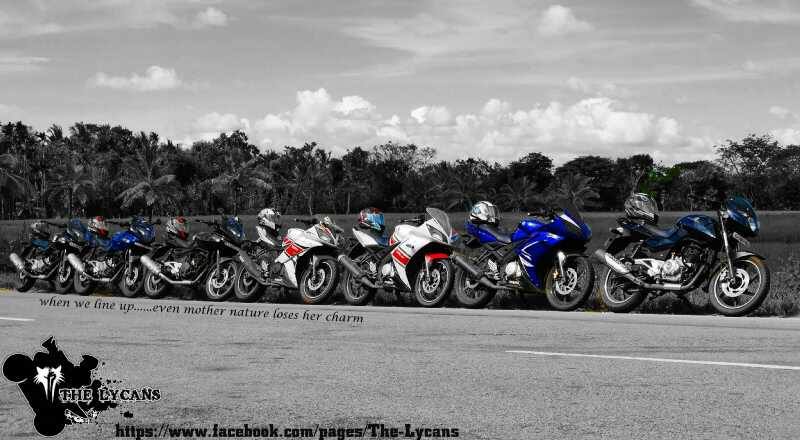 The Lycans India Story – As "Baddy" as it gets!
The Lycans India story dates back to July 2010, when the reign of a new riding era had just begun. Influenced by his brother who was a member of an ex-super bike club 'DEMON RIDERS' which was established in Bangalore, our founder thought of starting up a riding club. One for entry level sport bikes division (viz. Bikes 150CC & above ) in Mysore. He got in touch with a fellow rider through a common friend. Today, that 'Dedicated Rider' is the co-founder of our club.
The founder shared his views of starting the club with him, in which the co-founder was interested too. They both started riding together. Thus a journey began of two individuals against a stigma. Once, that every riding club faces given the notoriety of a few that have formed a negative impact in the minds of the general public at large.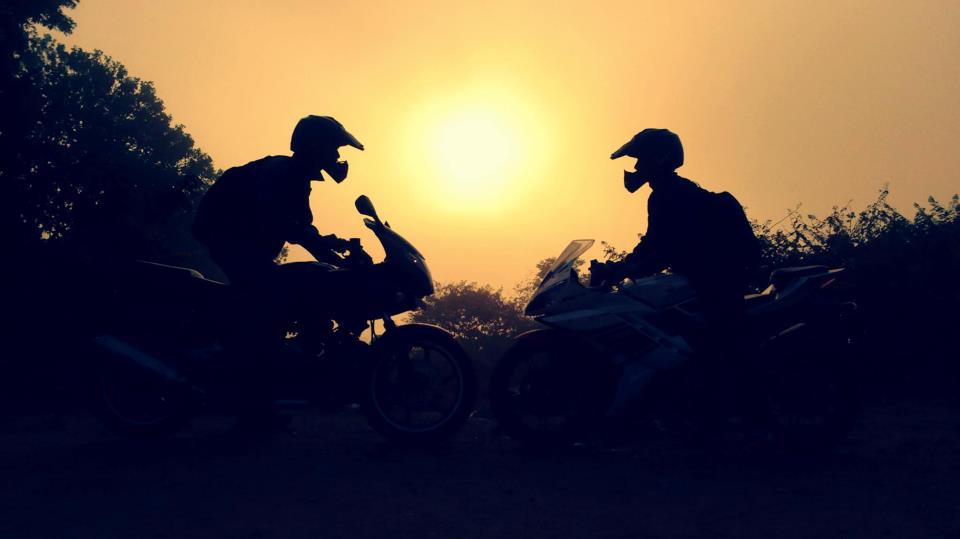 The Lycans India Story –
Enter 'De-luxe' riders
The club was named 'De-luxe' riders in the first place which meant 'it's of a better quality and usually more expensive than the usual ones in its kind'. They even worked hard in catching up with the standards they had dreamed of setting. Initially, the thought was to start a 'Stunting group'. Then recruitment began, from friends to family, mutual friends and so on.. Whether rides or stunting, they were well organized and were having a lot of fun. This, until some began to criticize 'De-Luxe' uh! – a name used for many other products. To say, contraceptives for one, buses and many more. We didn't care about what people said, they were doing their part as dedicated riders. Be it riding or stunting, not causing any nuisance in the locality.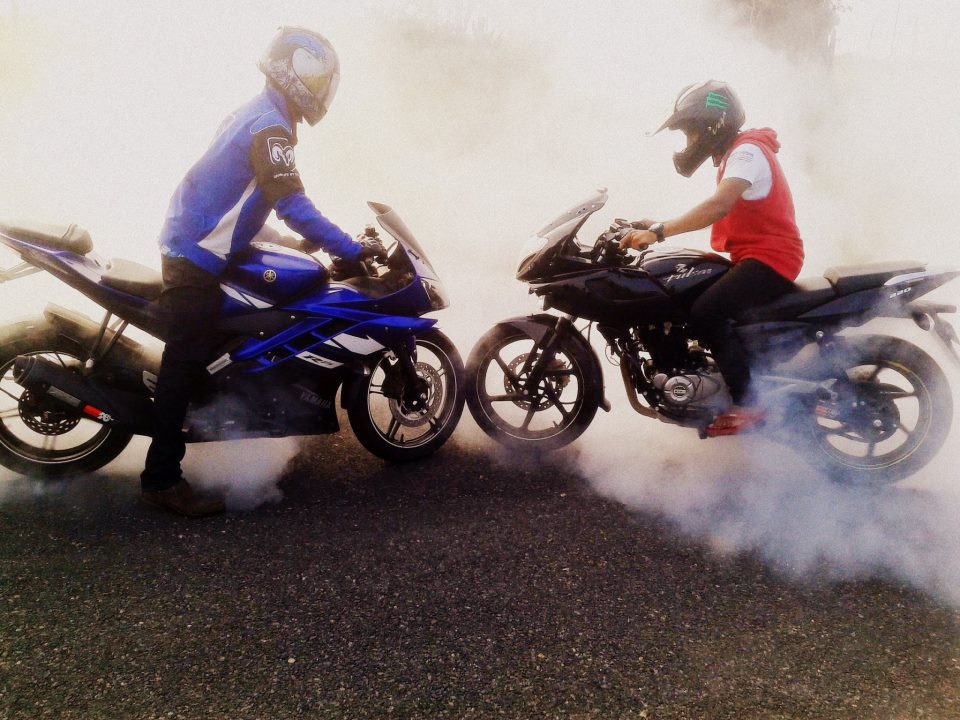 The Lycans India Story – To Chamundi
As newbies, every nearby place frequented by riding groups became the destination. In which 'CHAMUNDI HILLS' topped the list. For motorcyclists considered the 'GATEWAY to HEAVEN'. Even dubbed Lavasa of the south for some. Every other night riding to that hill was utter bliss. Feeling the rush of their bikes brought about by the throttle inflicted acceleration that put power against traction on a road smitten by corners and the air like no other, indeed a ride to remember.
(One of our fellow rider enjoying the curves at Chamundi hills)
The Lycans India story –
'Betta Riders'
Just when everything seemed to be fine, the club actually started to stumble with another hurdle. Dubbed as 'Betta Riders' meaning Hill Riders, as we used to ride the the hills very often. Now, that others had set a spark of frustration in the minds of our riders and the co-founder especially. At that point, the club started to disintegrate until it was down to just 7 members. Our co-founder thought of bailing the club out and setting it back to normal. So, the ADMINS  and the FOUNDING panel rode to a nearby restaurant 'Café County'. They sat and discussed through the night brainstorming with the idea to overhaul the club. To begin with – a name that fits perfectly in the place of the previous one. Then they struck an idea of getting the name from Greek origin.
(The birth place of THE LYCANS) 
The Lycans India story – "WE ARE"
On the nightfall of Aug 7, 2010, they named the club as 'The Lycans'. WHY LYCAN? Typically a Shape-shifting creature, when you are on the bike, you are a "wolf". When you are off of it, you are in your "human being". Thus, the club name was agreed upon and has been that way ever since. Though we were facing a lot of hurdles, we took it as an opportunity to bounce back and prove ourselves. 'Without the bitter, the sweet isn't as sweet' and for us it wasn't just a club, it was a 'Family'  and that's when 'The Lycans' started its journey officially.
The Lycans India story – The first gear
Rejoicing with the warmth of self satisfaction, happiness and many as such, they were cherishing the fruit. We even started off with clicking pictures everywhere we went. For us, this meant everything, in fact it meant the world to us. We were sailing all the way very well having fun. From creating a name in the hood, setting new standards, formulating new rules and maintaining it was the only thing we knew. The very same people who made fun of us started noticing us. They even started appreciating us because they were left with no reasons to point fingers at us.
As people say, "There is always a back fall in every story of yours when u seem to be enjoying and feeling that you are on the top".
Personally speaking, I do not believe in people talking about us and things happening the way they talked. But, fortunately or unfortunately, as hard as I wanted to not believe, that shit just played out the way it was envisioned. In fact, at a time majority of the riders rode the Yamaha R15 and everyone except the co-founder (he owned a Bajaj Pulsar 220 SF ). Thus causing differences to kick in between the founder and the co-founder. He was asked to step down, as the founder had plans of turning the club into an exclusive group of R15 riders – Club R15.
Be God's good grace on the co-founder or sheer luck, the R15 club did not materialize, thus allowing him to stay in.
Burning rubber on asphalt 
Turning the club into a stunting crew was still on the cards of our fellow founder. He practiced his stunt routines and looking at him others were also inspired to follow suit and started practicing as well. They all excelled and made a perfect stunting crew. The founder's 'IDEA' was to get the stunting team officially recognized. Everything fell into place including the crew.  Unfortunately for us, a series of accidents played out with members being plagued by minor and in some cases, major injuries.
One last Wheelie, no?
At that instant, we decided to give up the idea of stunting as we saw it as a message to not put our life at risk and is when we completely focused on 'Riding and Touring ONLY'. The stunting concept was long gone.
Unlike most clubs in the city, we focus on safety without compromise. The students outnumber the working class in the club. We wanted the parents of the crew member who was joining us to feel that their child was safe with us and would have a worthwhile ride. This ushered in a positive attitude and carried their negativity out. These positive vibes changed the idea that the parents had about biking clubs.
The Lycans India story -'Focusing On Safety'
Making sure that the rider has:
1. A  "Certified" (one that carries safety ratings like ISI, DOT, etc.) 'Helmet'.
2.The basic necessary 'Riding Apparel' that includes
a) Riding Jacket
b) Gloves
c) Knee and Shin guards
d) Riding boots / any decent shoes that covers the ankle.
3. That the rider never gets into any issues with his fellow rider or any outsiders.
4. To help him in any aspects if we feel it's genuine.
5. That he learns good things being a rider.
No compromise on safety
And to ensure safety of the rider is taken care of, we assigned ride coordinators to lead and support a fallen rider.
Some coordinators are assigned to lead and take responsibility of the pack.
Others to make sure that all followed ride discipline and that no one falls.
This gives us an edge (in most cases) – parent's support and the loyalty of their lad which has helped us to grow as a group in the city as well as in other cities.
The Lycans India Story – No gender bias
We started meeting like-minded people and started to learn a lot of things. Also, a lot of eye pleasing events that took place. I mean we see two bikes in a row, one is a man and one is a woman. Women riders have started to hit the roads. What else do we want? We learnt that we don't need strength and bravery to be able to do this. All it takes is a bit of determination to do it and we cultivated this in our club. Surprisingly, the riders started to resonate very well with each other.
The Lycans India Story – The road ahead
We continued riding. We aren't counting the miles, but just keeping a track as to where were were headed. All we knew was to ride consistently and this got rid of all the anxiety within. People started to recognize the change in each member. The change was so profound that we could feel it ourselves. We didn't know that touring would change all of us for good.
Once we let the seed of passion sprout, we preferred to ride and explore than to stay back at home. Given a choice, it is wheels all the time than to be on the bed. Small talk does not make the cut for us. We learnt that bikers are the people with a good heart, good behavior and most of all good character. definitely, not what some people have perceived all bikers as. And when we all meet, we all talk about – 'Experiences'. Because that's what we are doing. We are experiencing something or the other when we are out on a ride.
The Lycans India Story – The Shape Shifters
Well! To jump right back again. As the name suggests, we are a pack of 'WOLVES'. Just like the Chinese martial arts experts who have derived their skills imitating animals & birds we chose to follow the wolves' actions. Imitating them by riding together as a pack would hunt and watch each other's back and never leave any one behind, be it the ride or life in general.
We are on Facebook:
We've hit the above cities in India and to be a part of our expanding 'Territory' give us a holler.
You may also drop a line on any of the chapter pages and we will get back to you.
Our motto  is to 'Work as One to achieve Success'.
On a concluding note from my side, in the same tradition as conveyed above and followed in every chapter of 'The Lycans' fraternity.
Live the life you wanted to lead, cause time my friend has promised to no one.
-Dave Barr (Motorcyclist).
-Thanks N Regards
Written by Bharath Gowrishankar a.ka. Brat
 #The_Lycans_India (Mysore)
The Lycans India Story as narrated by one of the moderators of the founding chapter. This is a story about how a group of stunting enthusiasts "shape-shifted". From an aggressive adrenaline demanding hobby of stunting to join the ranks of the more subtle touring class of riders dedicating themselves to safe and disciplined riding.