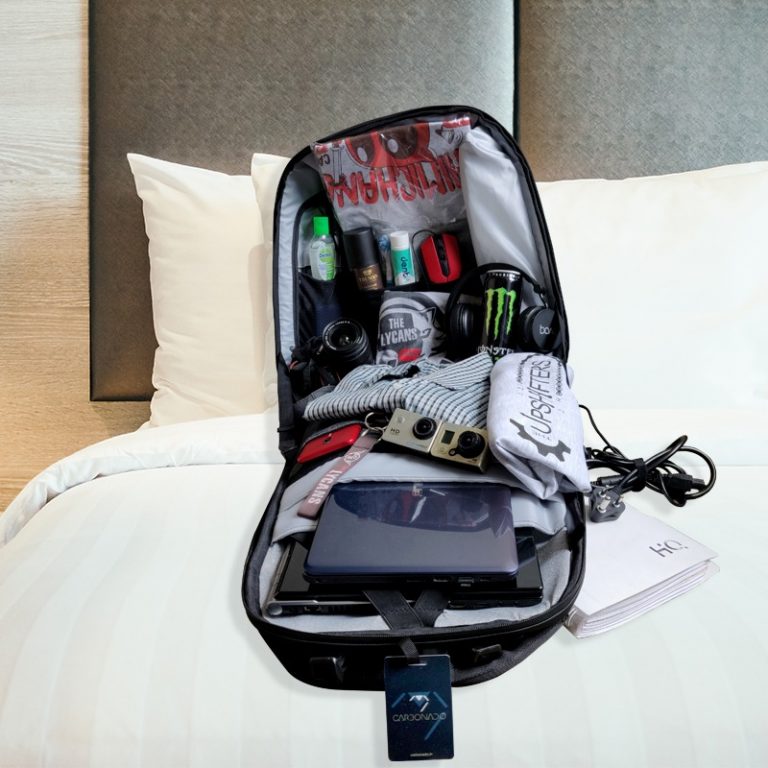 Carbonado GT2 Backpack 1st Impressions
June 17, 2020
First Impression Review
Carbonado GT2 BACKPACK – Prelogue
The Carbonado GT2 Backpack and I had a chance meeting. At the outset of their India promotions I was pretty much oblivious and least interested in what this product was. Indeed a lifestyle product and absolutely out of my league. After all what purpose is a sports car to a tractor manufacturer? Well we all know the "Raging Bull" story, don't we? Rewind to 2006, the year of Dhoom 2. This sequel not only featured one of India's Greek Gods and one of the world's most beautiful women and motorcycles. Dhoom 2 had one very short yet prominent element. The opening heist features the protagonist all geared up with this unique backpack that stood out.
This backpack showed up in Google with a ton of iterations and had an import factor to it. And then I asked myself how do I claim warranty or even worse get it repaired here in India? So I reached out to a few friends in the industry and asked if they could make something like this? Loads of brainstorming and conversations later I hit a brick wall. Somewhere in 2016, a riding gears store in Pune, Destination Moto had a few of these. By the time I decided to buy one, the train already left the station.  Thus the aspiration to own a hard shell backpack evaporated.
Carbonado GT2 Backpack – Rider Mania 2019
As part of a team I attended the Royal Enfield Rider Mania 2019. Here one of its brand partners stocked a few of this uniquely styled backpack. The busy weekend and ride to Kanyakumari had me occupied for the fortnight. Nevertheless, a few features that I struck a chord with –
Hard shell backpack
Clean design
Power bank and audio extension sockets
Last but not the least – food & drink compartment
Indeed a laptop bag that allows itself entry into the boardroom and a weekend trip alike makes it all the more desirable. So, whether it is a Xander Cage or a 007 it's a one style suits all.
Carbonado GT2 Backpack – All wrapped up!
At the India Superbike Festival 2019 I finally got my Carbonado India Backpack. All excited to have the "Dhoom bag" I was ready to roll. Well not really, a slight scratch sealed the deal for an option to add a protective layer – wrap or a TPU layer to save the hard shell from all the battering. While I might have a slight dose of OCD, I can't see damage like this. So, a few phone calls and loads or samples later I got a wrap finalized.
https://www.instagram.com/p/B6r_XGxgzX_/
Working with Pune based, AJ Customs was nothing short of an adrenaline rush. Being a utilitarian by nature, I wanted everything, but clutter. Teaming up with Crisis Code we also added a safety element while leaving room for "Nomenclaturisation". The elements of the wrap are as follows:
Premium quality material
Matte Finish
7 paneled integrated design element
QR Code based ICE tag by Crisis Code
Alien Robot Theme
Corporate branding logo
Club/ Community patches
Adding to this, team AJ Customs have also created a gloss finish wrap to complete their "proof of concept" with the same design. Also, I'd like to take this opportunity to thank Crisis Code for coming together with AJ Customs to add in the element of safety. Their specially designed stickers is not only limited to motorists and can be added to any surfaces like backpacks, luggage or any accessories used for travel purposes. Some of the key features being
Blood group
Insurance details
Emergency contact phone number
…Among other details
Carbonado GT2 Backpack – Recall Value
Here are the few bits about the backpack that create a recall value equivalent to a memoir:
Integrated cable lock – This comes as an add on accessory, given that it can house anything from a notebook to an iPad or a premium gaming laptop nothing like added security
Hard shell backpack – The unique 7 paneled design hard shell gives its international counterparts a run for their money.
Clean design – Put this on the rack, in your cupboard or give it to your pillion, this backpack just fits in.
Power bank and audio extension sockets – Remember the saying, "I'm not going to use it but I'm glad I have it when I need it."
Food & drink compartment – Keep the Thumps up chilled and the kebabs hot and fresh. This is a carefully thought out feature and am sure a lot of mothers are already thanking team Carbonado for this. Yes, the wives too.
Ergonomics – In the name of checking out its level of comfort in discomfort I dunked in a few items purchased at a store and zipped the bag shut. Somehow the bag seemed to assimilate my clumsiness and allow me room to buckle the bag and ride over 20 kilometres across the city.
I'd like to add that the above text has been written while the backpack sits wrapped in its cover for over a month since delivery of the wrap by AJ Customs. The challenge being how much can one write without referring to text or seeing the product.
To know more about AJ Customs click here
To connect with Crisis Code click here
Additional Acknowledgements:
The Lycans – Pune
Bajaj Dominar & Mahindra Mojo for inspiring the custom wrap theme by AJ Customs