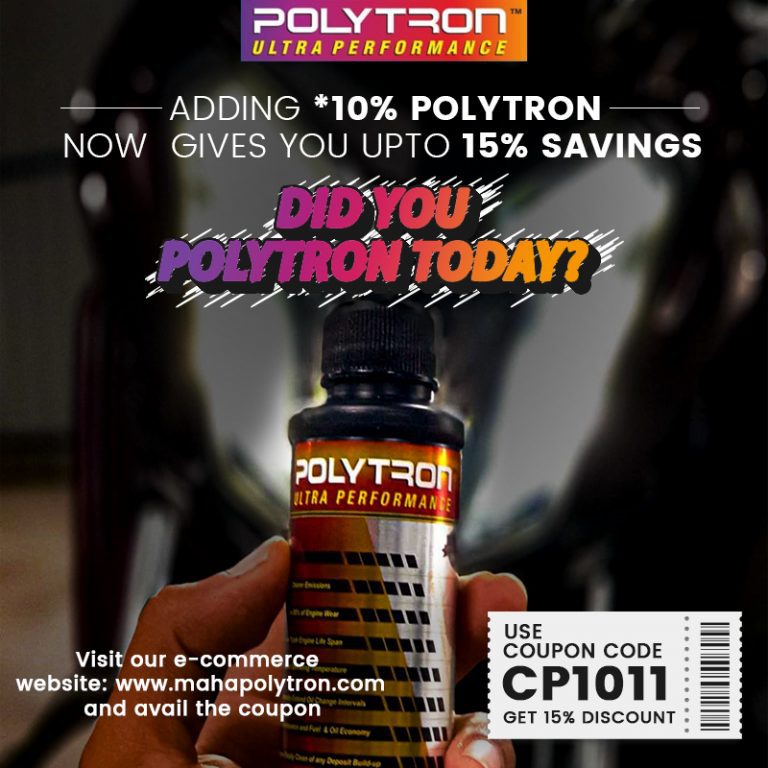 Polytron MTC short term review India
June 30, 2020
Polytron MTC review India
India Bike Week 2017 was a trip of its kind travelling over a 1000 kilometres across the landscapes of Tamil Nadu, Karnataka, Goa and Maharashtra. Heading out from Lluvia Industries, Coimbatore the idea was to complete a "proof of concept" for the Nightshadow project and enable further R&D. En-route the 3 month stationary Bajaj Pulsar NS 200 was given a fresh dose of engine lube at Mysore and Polytron MTC at Goa.
India Bike Week 2017 – The ride
Meandering through the rain induced Nilgiris via Coorg I reached Mangalore and armed with just a few hours of sleep. The next day, I egged on with a few friends from the Naked Wolves Mangalore group. We finally made Goa battle worn and yet all enthusiastic for the weekend ahead. Every year India Bike Week adds in a new flavour with new products and services related to motorcycling coming in. One of the first time participants were – Polytron.
The team had a unique contraption and a demo that showed the prowess of the product – Polytron MTC (metal treatment concentrate). A product that trickled down to the automotive stream from heavy industries and ship application. Certainly it was worth a shot, a few hours later the engine oil chamber received its share of the MTC. After concluding the festivities, I headed out from Mapusa after tanking up at 11 am. Halts were made at the Goa Ves for re-hydration and at Satara for fuel. At around 9:30pm I reached within a kilometre of home. A good 10 hour run and I was home! Riding through the Anmod route and hardly ever hitting the ton I was home without a whimper.
Four thousand kilometres later the bike still felt as good as new.
At the given time all the installation photos was taken by the team and thus lost in due course of time. Nevertheless the product left a positive impact on my mind.
Enter Trafo Filter Services
Cut to the present – India Bike Week 2019, indeed the same demo apparatus and the same pitch with a new team. A few phone calls later it was time to start from the beginning. On December 24 2019, Polytron MTC was installed at the premises of our affiliate partner Motobyte in the 2017 Bajaj Dominar 400. Indeed, the team was already celebrating the positive results of the Schorl DT400 Air Filter by Small Spark Concepts and we were eager to see what this could do.
The first impressions came in on the 26th night with:
Smoother gearshifts
Better throttle response
Improved heat management
Just so the reader knows, the motorcycle was running on the standard 10W50 Motul sourced and had the DT400 air filter with roughly around 10,000 kilometres post installation.
The first impression indeed sealed the deal and no sooner over a dozen motorcyclist friends were running Polytron MTC within a month. On 26th January 2020 Motobyte inaugurated their new facility while celebrating a year in business. Team Polytron amongst other partners joined in to share the happiness as one of the event partners. Here to testimonies shared added more motorcyclists from the Pune commune to join the club.
The Lockdown 2020
The four iterations of lock down kept all non-essential travel in the parking lot. Yet some of us ensured that we kept the battery from losing its juice. Indeed, like all I too was running a tight ship. With no respite on the horizon a 7 day interval extended to 10 days to conserve fuel.
Post relaxation it was time to lock and load. A mid-summer check-up and greasing eased the monsoon anxiety. Taking the Bajaj Dominar out after it being near stationary I wondered now what, Engine oil change? To answer that question I opened the throttle.
The results as follows:
Engine vibes – dismal
Throttle – very responsive
Fuel consumption – no change
Engine heating – normal
"look and feel" – "like new"
While the lockdown kept the oil sump in a near stagnant position, Polytron MTC preserved the performance quotient all this while. This is certainly impressive and thus I'd like to thank team Trafo Filter Services for re-introducing this ground breaking product to the motorcycling community.
To know more about Polytron MTC click on the links below:
Part 3: Chain Lube, Lithium Grease and the Fuel Conditioner Demos & Tests
https://youtu.be/gsfASYk5P6o
Video Footage courtesy – DNA VLOGS – Dipen Nisar AutoVLogs
Here are the features of the product as described on their website
Reduces your bike's engine and equipment wear and tear up to 90-95%
Removes 80-85% of friction on slippery surfaces and increases bike efficiency in extreme climates
Reduces your bike's and two-wheeler's engine/gear temperature and noise
Keeps your bike / two-wheeler engine free from deposit
Renews Power, Torque, Mileage and Engine life
Reduces your bike / two-wheeler's maintenance expenses
"Directions for use" – Simply add 10% by volume to your main lubricant.
POLYTRON is attracted to metal surfaces and through metallurgical process forms (from the original metal) a durable polished-like micro-layer of metal that drastically resists wear up to 95%, extreme pressure, and excessive temperature. POLYTRON will increase the reliability, longevity, efficiency, power, and eliminate wear on your equipment. Even in an event of sudden oil/coolant loss, POLYTRON can temporarily protect the engine from catastrophic damages.
Furthermore you can connect with Polytron at: