Crash guard for pulsar NS 200
September 6, 2018
Crash guard for pulsar NS 200/AS 200 with FRAME SLIDERS in India by Zana
Bajaj Pulsar AS 200 compatible product
When Bajaj Auto launched the Pulsar 200 NS in June 2012 little did they know or expect that it would take to the "riding season" like fish to water. Let alone a touring crash guard for pulsar NS 200, other accessories were unheard of. Fast forward to five years later their big boy – the Bajaj Dominar 400 made its way to Siberia. Yes, the first ever Indian manufactured motorcycle to do so. What it may not have done in numbers it did so in the touring and interactive media industry. Drawing out maximum number of purpose driven motorcycle accessories to fit the taste of every possible rider.
To the extent that if one were to count the timeline since its launch vs the aftermarket accessories, the Dominar 400 truly "Dominates the night here".
All this while, the Bajaj Pulsar 200 NS was adorned with aftermarket modifications and accessories. Built on the DIY philosophy for most part of it. Even though it was given a VRS of sorts it was reincarnated in the BS IV essence to meet the demand thus signalling its comeback. Keeping all riding styles at the forefront, the Bajaj Pulsar 200 NS is not just a frugal alternative to the KTM Duke 200 or an indianized clone. It is:
A city commute bike
Long distance tourer
An agile track machine
In the age of the British origin cruiser and the upcoming "orange riders" one individual set out to form a brotherhood that unveiled the 2017 edition Bajaj Pulsar 200 NS. Indeed the more that can be said about the motorcycle is less with a handful (yes you read it correctly, its NOT a typo). They have crossed the 100,000 kms mark and a rare odd bunch past the 200,000 mark!
Keeping in line with what could be added to this iconic motorcycle, a few decided to go ahead and accessorize the Bajaj Pulsar 200 NS. This attempt simply to add more bite to its touring quotient.
Keeping the safety as well as the multifaceted agility quotient in mind, (no we are not including the stunting aspect here!) one such accessories manufacturer has introduced the very first dual purpose accessory for the Bajaj Pulsar 200 NS – The crash Guard with Sliders.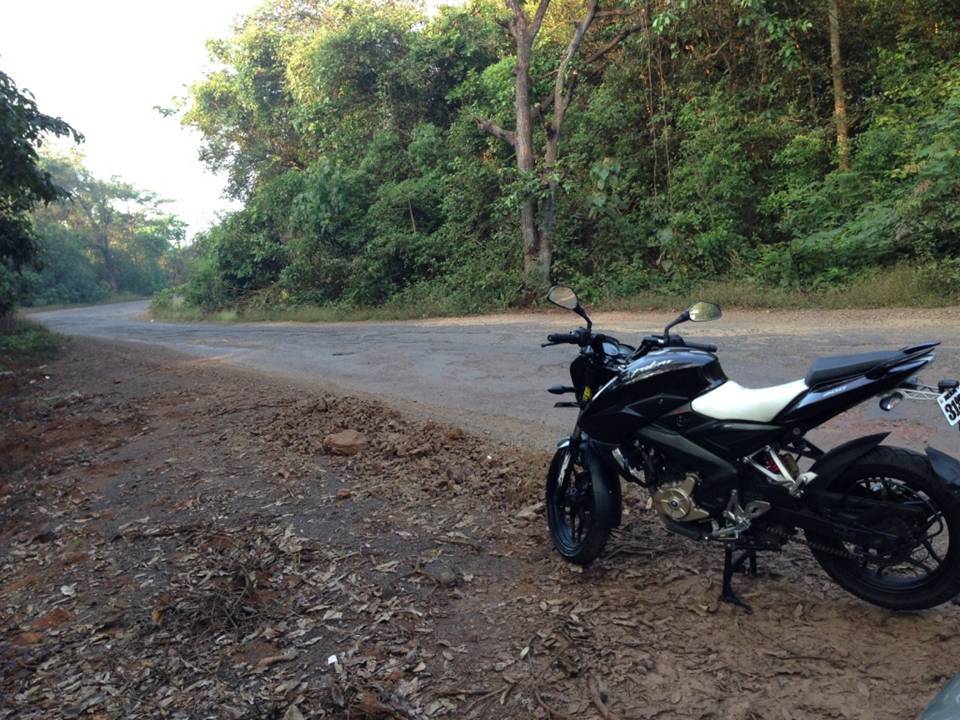 The Bajaj PULSAR CRASH GUARD WITH SLIDERS has bolt-on sliders that can be removed if need be. There is also a variant that comes sans the sliders. This new addition not only paves way for addition of auxiliary lighting for riding in the harshest of conditions. Also, it allows the rider to conveniently mount action camera to capture low POV shots of the ride whether its meandering through the bends or wading through the grime of nature. The simplistic design blends in with the essence of the Pulsar 200 NS lineage. It also offers to add protection to the motorcycle. Finally after its reincarnations, the Bajaj Pulsar 200 NS is getting add -ons. Thereby adding to that extra bit of touring bling to the 23.5 bhp single cylinder scram-jet.
While a few were already delivered to other parts of the country, we opened the innings for Maharashtra bound orders. No, we will not give you a product description. Instead, we would encourage you to read through the description as listed on the manufacturer's website (as listed below). In the meanwhile, you may look forward to our long term review. Additionally, you can get yourself one of these hard to resist yet simplistically designed Bajaj Pulsar crash guards with sliders.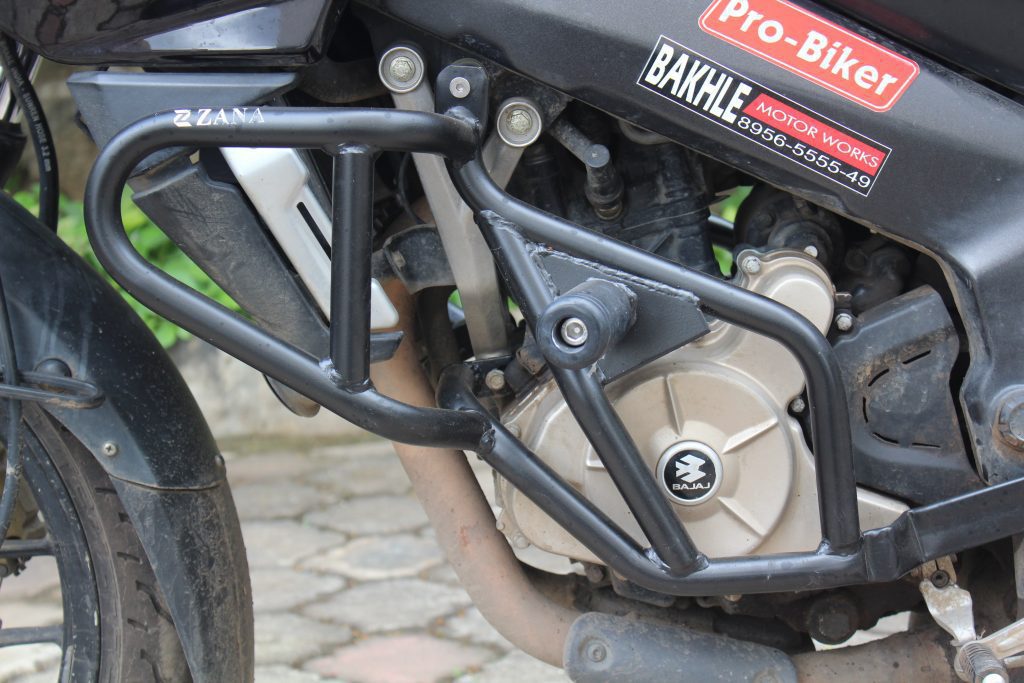 Crash guard for pulsar NS 200 – PRODUCT DESCRIPTION
Copyright Protected Design exclusively available from ZANA MOTORCYCLES
Proper Protection for the radiator, engine casing and petrol tank (in case of a fall)
Cold Rolled Powder Coated Steel Tubes used for manufacturing.
Precision Welding (Tungsten Inert Gas Welding) for uniform finish and strength
All nuts and bolts of Stainless Steel (100% Rust free) included as standard
Industrial grade polymer Spacers included to act as vibration dampeners
Black Industrial grade Polymer Sliders for smooth finishing, aesthetics and gradual wear out (in case of an accidental slide)
6 Months Paint/Powder Coating warranty (not against accidental)
Proper shade matching with the bike chassis
Plastic wrapped for protection from scratches during transit
To order your set of PULSAR ENGINE GUARD WITH SLIDERS click HERE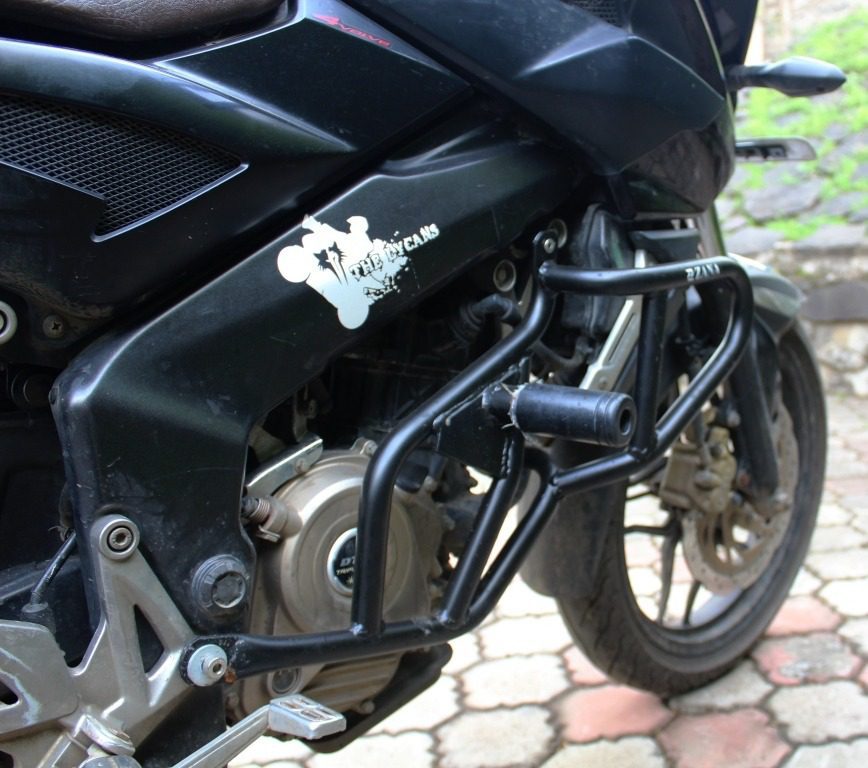 Terms and Conditions:
6 Months Paint/Powder Coating warranty (not against accidental)
Replacement against manufacturing defect. (Limited to replacement of Spare Part only)
About – ZANA INTERNATIONAL
Founded in 2001, Zana International is dedicated in providing high quality and world-class products and services in the TWO WHEELER INDUSTRY. Zana is India's leading manufacturers of Bullet and Luxury motorcycle accessories in India. They have also been exporting bike accessories to many countries like:
USA
Singapore
Spain
UK
Australia
Philippines
Portugal
They understand that motorcycling or long distance touring on a motorcycle is not just a sport or hobby. It is a lifestyle choice and they believe in making the experience of motorcycling all the more safe. At the same time adding style to their wide range of patented motorcycle accessories. Customer satisfaction is their primary goal. They endeavor to deliver only the best for their motorcyclist friends.
They also have customized accessories for the top brands of bikes like:
 KTM
Royal Enfield
Kawasaki
Harley Davidson
Triumph
and many more...
They believe in continuing our efforts in providing a vast range of products to their customers at competitive prices.
To connect With Zana Motorcycles:
HAVE A QUERY? Click here to drop them a line
You can also reach them at 9953112277 
(Call in orders- Mon – Fri: 10.30 AM – 6.30 PM)
SHOP No. 4 Building number 2290, Arya Samaj Rd, Opp Bikanerwala, Block 25A, Beadonpura, Karol Bagh, New Delhi, Delhi 110005
[huge_it_slider id="11″]
2022 update: