DIRTSACK GYPSY Short Term Review
March 16, 2018
The DIRTSACK GYPSY is a monstrous bag with an amazing carrying capacity up to 60 litres! To be frank I loved the shape of this bag right at the first time I saw it. The box type shape and easy to mount buckles are not short of being user friendly! Here is my version of the DIRTSACK GYPSY Short Term Review
DIRTSACK GYPSY Short Term Review – The Why
There are many bags and saddlebags in the market which offer the same capacity. However, some are still smaller in the price range! That is what I had in mind before I bought this bag. Why not? Spending thousands together on a bag that can be used only on a bike is a difficult choice to make, yes! You can carry your other bags, rucksacks. But the pain starts when you have to carry more than one bungee cord. As a bonus, scratches all over the bike's body made by those bungee hooks.
So, this time I had to travel for almost 20 days. It's not the first time I am travelling this long. However, this is the first time I am investing in a motorcycle tail bag. Earlier I had to carry the rucksack bag fasten it with a bungee. Then keep my camera bag on top & fasten it with a bungee net. I always had to ask help for a stranger to fasten my luggage as I couldn't do it alone. All in all it is cost saving but a time and pain giving experience.
Additionally, it is in my nature to stop at every corner to take photographs. Guilty as charged, every moment for me to stop remove the bungee cords and take out my camera to click photographs. Once done, again pack it the same way. I couldn't take it anymore so I started to look for a tail-bag for my bike.
DIRTSACK GYPSY Short Term Review – My Needs vs Budget
The Viaterra claw
Dirtsack gypsy
The Viaterra claw costs Rs 3500 while the Dirtsack gypsy is a bit pricey at 5500. Now, as the Viaterra claw is at a small price point yes I chose Viaterra claw. After all, it fits perfectly in my budget. I didn't want to hurry in the buying process. So I made some phone calls to our fraternity members from Lycans – Pune. I discussed my predicament and my thought of buying the Viaterra claw. They suggested the Dirtsack gypsy, as the admin himself used it during his all India ride. The Dirtsack Gypsy tail bag provided him with all the comfort and the space he wanted.
DIRTSACK GYPSY Short Term Review – The Battle:
| | |
| --- | --- |
| Dirtsack Gypsy | Viaterra  Claw |
| Has Shape retainers (fibre) | No shape retainers (foam padded to be in shape) |
| Has 4 side pockets (2 large) | Has 2 large side pockets |
| 4 point anchoring system | 3 point anchoring system |
| Reflective strips on all the sides | Reflective strips just at the back |
| Has a pleasant yellow interior | Standard black interior |
| 2 1.5L water bottle holders | Doesn't have any |
DIRTSACK GYPSY Short Term Review – The Verdict:
Finally I decided to increase my budget and go with Dirtsack gypsy. I contacted Mr. Clinton from Dirtsack. He was kind enough to ensure I got the bag within 24 hours as I was leaving the next day. Now, I had to pack my entire luggage and this bag assimilated everything. Also, with space left to throw in a couple of more clothes. I knew at this point that the investment I made was not a waste at all. In fact It is worth every penny spent from my extended budget.
I carried one extra bag – that was my camera bag on top of the gypsy!
I tried the compression straps to tie up my camera bag! To wonders, it worked amazingly and did not move an inch even after hitting a patch of bad roads. Mounting this bag on my Bajaj Pulsar 220F was not that hard!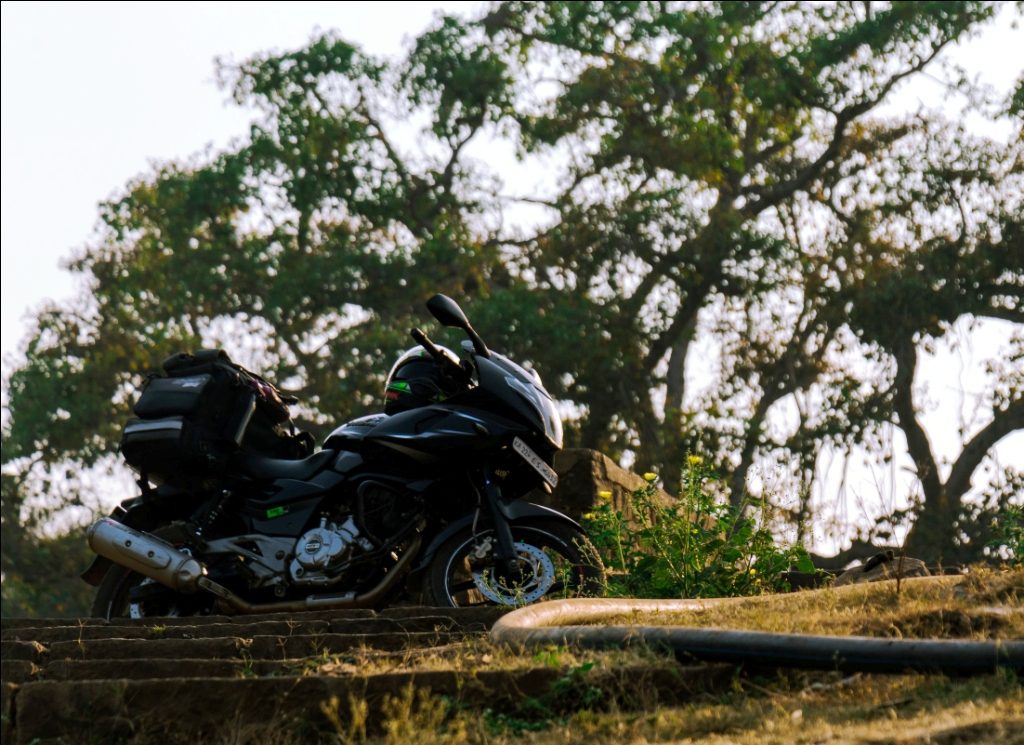 DIRTSACK GYPSY Short Term Review – Now you ask why not easy?
Pulsars do not have anything at the rear to fasten the straps to. So I had to find a workaround to fasten the straps in place!
The bag looks amazing when fully loaded !!
What I like the most about the bag as a photographer, I do not always  need to dig in the luggage to find the camera.
They have also given a mesh pocket just beneath the upper flap. This is useful to store papers/memory cards/maps if you wish to.
Also, there are mesh pockets on the inner sides of bag in which you can keep money or your passports etc .
DIRTSACK GYPSY Short Term Review – 8 point anchoring system:
There are 8 buckle points given to this bag so that you can choose the appropriate one to fasten it to your bike. Four buckles at the back and four at front. Also, there are two in the front hidden beneath the bottle holders. It took me two days to find those buckles. The bottle holders cannot hold all bottle types, I had to carry 2x 0.5L Tupperware bottles.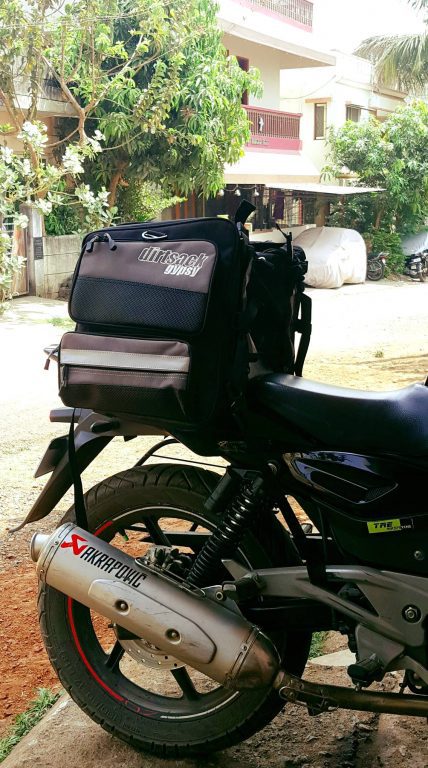 DIRTSACK GYPSY Short Term Review – The Rain:
Putting rain cover is a tab bit uneasy, and the bag is exposed to water from tyres splashing. Also, they have given rectangle plastic loops to tie bungees cords and bungee ropes too. We INDIANS are amazingly skilled at workarounds, so am I.  Laying a sheet of tarpaulin on the seat and then mounting the bag on top of it solved that problem for me. The zippers are of amazing quality. The storm flaps prevent water from entering the bag. I felt that the zipper's pull handle get stuck in the flaps at times. You will get to used to it in no time.
Words & Photography credits: Abhishek Abhi