Ek Ajnabi Haseena – Mojotastic Kanyakumari
April 10, 2020
Ek Ajnabi Haseena – Mojotastic Kanyakumari: The Prelude
Sitting in my father's car in 2008, he would often joke about this relationship I shared with this "young girl". Given my dedication towards meeting her everyday (well, almost) and spending time with her had him convinced that indeed we were in a relationship! But then again, it is said, "it's all in the name". Her unconventionally unique name was enough for him to brag amongst his friends about this girl his son was dating. However he isn't to be blamed, after all on a daily basis he would drop me to our meeting point. Well there were times when I went on my own. This relationship was a short one yet a cherished one; it ended when I moved back to the city. This is all about Ek Ajnabi Haseena – Mojotastic Kanyakumari.
Sounds pretty interesting for an opener, doesn't it? Son in a relationship with an eighteen year old girl and father is very supportive. Not all relationships end on a cordial note or just because one moves out of the city. After all what about LDR – Long distance relationships? While I may not have gotten into LDRs back then, today I can very well boast that am pretty good with LDRs but more on that later…
This lady was no other than Kanyakumari Express. That was for as long as I can remember my daily commute from Lonavala to Pune, a ninety odd minute journey to reach work. Yes, I used to live in the city and could have shifted elsewhere but when you "break up" you look for a change – one that this small town offered. Having travelled by the train and geography being one of my favorite subjects I wondered what would it be like to travel to the southernmost tip of the country?
Ek Ajnabi Haseena – Mojotastic Kanyakumari: Strike 1
Cut to 2017, somewhere in the last quarter a phone call and no sooner I am south bound on a prototype motorcycle. We were not in stealth mode yet invisible to the trained eye of vloggers and other paparazzi motorcyclists. After all when you are an auto blogger, who better than you can spot one of your kinds? We thus chose a route and time to blitzkrieg completely undetected by any spy lenses. The journey initially planned out led us to Kanyakumari! Wow I said to myself am going there after a decade, well almost.
As luck would have it a last minute change and we re-routed just off of Madurai thus missing the city by a day or so worth of riding. The built up enthusiasm to visit this city went pop like a flat tyre. Nevertheless with a heavy heart I moved on and ahead to complete a ride spanning almost half the country in just over 20 odd days of riding!
Ek Ajnabi Haseena – Mojotastic Kanyakumari: Strike 2
The year 2016 brought in the Bajaj Dominar,a formidable opponent set to dominate its "Mitron". Drawing first blood I managed to take my social circles by surprise and began to learn a new way of motorcycling. The Bajaj Dominar is a fast, highway friendly and comfortable bike. It got me to places well before I could map them out and indeed it felt nothing short of a Delta 6 accelerator suit. Having achieved this kind of confidence an interstate ride beckoned.
The only question, where? After a lot of deliberation it was decided to do multi city ride to visit and explore exotic places. Since I missed Kanyakumari by a whisker I added it to accommodate a coastal hill station combo. Thus all plans drawn out and we were revving to go. An unfortunate demise in the family of one of the riders put the plan on hold.
Ek Ajnabi Haseena – Mojotastic Kanyakumari: 2019 no unnees bees?
This year I got the opportunity to ride out more often and was now craving for a long distance ride. Keeping time and leaves for the latter half of the year I began planning and saving for the ride. This time a direct run and return all within 5 days or so!
Then came and mysterious caller whose words took me back in time. Just two years though. A new motorcycle was set to be launched and this is the successor to the prototype I once rode out on. The launch was a gala event and meeting with members of the team brought in a lot of nostalgia and of course, Kanyakumari. So now it was going to be a ride to Kanyakumari in either of two flavors:
#dontholdback and #gohyperriding

Or

Be #mojotastic because #mojogoeseverywhere
Ek Ajnabi Haseena – Mojotastic Kanyakumari: Cold feet
Finally putting the dilemma to rest I picked up my friend's Mahindra Mojo UT300 and set out towards Goa. My team was Goa bound in the car for Rider Mania 2019. We were representing Invictus Touring Gears at the festival and what better time to visit Goa than now?  Heading towards Goa on a cold winter morning had me questioning my reasons for being on the motorcycle.
Both knees pulsating with a feeling that molten tar had seeped in between the knee joint and a head as warped as the big bang theory itself. For the first 70 kilometers I was just clueless and ready to park the bike at home and jump in the car. Three days of adventure and thrill of a different kind and I was all but a Grinch on Christmas. We took our first halt for breakfast just before Khambatki.
You are probably wondering what the hell I am writing 😉
When the Kanyakumari trip was being planned Goa happened on an invitation to be a part of the Royal Enfield festival. The idea was to combine both journeys and add a different flavor by creating a new one. A solo ride to a destination and a ride to attend one of Asia's largest festivals were combined on a single trip. This made room for leaves and the budgets too.
Ek Ajnabi Haseena – Mojotastic Kanyakumari: 2019 no unnees bees?
So now back on the road I was ready for the ride. If I don't ride at least a 150 kilometers nonstop on a Mojo I never rode that bike at all. In all practicality I had to draw a fine line too. A line between a joint pain that was subsiding courtesy the meds and the sudden build up in enthusiasm. From Khambatki ghat to the intersection of Ajra link road it was a 200+ kilometers slingshot. Drawing from this I marched into Goa to partake in the festivities. Three days of festivities, a phone full of memories overpowered the hangover of tiredness. The next day I rode out towards Bangalore.
Expecting it to be a breeze given the day light and pleasant weather I forecasted Tumkur by sunset. To my horror the up gradation on the highway slowed me down and I got to Nelamangala around 9pm. The schedule of the evening included meeting a close friend because of whom I became an integral part of a motorcycling club. Taking the Nice road I headed towards electronic city for the night. A former member of the Pune chapter of the club, he is now settled in Bangalore and in conversation we caught up on two years' worth of experiences.
The following day's schedule beckoned new tyres – a set of Timsun 823s, a chain sprocket kit and a routine inspection. Here I'd like to mention that the able team at Mojo Bangalore probably awaited the bike as a pit crew awaits the vehicle in Formula 1. Before I knew it I was all set for the journey ahead. A sudden downpour and lack of rain wear didn't dampen my spirit. Beyond the borders of Karnataka all I met with was a slight shower and overcast clouds. Keeping the bike in check for the first 100 kilometers until a coffee break played out well.
New Achievement unlocked
Past Salem the motorcycle allowed me to carve a 313 kilometers niche to my current cache of nonstop riding distances. This gave a much needed boost and we docked on the edge on the country just in time for sunset! Finally a dream comes true! What once a thought is now a reality. I did my homework while planning the route on the Scout My Trip route planner. I spotted a few places beyond the famous Vivekananda memorial. Now I already knew where all I wanted to go.
I wanted to visit Our lady of Ransom church and Sunset Point. Apart from the last railway station on the southernmost tip of the country. That way in a couple of hours I:
Visited a religious monument
A historical monument
A place of interest
A seashore
The southernmost Railway station
They have a bus stand
A dock of sorts too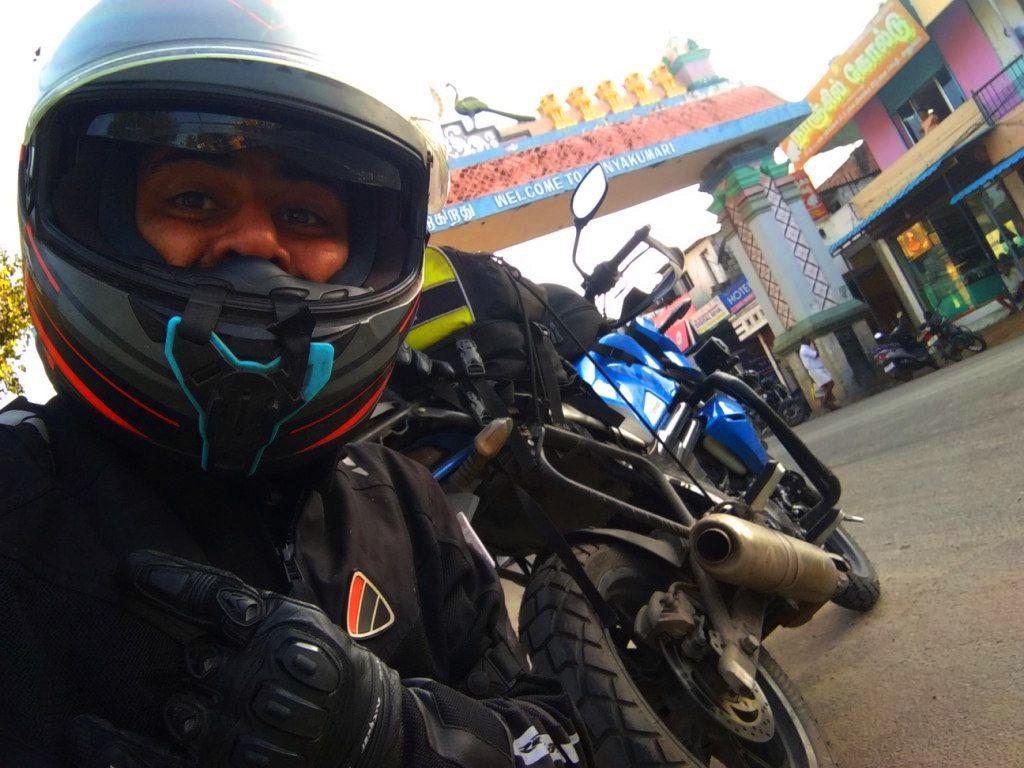 Ek Ajnabi Haseena – Mojotastic Kanyakumari: Mission Accomplised!
And am sure if there were airport I'd go there too! Not knowing what to have for dinner I took up a friend's suggestion Koot parotha. Finely chopped Malabar parotha stir fried in a pan with meat and veggies in spicy concoction. Settling for the night I kept the alarm for a pre-sunrise wake up. The evening's over cast left us bereft of the sunrise with clouds blocking the view.
The rising sun augmented way for the daily life around that stretches. I left early and thus skipped the traffic. Making the outskirts of Bangalore well in time. All pepped up and excited I headed back to NAFS Motors – the dealership to lube and set the drive chain for the journey home.
Ek Ajnabi Haseena – Mojotastic Kanyakumari 2000+ kilometers in 3 days flat!
I settled for the night with a late start the next morning. The day turned from a pleasant Bangalore to a relatively hotter Hubli served with a dash of highway dust. Making it back to Maharashtra before sunset was a blessing. I egged on towards Pune with a long halt at Karad. The idea was to night Pune at nightfall so that I can settle in for the day ahead.
The drop in temperature did not deter me since I was already accustomed to a colder Bangalore that is reminiscent of Indore at this time of the year.Giving the final leg of the ride a boost were a bunch of Harley's that got me to the Satara toll plaza. From there on all I could see was a piping hot cup of tea beyond the last toll plaza at Khed Shivapur before I got into the city. Yes, like the dream to be in Kanyakumari the little dream came true too.
https://www.instagram.com/p/B5IicQmAZra/