Timsun T823 tyre – Short term review
December 30, 2019
Timsun T823 tyres is a tyre that is a popular tyre amongst long distance riders. However here's the popular statements surrounding this brand:
There are an unknown brand come from out of nowhere
They are neither homegrown like MRF or Ceat nor carry the marquee like a Pirelli or Michelin
Bias tyres for motorcycles made by them, this is a joke! Radials is the in thing
Who pays premium for second grade stuff?
Timsun? You mean Dimsun??
This is what I've have heard and I completely agree with all those who have shared their view. You are probably one of those who advised me against the brand. Yes I cannot but agree on what you said looking back today. No discount no freebies just take it or leave it. Like who wants a tyre like this?? So much of deliberation isn't worth my while let alone anyone else's…
I think NOT!
Here's why:
About two years ago there was this whisper about a new tyre brand in the market – Timsun. The whisper grew louder with the passing days. Loud enough not to be ignored, even by deaf ears. A few phone calls and emails later India knew that Timsun tyres forayed into the market. A careful study of the brochure spoke about the new patterns on offer for "all things motorcycle". No sooner I knew it, the 2018 Dominar fitted with Timsun T823 matched the Ceat Zoom Rad X1 on every step be it handling or top speed or control. In fact the dual sport pattern and additional 10 mm gave the Bajaj Dominar a dominating stance. A few rides later a first impression review was in place that sparked a few more followers.
First impression said and done, so what?
The time between the first impression and this write up has seen some of the country's popular motorcyclists opt for Timsun over and above other international brands. They have been there and done that. Let us not forget that about a decade ago a little known lubricant brand today is the leading choice for not just motorcyclists but for manufacturers who have listed this brand as an OEM partner. Likewise in case of Timsun India, in the last two years they have been gaining ground. From the humble Suzuki Gixxer SF 150 to Honda Africa Twin there is a tyre for ever one. Correction – seven tyres for seven different styles of motorcyclists.
Yes, the last line was no typo. On a visit to their Customer Experience Centre in Bangalore, during an orientation session we given a detailed tour of the (tyre) setup and informed that they have seven basic tread patterns. Each catered to a specific purpose / riding style. From regular road patterns to off-road patterns they had it all.
Here's a cookie – the Timsun tyres on the Flat track Royal Enfield Himalayans (built by Autologue Design) can be rotated owing to its unique tread pattern.
The True Timsun T823 Tyre Test – Breaking BAD!
About a month from now a two thousand kilometer journey was completed on the Timsun T823 tyre. The motorcycle in question a 2019 Mahindra Mojo UT 300. The blue-eyed boy of its owner allowed me an opportunity to complete the expedition to Kanyakumari. Kanyakumari was a destination that seemed jinxed for all reasons and missing this three years in a row wasn't going to happen. Enroute Goa the stock MRF Zappers had already lived their 17000+ kilometers and needed a change. As arranged at Mahindra Mojo Bangalore the Timsun T823 tyres replaced the stock MRF's.
After fitment, the motorcycle was parked double digit kilometers from the workshop. The next day we set out to conquer Kanyakumari or get conquered. The morning drizzle and overcast clouds were playing tricks already. We said chuck it, let's ride. Having said this we set out sans the rainwear taking the fight to the weather gods at the risk of drenching. The ride till Salem was slow and steady. Just a boring traffic dotted ride. Just out of Salem we hit 18,000 kilometers on the odometer!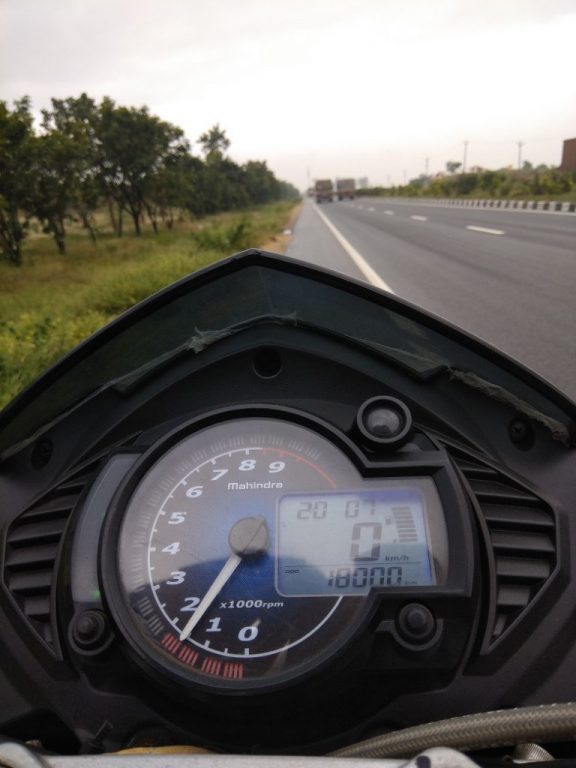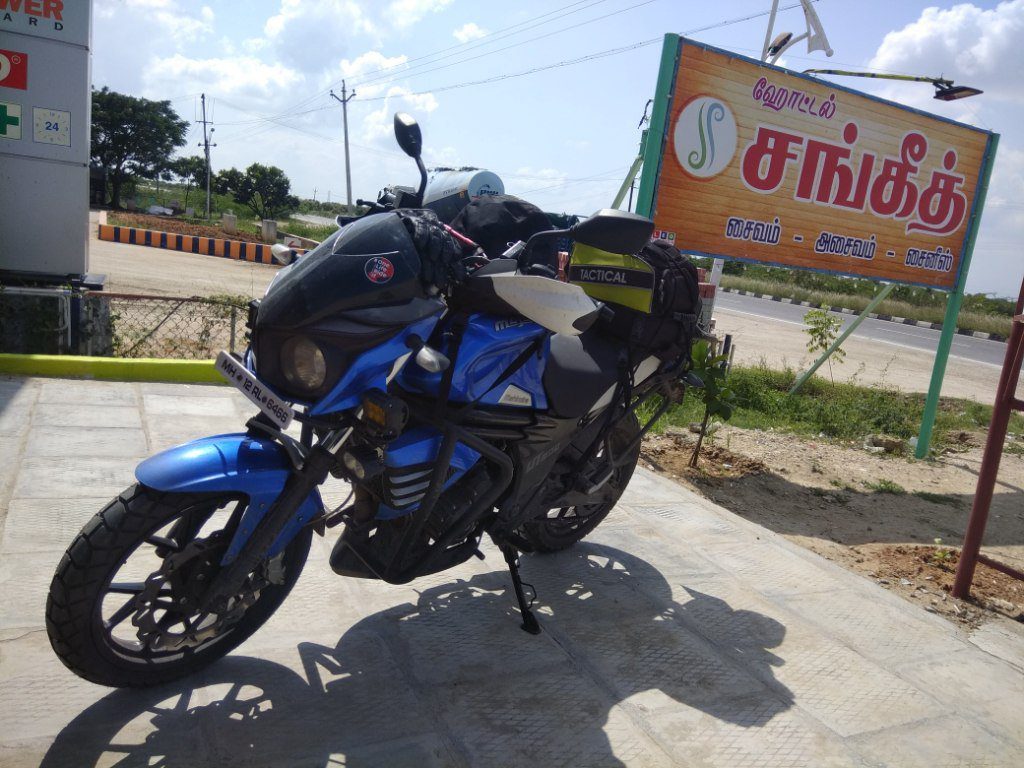 A milestone of sorts
The Mahindra Mojo (#Daanav300) and I have rarely seen anything below 150 kilometers before setting for a halt on six lane highways. This was a production model and we both wanted to know how far both man and machine can go before breaking in. A total of 313 kilometers before halting for lunch just 200 odd kilometers north of our destination. The Timsun tyres held the road well for a motorcycle sans ABS or any other tech. A muscle car incarnate on two wheels, these tyres just ripped through tarmac, speed bumps and potholes. The journey back was no less the same endurance paced ride to Bangalore. We hit a new nonstop high on a 24 bhp two ton tourer. We got a decent mileage, pretty much the stock tyre mileage. Next what??
The Home Run
Getting into Pune required some extra pushing since we left late. The weekday, non festival traffic gave a top end of 142kmph on the production motorcycle as compared to its prototype that closed in at 145kmph. Getting into the borderlines of Maharashtra before sunset is a worthy mention. The stretch between Davengere and Belgaum is all but broken. With speed restricted carved into the otherwise smooth concrete. The Timsun T823s simply cruised in at about 80 kmph or so before coming to a grinding halt just out of Maharashtra for a break. Taking its toll was the fluctuation in temperature however the Timsun tyres held its own. Usually, some say that you should give about a thousand kilometers before a stint of hard riding. With Timsun it was "Go Baby go" right from the first upshift. Break in we did, breaking bad – I think not.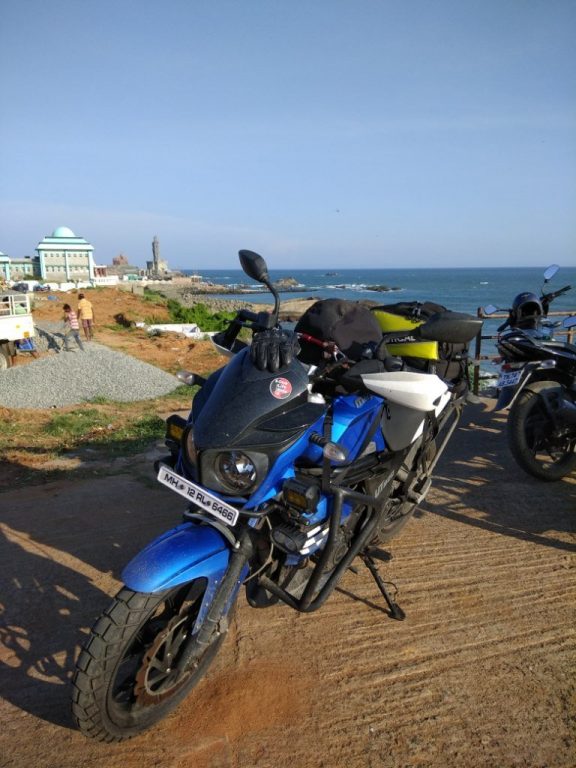 To Timsun or not
At this point of time when premium tyres can burn a hole in the wallet of the working class motorcyclists, Timsun offers a value for money proposition. Positioned just above the stock tyre class in terms of pricing, irrespective of tread pattern it does offer more punch. After all would you hit the gym with roadside purchased sneakers or prefer industry standard gym shoes? The Timsun T823 tyre is a performer on both smooth surfaced roads. Also, on roads that are bereft of gravel. Indeed by now YouTube is inundated with videos that will give you their perspective on the product. From one fellow motorcyclist to another I would encourage you to first understand the tread pattern of product and its role in your riding style. After all would you pair bathroom slippers to a tuxedo?
As I conclude this piece I would like to thank:
Timsun India in Bangalore for their time to educate us about the product rather than just sell us the Timsun T823 tyre.
NAFS motors for expediting the process of fitment and procurement of the tyres for the ride.
Last but not the least, my friend for entrusting me with the motorcycle and the new set of tyres to complete this review.