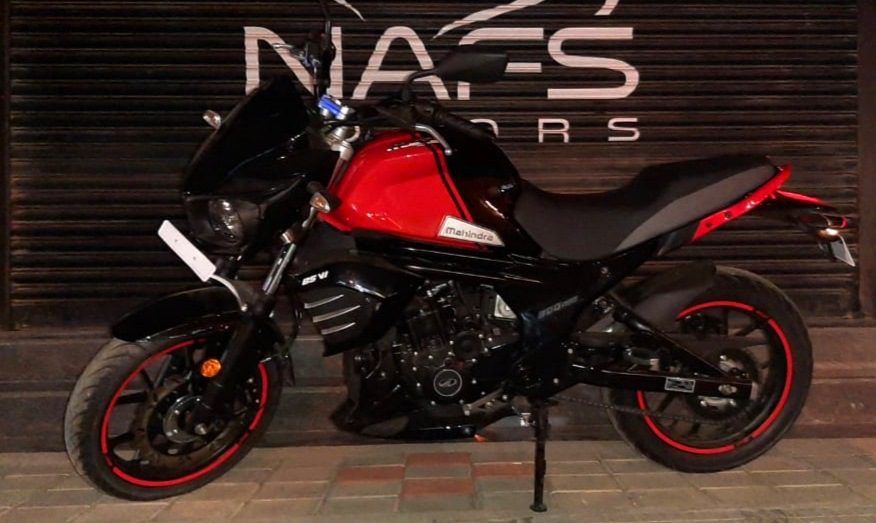 Farhan Khan – The Motopreneur
August 27, 2020
1. Tell us about yourself – education, automotive related skills, car/motorcycling experience.
I am Farhan Khan, born and raised in Dubai and did my schooling upto 12th grade there.  Thereafter, pursued my B.com degree in Bangalore university. Concurrently while working, I pursued my Executive PGDM.
It is 11 years ever since I started riding motorcycles. The journey began on the Bajaj Pulsar 150 and Yamaha R15. Then gradually upgraded my motorcycling skills. Today, I own a BMW S1000RR and the Mahindra Mojo XT.
Predominantly a track guy, and a proud student of Apex Racing Academy.
Did quite a few tours around South India. Got into more of touring with the Mojo.
Covered Bangalore – Mumbai (1,000 km) in less than 12.5 hours and the Mojo made it really easy.
I had been on a 9 days Desert Trail (tour organized by Mahindra Two Wheelers Limited) across Rajasthan and Gujarat.
2. Automotive Acquaintance – how did you become an automotive enthusiast. Eg. Influence from father, friends etc.
I've been an automotive enthusiast ever since I was kid. Being born and raised in Dubai you are in the land of the fanciest super-cars. I was off one's rocker about cars. After 12th grade, I moved to India to pursue my further education. However, I didn't find cars very practical in Indian road conditions and thus began riding motorcycles. During college days after much persuasion I got the Pulsar 150. Then moved to a Yamaha R15 gifted by my dad. The itch upgrade is like immortality, it never goes away. However, my dad said if I wanted anything more I had to earn it myself. So right after my bachelor's degree, I started working for a motorcycle dealership to be around, ride and earn the motorcycles I fantasized.
3. Farhan Khan – The Motopreneur: Life before turning a Motopreneur (work/ employment)
I started my career at Khivraj Motors (KTM & Kawasaki dealership) as a Sales Executive just to be around the Kawasaki  Ninja 250 (my dream bike back then) and KTM motorcycles. Since I was passionate, I could quickly grasp the technical specs of the motorcycles and that of the competition too. This in turn improved my selling skills, not to mention the training and mentoring by my seniors. From the word go the zeal to sell kicked in and in the first month itself I sold the most bikes for the KTM dealership. Riding various motorcycles helped understand them better. This drawing suitable comparisons between any two motorcycles. At times I would take my clients pillion to demonstrate what the motorcycle is capable of if, I felt that they didn't get the real feel of the bike. I even made a small vlog initially on the ktm 390 Duke which went really viral (for good and bad reasons as I was a bit rash) as it showed what the bike is capable of on the Bangalore streets.
In a year's span I became the manager of the KTM dealership and worked with them for a span of 3 years.
During the tenure at Khivraj Motors KTM where I learned the most, I decided that I want to grow in the industry of motorcycles. While I was working, I started pursuing my PGDM at St Joseph college and went for classes in evening after my work hours. Working and studying at the same time is quite challenging. I then moved to BMW (Navnit motors) for a short span. Since the BMW Motorad (the motorcycle division) was not officially launched in India, I was selling the bikes from the car showroom. However due to certain obstacles and the inability to ride a BMW Motorcycle, experience and share that experience with customers I decided to focus on studies and finishing my PGDM.
While I was still finishing off my PGDM, Mahindra was looking for motorcycle enthusiasts as relationships managers.
This was just before the launch of Mojo to sell the Mojos exclusively out of the Mahindra 2 wheeler dealerships that sold the smaller commuter vehicles too. I attended the interview and first got a chance to ride the Mojo and was blown away. It is indeed amazing how an Indian manufacturer made such a rugged touring bike with such a refined engine. The refinement level was at par with Japanese motorcycles. And I believe, even slightly better than a few Japanese bikes in the segment. I'd always believed in selling products that I personally loved and as a motorcyclist the ones I am confident about. During this period there were certain established Indian motorcycle brands that offered me a job at their corporate office. Honestly it meant a lot for a guy who worked at the dealership level.
Even a big international premium car brand offered me a job since they've seen my skills.
But I decided to listen to my heart and work for Mahindra for the mojo coz I absolutely loved the product despite the fact that Mahindra was not an established 2 wheeler brand at that time. I started my career with a ktm dealership and was one of the first ones to build the brand in Bangalore. I then wanted to work with Mahindra, an Indian manufacturer that made such a beautiful product the mojo and help it grow and make a mark for myself. Mahindra was also the first ever and the only Indian manufacturer to race at Moto 3, the 250cc class of Moto GP which I followed a lot. I joined Alfa Motors as a relationship manager and ever since then I've sold the highest Mojos in the country.
4. Farhan Khan – The Motopreneur – The All Spark inspiration
I was a bachelor living in India while I was working. My mom and siblings gradually moved to India. While I was still working at Alfa Motors, the mahindra 2 wheelers dealership, My dad was still working at Dubai. Finally he decided to come back to India, settle down and start a venture of our own. It could have been anything.. a restaurant, a car spa or a motorcycle cafe.. But some how I was always inclined towards motorcycles and wanted to do something around it. I never even thought that we would have an authorized motorcycle dealership of our own. In fact my target during the early stage of my career was to get into the corporate level of a motorcycle manufacturer and not have my own own dealership.
The top management of mahindra two wheelers had recognized my immense passion and in a way didn't want to lose me as I had contributed a lot towards the brand. I also was quite attached to the brand. They then gave us an idea of starting an exclusive mojo dealership for sales and service. I found it interesting as I had the customer base and am into a huge network and community of motorcycles. After a lot of research and though process me and my dad decided to start this venture.
Nafs motors, the first ever Exclusive Mojo dealership in India and even now as an individual sales person – I've sold the highest mojos in the country both during the tenure of Alfa motors and After starting our venture Nafs Motors.
We're well known among the Mojo community all over India for proving quality service and also tailor making bikes based on each individual's requirement:
The Mojo has a love it or hate it design.
Some love it for having the distinctive owl like transformer look.
Others hate the look and do not buy the bike just for looks.
Thus the idea of customizing to  a round shape headlamp started which many loved.
And slowly we starting getting into tailor making the bike as per customer needs.
Indeed, this really boosted our sales.
Thanks to Almighty God and blessings of my parents and especially my dad who supported my passion for motorcycles. My dad is from the accounts background and has been a successful finance manager in Dubai for well known corporate firms. His guidance and support played a very important role in this venture. He supported me in this venture despite of his fear of me riding fast and big motorcycles. Now my parents understand that I'm not going to give up on motorcycles. His finance background and my passion is what helped us grow.
5. Spanner in the works – challenges faced and (how you overcame them)
Mahindra despite of having a brilliant product, isn't an established brand in 2 wheelers. Obviously the parent company Mahindra is big and supportive to its two wheeler division despite of the losses. India is a country where even much inferior quality products sell due to their legacy and bigger dealer network. People who ride it absolutely love the bike for its touring capabilities. But are skeptical even though it's a Mahindra that's known for making SUVs, Tractors etc. Mahindra is looking at letting the bike speak for itself. Today, many people don't even know Mahindra Mojo exists. However, it is word of mouth marketing that is helping us the most and slowly giving confidence to customers as well as dealers.
Slowly the dealer network is growing well especially in south India.
After bringing in Jawa which shares the Mojo engine and tuned very differently, lot of people know are getting to know about Mahindra Mojo and come try it. That's in fact even increased Mojo's sales as the Mojo is arguably still the best bike with respect to touring in its segment. The Mojo is now getting more attention for what the product is. But honestly it deserves more attention. One thing I request everybody is to try the motorcycle at least before buying anything else and that's helped a lot. This isn't really needed in case of bigger brands that sell anyway due to their legacy. Mahindra Mojo is a brilliant tourer
Abs was one thing that was missing and that was introduced in 2019. There was a then a major improvement In handling and braking with dual channel abs. The BS6 has just launched and it's even more refined.
6. Beast Mode – A memorable feat/ achievement /anecdote of your venture
Recognition by the Mahindra Mojo community and other motorcycling fraternities and communities for our work.
7. Farhan Khan – The Motopreneur: My way to the highway Future plans ( what your audience can look forward to)
I'd love to have a cafe, motorcycle garage, custom shop and selling premium used bikes. Not just specific to Mojo. I still buy and sell pre-owned Mojos. Do the same with bigger bikes too but at a much smaller level, I want to grow here. I currently supply a lot of parts and lubricants to people in my network. Thus catering to both, mid sized bikes and high end premium superbikes. Looking forward to grow here.
8. Advice to Budding Entrepreneurs
Just follow your passion and work hard towards it.
9. Live Location ( Farhan Khan – The Motopreneur, official contact details)
For those of you who would like to Connect with NAFS motors:
112, 1, 100 Feet Rd
Opposite Post Office
Dodda Banaswadi,
Bengaluru
Karnataka 560043
https://maps.app.goo.gl/sSDuxjZS3x1iJrEW6
You can also call them on 088610 83251
To connect with Farhan Khan at NAFS Motors online:
Facebook: https://www.facebook.com/mahindramojobangalore/
Instagram: https://www.instagram.com/mahindramojo.bangalore/
Farhan Khan – The Motopreneur on Instagram