Mototech Hurricane Rain Overtrousers Review
September 23, 2020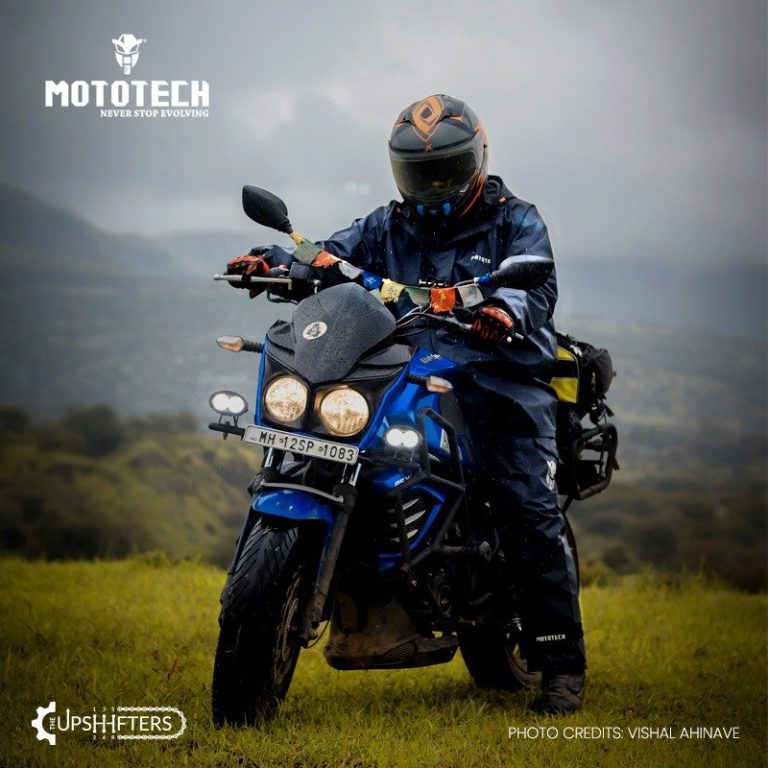 Mototech Hurricane Rain Overtrousers Review – The why and how?
It is the last week of September, usually monsoons are at its peak. And We can already feel the October heat. This year it is a new normal. Nevertheless, the late monsoon is catching up so are the chances to achoo! Rewind to about a year ago is where the hunt for a new raincoat began. After scanning all options, I zeroed in on a few top brands in raincoats and Mototech. The MotoTech Hurricane Rain Overjacket and Mototech Hurricane Rain Overtrousers caught my attention. For this I have to make a special mention of Saddle Store. For it is here where I saw it first. The slim fit "bobber" poncho raincoat hybrid design certainly is eye catching. In a place like Pune, where the clouds and sun plays hide and seek, a Textile mesh riding jacket is the best option. Unless travelling to a colder region or in case of returning after sunset where a dip in temperature is expected you do not need a non-mesh riding jacket. Hurricane Rain Overtrousers was not there i guess.
But then again what about trousers? Conclude a ride with rain-soaked denims in the absence of a rain pant. The alternative being picking up a rain pant from the market. The risk being it tear apart or worse still contract seepage issues. Certainly purchasing good quality standard rain wear is an option. So then why not the Hurricane Rain Overtrousers to go with the MotoTech Hurricane Rain Overjacket I thought.
Mototech Hurricane Rain Overtrousers – First impressions?
In the event of a sudden downpour all you want is to immediately suit up in your rain wear. The Mototech Hurricane Rain Overtrousers allows for this.  Enter the MotoTech Hurricane Rain Overtrousers. This pant has dual side pockets for easy access and temporary storage. As responsible motorcyclists we do understand that we would refrain from keeping valuables safe and from accident induced self injury. The unit in question is the 3XL piece.
Form over functionality?
Why pay so much for a pant?? No not because I am selling you the influenza deal. The lack of pockets has had me and probably you running around the zippers of jacket for loose change during your tea breaks and lunches. Absence of outer pockets can easily add about 10 minutes of gear up time in order to process a payment. Certainly most locations have Digital wallets. What if they didn't have it or you do not believe in it. With the hurricane over trousers this changes. Also, Mototech has strategically placed the logos to double up as safety reflectors for after dark travel in the rainy season. Sealing the deal are the Velcro fasteners that volunteer to keep the excess rain/puddle water out of your feet.
The Hurricane is a snug fit over the average riding jacket.

It keeps the extremities out and keeps your focus where it needs to be – on the highway
Mototech Hurricane Rain Overtrousers – As per the Manufacturer
The NEW and IMPROVED MotoTech Hurricane Rain Overtrousers is a technical rain pant which offers comfort and protection from town to wilderness, from on road to off road. The pant features fully seam-sealed tapes, waterproof performance to keep out the elements and a comfortable, easy-wearing elastic waistband with an adjustable ankle velcro strap for the perfect secure fit. MotoTech has also provided two side pockets to store knick knacks.

This waterproof pant can be used anywhere in the outdoors while riding a motorbike or a cycle, on a hike or an expedition or even on any adventure or generic travel.

Are you aware of the difference between "Waterproof and Water Resistant" and how they are classified with different ratings based on the ability to protect from Water? Click on the below link to read more and understand what the rating stands for..
Water Proof vs. Water Resistant: What's the Difference?
Features:
– Waterproof, tough and lightweight fabric
– Elastic waist for comfort
– Flapped side hand pockets with heat sealing on the inside.
– Velcro® adjustment at ankles with reflective branding
– Fully taped seams
– Regular Fit
Material: PolyVinylChloride Coated Nylon (waterproof)
Velcro Ankle Adjustment:Velcro Strap fastener on each side with Mototech Reflective branding, at the bottom of the pant
Side Flap Pocket: Flap pocket in each side with Reflective Mototech Logo.
The stitches of both pockets have been seam sealed from the inside.
Weight: 280g
Wash Care Instruction:
1) Washing your waterproof pant regularly will help maintain the DWR (Durable Water Repellency) coating.
2) Can be washed in a standard washing machine.
3) Fasten velcro before washing.
4) Cold wash on a gentle wash setting.
5) DO NOT USE FABRIC SOFTENER!
6) Rinse it twice after washing.
7) You can use a tumble dryer but on a low heat only or hang it in the shade.
8) Do not dry clean or iron
9) Do not Bleach.
Size Guide:
To view the complete line up of Mototech products click here
Creative Collaboration
Mahindra Mojo 300 ABS BSIV by – Mojo Pune
Travel Luggage Partner – Invictus Touring Gears