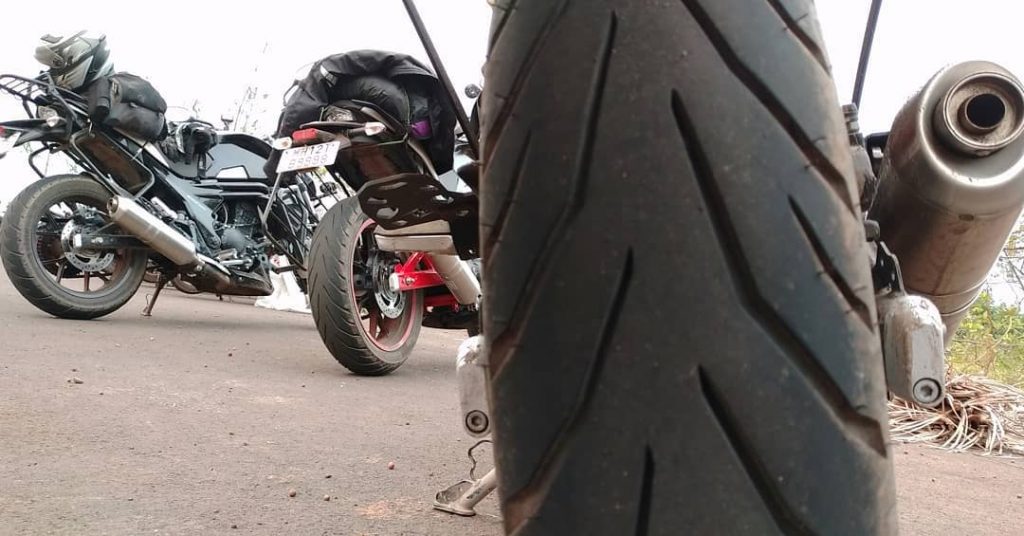 Pirelli Angel CT Review – 1st Impressions
February 28, 2021
Pirelli Angel CT Tyres – 1ST impression review
To begin the Pirelli Angel CT 140/70 Review – Is it a Clark Kent or Kal-El all we can say is in two words Same Difference. A vey clickbait and outlandish statement to make, isn't it? Specially when it is paired with India's least popular tourers – The Mahindra Mojo BS6. Those of who undermine its capabilities, it surprises us and how?? However, before we jump into the review of the tyre lets get to know a few details about the host – Mahindra Mojo.
Pirelli Angel CT 140/70 Review -A few of the Mahindra Mojo's features relevant to this review:
300 cc Liquid Cooled Engine – A BS6 compliant engine delivering 25.35 BHP /25.96 Nm
21 Litre Muscular Fuel Tank – Around 500 kilometers of travel between two fuel stops
Ground Clearance 165 mm – This is sits in between the Dominar and Himalayan
S Rated tyres (180 kmph )- Front 110/70-17 M/C 54S & Rear 140/70-17 M/C 66S
Brake Front Disc Brake 320 mm Disc, Radial Caliper
Brake Rear Disc Brake 240 mm Disc
Pirelli Angel CT Review – Motorcycle Characteristics
The Mahindra Mojo is known to be an all rounder. While the power has been a tad bit reduced, it surprised us with its handling, not just on its home grounds but also in the city. in a nutshell, the motorcycle is the most agile Mojos yet. For a tourer than can cruise and also go offroad the tyres need to be able to handle it all. A larger fuel tank means anywhere between 200 to 300+ kilometers can be traversed at a go. The motorcycle gets S rated tyres which means that its tyres irrespective of brand is a leader in terms scalability and ability. A front petal disc translates to the bike that can take a lot more "heat" thus has a Captain cool design of sorts.
Pirelli Angel CT 140/70 Review – Predecessors
The previous iterations had the Pirelli Diablo Rosso 2 in a radial form factor. This followed with the MRF Zapper S for a brief time frame on the scaled down Mahindra Mojo UT 300. The BS4 variant introduced the Pirelli Angel CT to India, being a short run we are sans an opinion, in favor or against. Here is where we went . Prior to that who knew these. With the Diablo Rosso ruling the tracks and the Scorpions scorching trails, to most of us its like a superhero with no superhero powers.
Pirelli Angel CT Review – The Tyre Setup
Front 110/70 – R17
Rear 140/70 – R17
The new Angel™ CiTy is directly derived from the well-known and test winner Angel™ GT.
The new tyre addresses the needs of sporty bikes and scooter up to 300cc, "underbones" and other commuting bike
The robust tyre construction ensures high puncture resistance and performance consistency throughout the entire tyre life
The benefits of Angel™ CiTy are clearly perceived in any riding condition, especially on uneven road
The tread pattern guarantees optimal wear and improves water evacuation
Angel CiTy features a new compound mainly based on carbon black with a calibrated percentage of silica; it is able to deliver excellent grip on both dry and wet, tear resistance and mileage
Application: ROAD & SPORT TOURING

A set of biased tyres with plain jane tread patterns, purely for daily commute. No radials, just a set of premium BRAND tyres to add to the appeal is what we'd think.
Pirelli Angel CT 140/70 Review – First impressions
Riding out from the the dealership in Ahmednagar to Pune is where the tyre began to tell the difference. The journey to Ahmednagar was made on the Base variant paired with MRF Tyres. This certainly felt different. the tyre gripped the tarmac with as much ease it glides over gravel. Making it through small patches of dirt, potholes and construction vehicles seemed like a walk in the park. 1400 kilometers later, the Mahindra Mojo took its first long distance ride. The first road trip in over a year since the new normal.
Pirelli Angel CT 140/70 Review – proving grounds be like (The Route)
Chandani Chowk to Malgund via Tamhini ghat – Chiplun Tawsal route. A simple straight out route on a debut ride with the MOJOTRIBE. As per sources most of Tamhini was all built and ready to ride. The highway still being under construction and beyond Chiplun a patchy route awaited us. A pillion, light luggage thus not much reason for worry, no? The first road trip in a long time. A first time in ages with a pillion over some terrain that is yet unexplored. Thus, on the menu we have:
Mountain passes
3 lane highways
Village roads
broken/ dirt roads
twisties
straights
Bountiful blind turns
Pirelli Angel CT 140/70 Review – Review
Typically, the strategy for the onward journey had short breaks whenever taken and a halt for lunch. The short breaks allowed for water and breather for the ladies. Another benefit being avoiding exhaustion or burnout early in the ride. The last time I went end to end on a tyre while cornering I don't recall. It is because cornering is neither a forte nor much of an interest. Its easy to say "I LOVE Dirt". Thus a Mahindra Mojo to tackle this kind of terrain while the pillion stay in their comfort zone.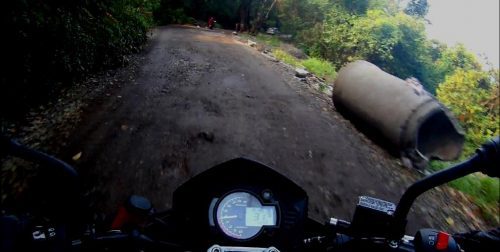 Crossing Tamhini ghat is always a breeze, pillion or solo. Here too, the bike was a flickable with the tyres diving into every corner like a hungry shark and gliding on dirt clouds. The Chiplun bound route is being concretized and thus patchy at places. The straights offered ample time to max out the bike. At times some tyres give out "Tyre Noise". no issues with this.
Pirelli Angel CT Review – Lets Deep Dive
After Chiplun as the three lane highway narrowed down it meandered its way through broken asphalt and village sections. Drawing from my experience on the dirt patches will my pillion. Well, scratch that, my WIFE! This ride, a first time outing with my wife I needed to ensure that she be comfortable no matter what. With the absence of helmet communicators we spoke via hand signals and in some cases the "corners" spoke for me.
Between Chiplun and Tawsal Jetty, the Mahindra Mojo BS6 AKA Daanav6 seemed to be one of the quickest of the lot, albeit with a pillion on dirt sections. The Pirellis allowed for the bike to skim through the rough terrain easily. Well any Mahindra Mojo owner reading this will ask, isn't that second nature to the Mojo? Well, yes however with a pillion and street tyres its a first.
No debate that the Rosso can do it, but then again you'd wish for a block set for the off roads..
Once the dirt roads disappeared we met the corners – long, short, blind or wide, a bountiful count nevertheless. The bike lost control only in two situations:
When I accidentally hit neutral
Shifted  gears too early/late
Barring this the motorcycle was as agile as the word itself. After a series of corners and GPS induced diversions we finally reached the jetty. While awaiting the ride the group refreshed and caught up on over some refreshments. taking stock of the motorcycle while inspecting it I found this:
All three Mahindra Mojos including the one with MRF seemed to have had a blast! The ones with the Pirelli Angel CT sliced more than the former. In case of my motorcycle, it almost came to the edge of the tyre. A touring motorcycle that isn't as popular to come off with this is least expected.
Pirelli Angel CT Review – Next change?
After this awesome performance it can be said Pirelli Angel CT or nothing. Unless, there is a tyre out there waiting to challenge this dark horse!!