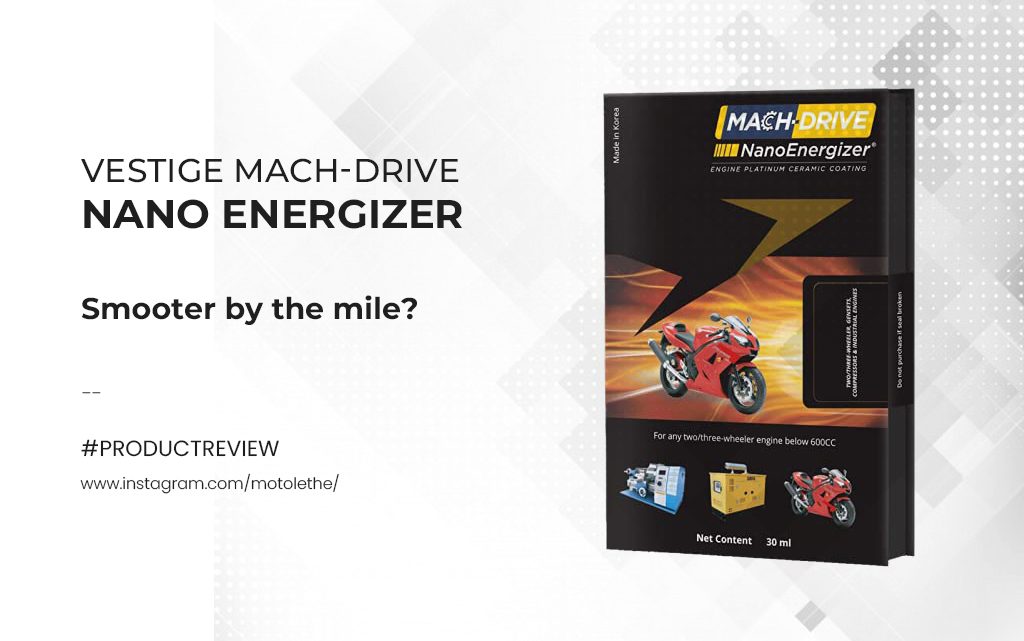 MACH-DRIVE Nano Energizer 1st impression Review- Smoother By the mile?
April 29, 2023
MACH-DRIVE Nano Energizer – Prologue
The MACH-DRIVE Nano Energizer ever since its launch has been the buzz word. The product launched about 3 years ago and ever since we've had folks wanting to try it out. Ironically for us, the product is just a "shopping cart" purchase way. Nevertheless, with a direct connect to the MACH-DRIVE Nano Energizer installation and using it is indeed the inevitable in the making. Interestingly a nationwide press conference was called to announce the grand launch of the product. And thus the brand behind the product Vestige Marketing Pvt. Ltd. forayed into the automobile industry vertical too.
MACH-DRIVE Nano Energizer – Before the beginning
We used Polytron MTC about half a decade ago. This product not just raised the bar, it became the benchmark for all tribology related pursuits. Unlike most additive Polytron MTC makes its mark after 100 kilometres of use. The first impression is a lasting impression. Moreover, if you are hooked you could be reeled in for life! Just one fine line – you need to use Polytron MTC everytime you change the engine oil.
So with this finer aspect the user decides whether to use it or not. Keeping this at the forefront, sans the features we calculated the ROI. Given the cost of application over a period of time, the MACH-DRIVE Nano Energizer is a rather cost effective solution. Thus assumption, based on the fact that both items perform as expected.So, before we begin our review let us get to know the product.
Vestige NANO ENERGIZER: 2-WHEELER (As per the Manufacturer)
MACH-DRIVE Nano Energizer is an additive for the engine along with engine oil, using Ceramic Plus Metallic Coating Technology for better engine health, engine efficiency and reducing pollution.
It contains 20nm platinum-coated zirconium powder emulsified in mineral oil which is ideal for engine restoration and protection.
These nanoparticles create a tough and smooth layer on all parts within the engine, resulting in a smoother, quieter engine which delivers more power and better mileage.
MACH-DRIVE Nano Energizer: Improves Engine Efficiency
Brings engine power up to 100%
The Nano Energizer uses Revolutionary & Patented Nano Ceramic Technology It allows for easy Treatment of Engines and Restores, Repairs & Protects.
Ceramic coating, especially with Zirconium, has a beneficial effects on engine efficiency and performance
How does MACH-DRIVE Nano Energizer work?
Ceramic coating nanotechnology. 20-nanometer, platinum-coated ceramic beads is to reduce wear, increase compression and longevity.
The new generation of ceramic coatings (zirconium oxide), Zirconium, or ZrO2, is a ceramic material that has been proven to be the most appropriate for engines.
A single installation ensures a powerful engine with smoother, quieter, more economical operation.
 MACH-DRIVE Nano Energizer – Application
It can be applied after the engine oil is changed, there is no need for re-dosing, recommended to change upon driving 30,000 km.
Installation Method:
Shake Nano Energizer enough (50 times) before injection. Open oil filler cap and inject Nano Energizer slowly.
Close oil filler cap and keep idle for 20 minutes or drive 30km.
Do not change engine oil for next 400km for 2W/3W and 1200km for 4W
To bring about a fair review decided to clock at least 3,000 kilometers – that is about 10% of the optimal conditions use. Giving this a go, we headed to the Royal Enfield Ridermania 2023 – An annual event hosted by Royal Enfield in Goa.
"The Machine and measures"
For the review we took the Mahindra Mojo BS6 – 8,831 kilometers clocked at the time of installation. We added a few details:
Apollo Trampler XR tyres – stock size and profile
Autologue Design SF Kit – Tank Cover and head cowl
Motul engine oil – OEM specified grade and quantity
Indeed, the fully loaded touring machine all set for the journey ahead!
MACH-DRIVE Nano Energizer – 1st impression review:
Certainly riding to Goa and back clocked over 1100 kms. This included the following terrains:
Long straight National highways
Single lane state highways
Twisted mountain passes(Ghats)
Urban roads of the state of Goa
Extended Offroad patches
Nevertheless everything works in tandem so it is really difficult to tell who contributed towards what, no:
The Apollo Trampler XRs took on all that the terrain threw at it while the Schroll Air Filters ensured that the Mahindra Mojo never Ran out of breath. Yes, in addition to the performance it addition a tad bit to the mileage and responsive engine too. So what exactly did the MACH-DRIVE Nano Energizer do? In simple terms – it kept the fan from switching on too often. Certainly an irrelevant observation?
Key takeaways from the interstate tour to Goa & back.
For water cooled engines, typically the fan kicks in when the thermostat indicates its "cooling time".
Keeping the engine from overheating and in optimum running condition on "OEM engine oil"
Smoother engine sans the use of premium grade petroleum
This in turn reduces not just vehicle fatigue but rider fatigue too
Which means more miles munched and lesser halts taken
8 hours from Goa to Pune with about a two hour halt for meal breaks and refuelling
Also, we believe that it contributed in some way to the mileage factor too
All in all, the Nano energizer offers a smooth running engine in the absence of fuel additives or premium fuels.
While we conclude the first impression review here is a sweet memory when we went in pursuit of the perfect cup of Tea from Goa to Kudal in Maharashtra.