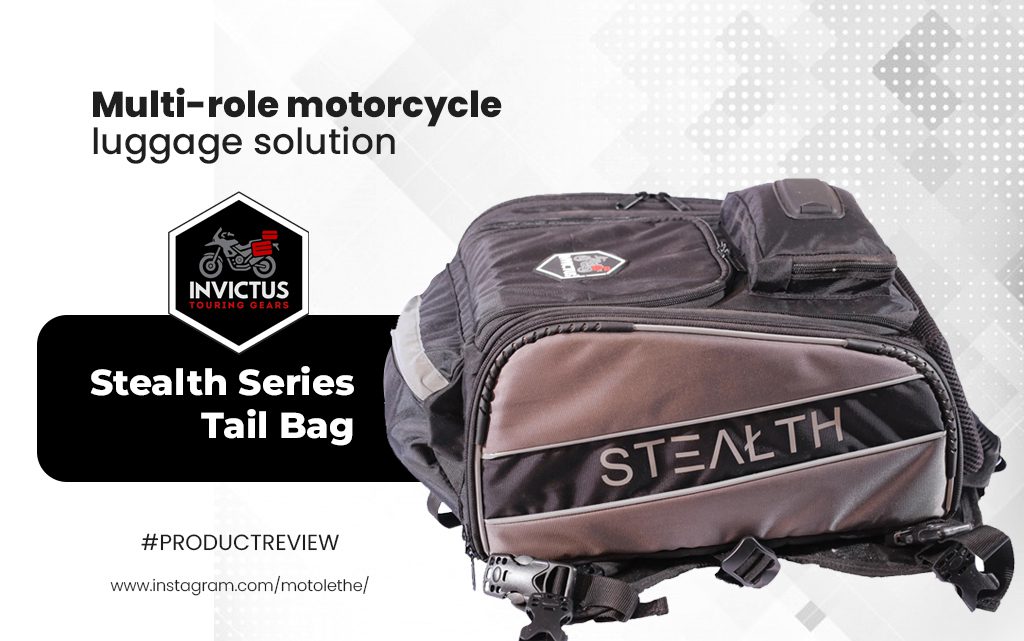 Invictus Touring Gears Stealth Tail bag Review – 2X as nice?
April 7, 2023
Invictus Touring Stealth Tail Bag Review
Stealth Tail Bag – The Why
The Stealth Series Tail Bag is a multi utility luggage solution, Thus it takes on the role of being:
Tail Bag
Tank Bag
Backpack
Helmet bag
Over the last decade the motorcycling culture has grown leaps and bounds. Today, it is a leisure pursuit by people from a vast array of stratas of the society. From e-scooters to superbikes a lot of folks are now onboard. Just like seasons of the year, travelling on a motorcycle has its season too. Alongwith the growing need for accessorization the demand for cost effective yet quality luggage solutions is a large void that leading brands are competing to fill. With weekend getaways and long weekend rides becoming the norm, the Stealth Tail Bag is positioned to address this void and beyond.
Initially luggage for travel was the travel bags and suitcases retro-fitted to the two wheeler. Today it is a race for brands based in the country who seek to fulfill the needs of "Travel Solution". One such brand is Pune based Invictus Touring Gears.
Invictus Touring Gears Stealth Tailbag – 1st impressions
The  Invictus Touring Gears Tactical tailbag in its current iteration is known as the Invictus Touring Gears Stealth Tail Bag. The unit under review is the 2023 edition "Stealth Tailbag". The tailbag unlike its predecessor is a fresh piece. The tactical tailbag in its tenure has undergone various extensive testing before we put the review out. The sole purpose being:
"Returning a battle scarred product would aid quality control and future development!".
Certainly, this statement took me by surprise at first however here is what the outcome is. I packed sufficiently for a week long roundtrip of about 3000+ kilometres. The first stop being a long weekend at Royal Enfield Rider Mania 2019 in Goa and then Kanyakumari via Bangalore.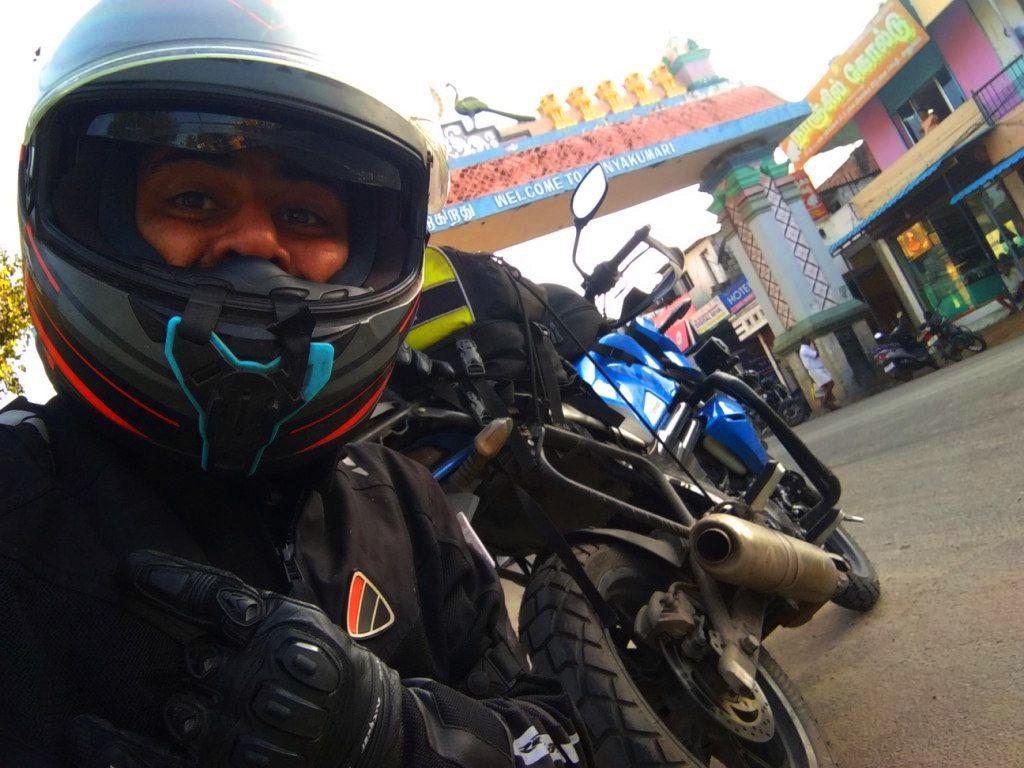 Going beyond the trip where apart from luggage, the bag had adequate space to bring backs spoils of the adventurous week. 2020 a year that we all prefer to forget is a time where the Tactical tail bag really shone. The high load bearing capacity allowed for carrying maximum supplies during the lockdown where two wheeler commute was forbidden.
When the norms were relaxed and weekend travel was allowed, taking in excess of 15kgs load at 100 percent volume was a breeze. This being about a fortnight's market for a nuclear family meant alot. Certainly going professional pleasantries, the Tactical tailbag proved a friend in the pandemic.
Invictus Touring Gears Stealth Tailbag short term review – GEAR CHECK (Possible applications)
Can this accommodate a full face helmet? Yes
The bag also fits in a riding jacket, full gauntlet gloves and can pack in clothes for a long weekend trip.
A DSLR and laptop too fit in securely
Also, it easily packs in groceries and makes a formidable companion to the malls too
Spare parts/lubes upto 5-10 kgs are held with ease
Invictus Touring Gears Stealth Tailbag short term review – Touring friendly
Whether you are a novice traveler or been everywhere, The Stealth tailbag is for everyone. Its current version offers up to 8 fastening points to securely bolt it on. It is also bungee cord friendly for those who want to tie it down. The bag comes with dedicated straps for use as a backpack. The current is version has blacked out top pockets.  An outer dust cover and inner waterproof liner is part of the standard equipment.
Invictus Touring Gears Stealth Tailbag 1st impression review – Look and feel
The Stealth Tailbag is "boxy" at first glance, with rigid walls to keep the bag from caving in.
The interiors are well padded.
Industry standard zippers are promising.
When packed correctly, the bag is bulge free.
The fasteners and buckle are of good quality.
They hold the fort on long hauls and offroad terrain too.
The corners are reinforced with piping for added endurance.
It adds to the subtle factor in the day. It lights up well in the night.
The inner lining has a premium feel.
The stitching on the interiors are almost invisible.
At first glance the inside feels like a premium DSLR bag.
Also, the bag has a carry-on handle too.
Invictus Touring Gears Stealth Tail Bag – Thoughts
The Stealth Tail Bag is hyper-versatile
The dedicated backpack strap is a boon
The Velcro strip in between is a great idea but attaching it back needs some practice
Gauntlet gloves and spare city gloves easily fit in the outer side pocket
The side inner net pockets hold paperwork as well as smaller items like powerbank, wallet, SD cards etc.
The north pocket is a good place to keep a first aid kit, energy bars etc.
The cushion backrest offers optimum support for those long highway stretches
The inner padding is indeed confidence inspiring, enough to carry a laptop
Expansion / compression executable "on the fly"
Whether carried on or outfitted (on toprack), it is pillion rider friendly, no more fatigue
Comfortably sits on backrests, carriers and topracks in backpack mode
Boardroom to resort room it goes anywhere, it is "cabin baggage compatible" too.
The current version is on sale for 5500/-
The current version is on sale for 5500/-
First Made In India tail bag purpose built to accommodate a travel toolkit as well as a first aid kit.
Stealth Tail Bag – Dimensions – Collapsed
Main Compartment
height 7" x Breadth 11.5" x length 15" thus 19.78L
Expansion 5"
Expanded dimensions. – height 14" x Breadth 11.5" x length 15" thus 39.57L
Side/Upper/ back pockets total capacity – 6.28L
Total Capacity (Collapsed) – 26.06L
Total capacity (expanded) – 45.85L
Stealth Tail Bag – Product description:
A small compact, handy, sturdy comfortable bag with multiple uses.
Can accommodate 14" laptop, XL size helmet, cameras, drones etc.
Convenient to use on tank, rear seat as well as top rack/ tail plate.
Easy to carry as hand luggage on flights
Small enough for off road rides and
Big enough for essentials,
Detachable base saves time while mounting it on long rides,
Easy to use clips for quick release and mounting, versatile for any kind of mounting.
PLEASE NOTE: WHILE USING AS TANK BAG USE A SOFT FABRIC TO AVOID SCRATCHES ON TANK
 WE HAVE USED HEAVY DUTY ANTI SLIP RUBBERIZED FABRIC ON THE DETACHABLE BASE, ELSE IT WILL SCRATCH YOUR TANK
Thinking behind it:-
As you all know one product which we had not made for a long time in spite of a huge demand was a tank bag, main reason behind this was there were too many same to similar looking tank bags in the market with varied prices as per brand. We at Invictus believe in standing out not just by quality but by utility and design. Smaller the product more the detailing, we wanted to infuse the very spirit and versatility of our ethics of not leaving any space available unutilized and giving the maximum possible utility at reasonable rates.
Thus was born the stealth series tail bag, a small compact ultra versatile bag designed to carry everything from on ride essentials to daily use essentials, a bag for long rides as well as your daily city commutes, designed to lock/ unlock quickly without having to mount the entire setup each time you have to take it off, with 6 point compression straps to stabilize the weight on the bike keeping it centered on the bike and heavy duty fittings to strap it to the bike anywhere from tank to tail as well as backpack straps for convenient everyday carry.
From carrying generic luggage to laptops, cameras and helmets we got everything covered safely, Comes with 100% waterproof inner liner and heavy duty water resistant dust cover and 4 detachable straps for mounting . Ease of use on ride without having to detach anything, Tool kit organizer compartments on both sides to accommodate the longest spanner to the smallest allen key. Inbuilt foam padded mesh covered backrest for rider or pillion for a comfortable ride, 3m Reflective strip for night safety on back and expansion with reflective piping and printing on the sides for better night visibility.
Looking to purchase the tail bag in store? click on the link below to list of dealers near you:
https://www.invictustouringgears.com/pages/dealers
Invictus Touring Gears – ORIGINS
Invictus was created with providing riders of all bikes the safest possible way of carrying their luggage's on long distances. During the market surveys it was hugely observed that most bags available were made for Royal Enfield bikes. Whereas other motorcycles had very little choices and very few brands with affordable luggage systems.
We therefore decided to make our products as universal as possible so that they would fit all bikes regardless of the make, right from the 90L saddle bag to the 76L detachable saddlebags to our tail bags all have been designed the various conditions of:
The seat lengths,
Exhaust height & orientation
Riders comfort
Saddle stays – made by various brands to locally made alterations
Taking everything into account we designed the optimum bags , shapes , sizes, adjustments to suit everyone's needs.
The parent company, Sathe Gadi Karkhana is the oldest mattress manufacturing unit in Pune. Established in 1935 they are no strangers to quality control and understanding peoples requirements.
www.sgkmattresses.com
www.sgkmattressesonline.com
They believe in complete transparency with their customers and therefore they believe in transparency of every detail – be it of the materials used, right from the fabrics to threads and machines. Then, they let the users decide for themselves
All products are manufactured in house – at their own factory. They do not import anything from China or Pakistan. Influenced by the Make In India movement,  Invictus tries to use as much as Indian made raw materials in their products as possible.
Connect with Team Invictus Touring Gears here:
https://www.invictustouringgears.com/
https://www.facebook.com/Invictustouringgears/
https://www.instagram.com/invictustouringgears/
https://www.youtube.com/channel/UCOUzvnmZEYEPBZ9NTrsirzA/featured