Orazo Motorcycling Boots & Xtreme Dynamics Inc review
May 25, 2018
"These boots are meant for walking…"
Today we will talk about not one or two but three pairs of riding boots – a custom build, Orazo Motorcycling Boots & Xtreme Dynamics Inc! No, it is not a printing mistake!! The essence of this review is almost two years old. The search for a formidable riding boot hit a brick wall. While, as an individual yours truly is an average built Indian with blended genetics. As regards footwear is concerned, I am a person that is heavy on shoes. To simplify it more like a KTM DUKE 390 to Metzelers or similar tyres.
Ever since riding a motorcycle became an activity beyond a mode of transport, the "other factors" revolving around this Leisure pursuit has evolved too.
Not limited to just any form of motorcycle sports, the need for enough protection is never too much and always less.
Today from head to toe every other manufacturer has the rider COVERED.
Industrial shoes – dual layer soles have lasted for a year and a half. The regular ones for about eight months. Put this in perspective of the average riding boot sold under rupees 10,000 I will need a new sole every 6 months for roughly five odd thousand kilometers of riding.
The other option would be –
A pair of motocross boots (too stiff to tour with)
The adventure /tourer models that cost at least north of 15,000
Purchased via the friendly neighborhood "coming to India" route from a clearance or season sale somewhere in Europe or America. I saved my lazy self the wait and possibility of cheap is not best. And also, warranty claims in case of the imported or locally purchased footwear. I decided to build my own.
The all leather riding boot tailor made:
To survive the sands of time
Stand about twelve inches off the ground
A standard PU sole had my heel to toe from its inception to date
With the regular maintenance to seal the loose ends that came through due to the rough use and battering from the monsoon fed waters. Keeping a smile on my face and my business with the cobbler who built them, these boots were able to keep my feet – be it on the foot pegs or on the ground.
Looking ahead I needed a boot that was ride ready from the moment. A, "let's go for a quick ride" call came up. A shoe that could withstand all the extremities. Yet, walks into a party or the board room with equal finesse without being "in your face". I also toyed with the idea of a shoe that could pass of as a casual pair of shoes. Ideally, for a "Lavasa ride" or track day event. We have unlimited wants and limited means! So primary school- like, no?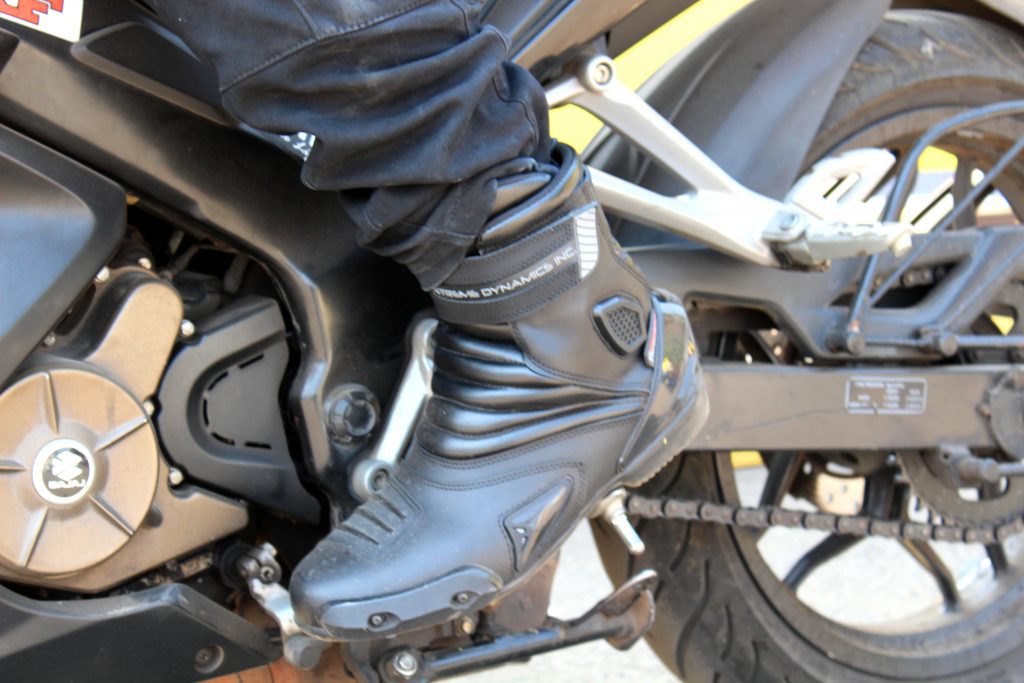 After much deliberation we reached out to two vendors who offered a solution. One whose plain Jane product that passed off as a Hindustan Motors Ambassador.  It in fact, turned out to be the Lamborghini Urus of shoes. The second one – a pair inspired by Michael Jordan himself and nothing short of the Lamborghini Veneno. By now am sure the reader is wondering, like seriously?? Sitting down over a power nap on different occasions, Orazo Motorcycling Boots & Xtreme Dynamics Inc shoes in question felt like I was wearing the same pair. After all, what else can you expect from the senses when the heel and toes need to cool off.
Unlike others who would draw a comparison, here we will review both products keeping the 3rd one as the benchmark. The three riding boots are as follows:
Tailor made all leather PU sole based riding boot

Orazo Motorcycling 8 inches PICUS -VELCRO (VWR)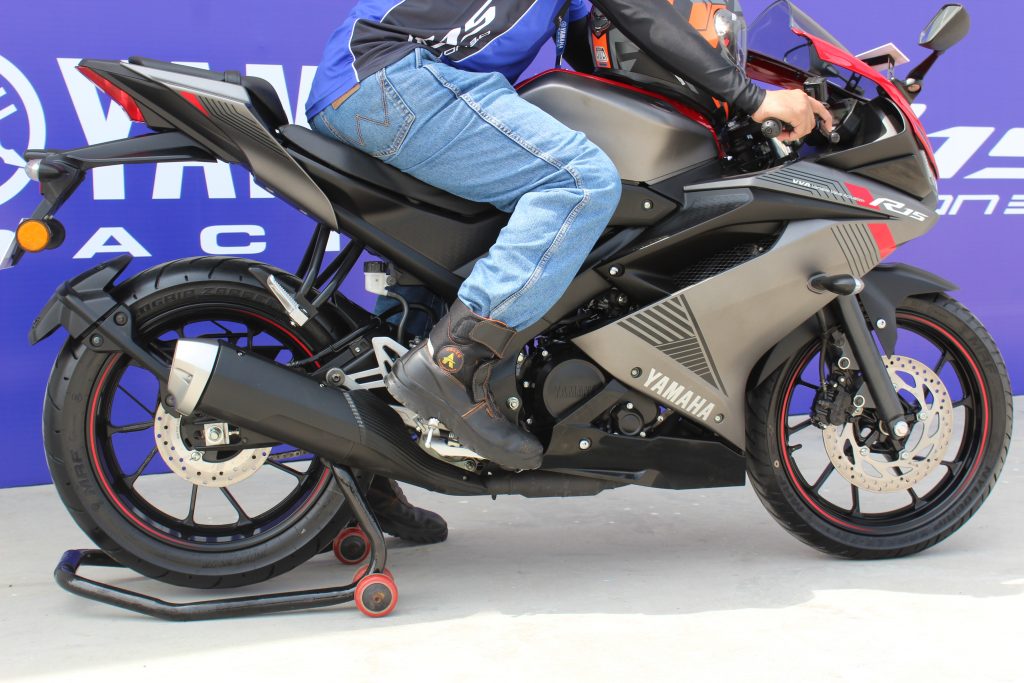 Look and feel:
The custom boot is closer to the ones worn by equestrian jockeys, with an all leather gear shifter patch that is replaceable.
The zipper fastened boot seals with leather lining on the inside and a Velcro patch on the outside.
The white leather accents take care of look and safety purposes.
The PU sole saves the shoes from the cheese on grater effect and thus adds to its durability.
The Xtreme Dynamics Inc boot is –
A "track focused" short riding boot
It comes with the nitty-gritty's of the higher end models.
Sliders and styling accents come as a standard.
This one is a 'slip into" Velcro fastened boot with a standard track boot standard sole.
The Orazo Motorcycling Boots comes with –
An industrial grade sole and a steel toe.
The boot comes with inner leather pinnings to keep water out.
The two step Velcro fasteners provide for quick access.
The emblems are embedded with ankle protection.
Interiors:
The custom boot is all leather down to the part where the upper body and sole meet. A standard insole keep the feet away from the base.
The Xtreme Dynamics Inc boot inner is all roomy and cushion more akin to the likes of a basketball pair of shoes. Add in a breather element that keeps the feet feeling fresh. This pair comes with standard safety features like sliders and toe accents.  This protects the shoes from shifter wear and tear. The insole adds to the comfort and ambiance of the shoe.
The Orazo Motorcycling Boots has a standard level of cushioning. They come with anti-fungal properties. It also has a comfortable in-sole. The ankle protectors coupled with the 8 inch height. This adds to the Micheal Jordan (basketball shoes) factor sans the steel toe that speaks otherwise.
Orazo Motorcycling Boots Vs … – Wearability:
The custom-built shoes are a frugal pair no doubt. They are more like reusable rockets ships but require regular maintenance for the bashing they take. They are not the best pair when it comes to all day use when off the bike but are manageable. Rain water would seep in from the joints between the sole and upper body. After two years of ride use, I tested them in "work environment". They fared well without anyone noticing the shifter wear. However, the boots had its limitation to walking around in the office environment.
Orazo Motorcycling Boots and Xtreme Dynamics Inc Boots – reviewed…
The XDI boots saw two track days:
For those been to MMRT already, the Orazo & Xtreme Dynamics Inc were comfortable during the wait time. Bereft of any discomfort, which only came from the weather and leather suit (which is understood). On a short ride in Pune city it offered comfort and also a fresh breath of air from its vents.
The Ozaro's inaugural run was at the recently held Auto Expo 2018. A maximum use time of 18 hours without taking them off and in the ever-changing weather of Delhi. The bulky exterior kept me shy of leaning in corners. It however, aided offroading with ease. Off-track, the shoes make a good pair for daily use as well as "let ride out" sudden plans.
Keeping aside the custom boot it is easy to say that –
Orazo & Xtreme Dynamics Inc entry-level products fulfill their purpose
Have created a first impression nothing short of awesomeness (without cannibalizing each other).
While beauty lies in the eyes of the beholder here it comes down to what your sole really wants!
For those of who want more information on Orazo Motorcycling Boots & Xtreme Dynamics Inc click on the link below:
Product description courtesy – Ashwin Agarwal (Probiker Helmets, Pune)
[huge_it_slider id="10″]