Mototech Hexapod bungee cord review
March 29, 2021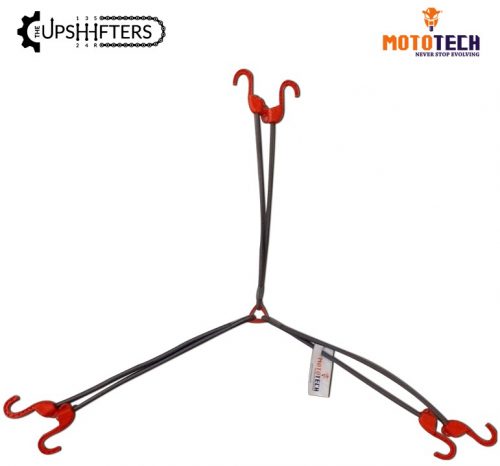 The Mototech Hexapod bungee cord is a simple contraption  assists with luggage fastening. As aid, bungee cords are not at all new. They've been around for a quite a while now. As far as I can tell they date back to the era of the attaché or briefcase. A rope like apparatus with metal hooks holding an office goer's luggage while to wait for the signal to turn green was a thing back in the day.
Today bungee cords have become a preferred choice for travelers who make that "life changing journey". Not all journey's lead to a "destination", however they do have their own flavor of adventure. Securing one's luggage at first seems simple, however am sure that some of you have experienced what happens when the cord snaps.
Typically, here is a list of what can happen:
Snapping of the fastening system, be it a rope or bungee cord
Risk of injury from metal hook, should it slip while tying down the luggage
Damage to the vehicle parts accessories should the hook slip.
If you are safe from these, there lies the odd chance of the luggage slipping out. This is highly likely when you use a 4 arm bungees system.
Furthermore, we all know how frustrating it can get when these situations play out when on a long distance ride.
Mototech Hexapod – for the hex of it?
So what new does the hexapod bring to the table? It, after all is a multipurpose bungee tie down system. Like any other, it gives you ample options and ways to fasten luggage or cargo loads using 3 or more of the bungee arms.
Hexa typically translates to six. Also, a triangle is said to be one of the strongest two dimensional shapes.
Thus we can conclude Mototech's choice of design for the Hexapod. Offering adequate strength and durability to the design. To understand this better let us get to know the product first.
Mototech Hexapod – Construction (as per the manufacturer)
There are a total of 6 elastic attachment points with a strong and ultra-durable plastic hook made of POM (Polyoxymethylene), at each end. In the centre the 3 bungee cords are bound together with a sturdy triangular and super strong plastic ring, made of POM as well. All bungee cords are made from premium grade, first quality and long lasting latex rubber. Plastic hooks have a multi-season usage potential, thus negating the problem caused by rusting of metal hooks in tropical weather conditions.
Mototech Hexapod – Features (as per the manufacturer):
– Bungee Cord is made of Quality Heat Resistant Latex Rubber Thread
– Outer Sheath is made of Polyester multi filament yarn
– 3 bungee cords which make up to 6 arms offer better and solid anchoring options
– Non rusting, strong and Ultra-durable plastic hooks
– Sturdy and super strong triangular center ring
| | |
| --- | --- |
| Diameter of each Bungee cord: | 8mm |
| Length of each Bungee Cord: | 32" / 80cm |
Mototech Hexapod – Value for money?
Overall, the bungee cord at first use an easy to use and may sound overpriced. But then again from its utility and design standpoint it does score with us. Here's why:
The 6 arm construction allows for better anchoring.
Also, we understand that the hooks have got a provision to loop para-cords or similar fasteners to allow for more room for additional luggage
Unlike circular rings, the triangular inner ring keeps the bungee cords from sliding
The neon orange colour does standout and probably chosen to act as a reflector of sorts
PVC sleeves while they may look fragile are actually very thought of. Especially when one needs to fasten luggage/ backpack without the worry of scratches caused during transit. This does happen in case of metals rings.
This however, is just a first impression review and we will keep updating this article. In the meantime, here is an interesting piece of reading from team Mototech on bungee cords.

Bungee Cords – genuine/ superior quality Vs fake/inferior quality bungee cord
They have written a blogpost on how to spot the difference to avoid getting cheated or buying inferior quality bungee cords. For more details, click on the link below.