Yash Mohan Pawar – The Motolethe
February 8, 2016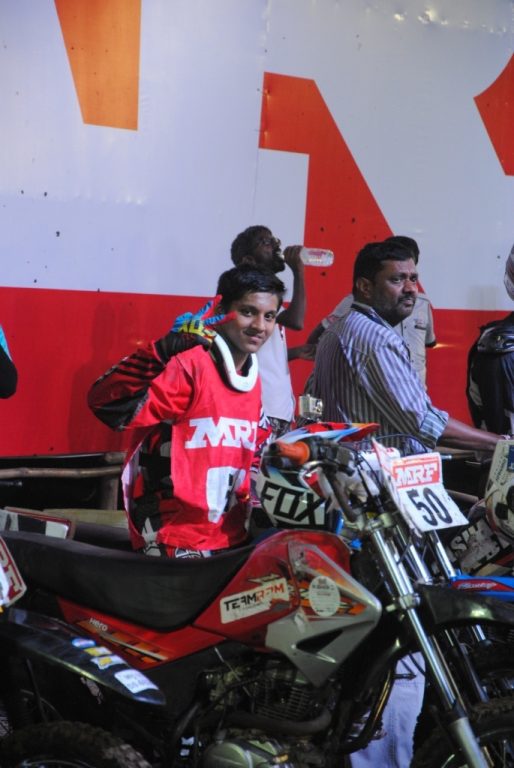 With the advent of the internet it is common place to see or hear about humble beginnings to greatness stories. In come rare cases we also get to meet people who have come from the street light lit academics to the limelight. They make it big in IITs, Multi National Corporations and are picked up by bigger ones. Some of them so big that they have in some way fueled or are responsible for the industrial revolution. Their inspirational stories will drive the generations to come and one such story is of Yash Mohan Pawar.
From conglomerates to CEOs and men and women in uniform everyone has a story to tell, one such story is of Yash Mohan Pawar.
Here we have the same story-line. However, this one has had a podium finish with many more to come. No, there is no so called 'pun intended'(whatever that metaphor is supposed to mean). This one is filled with dirt, grease and smoke. At the MRF Supercross championship held in December 2015 there was this lad who kept coming up on stage every now and then. He wasn't part of the audience vying to meet a celebrity. The funny part is- the question the Anchor of this event asked the audience:
"What did you do (aspire to do) when you were 17?…" Something pretty much on those lines.
At the age of 17 Yash Mohan Pawar, a lad from a very humble beginning is standing on a podium accepting his trophy. A few trophies at the hands of Bollywood actor Boman Irani who himself shares a connection with the sport – motocross. Starting off from the gates to reach that podium at least twice had the lens of our team quite busy. So what is his story?? His father with the limited resources decided to buy him a bike. He played against the odds to save and get the basics through.
From what is known about Yash Mohan Pawar, he indeed is a prodigy. Just like other athletes, he keeps his fitness regime in place. At same time he is pursuing his formal education. With support pouring in from athletes and well wishers it is not just a blip on the gas for Yash.
It is practice, dedication and love for motocross as a sport  it has brought Yash this far.
We do wish him all the very best and do thank our first "Motolethe" Mr. Vishal Sanghra for sharing this less known facts about him. No we are not just doing a story here. We want to leave a memoir for Yash for the years to come.
Also, at the same time we want to let parents know that:
Riding a bike is not limited to clipping corners on the streets.
It is not breaking the speedometer cable while whizzing past traffic.
It is a lot more – it is family and a passion shared by the family.
We invite the readers to introspect and keep in mind that there is indeed family that awaits at home.
All this while, when they are out on an adventure that involves a motorcycle.