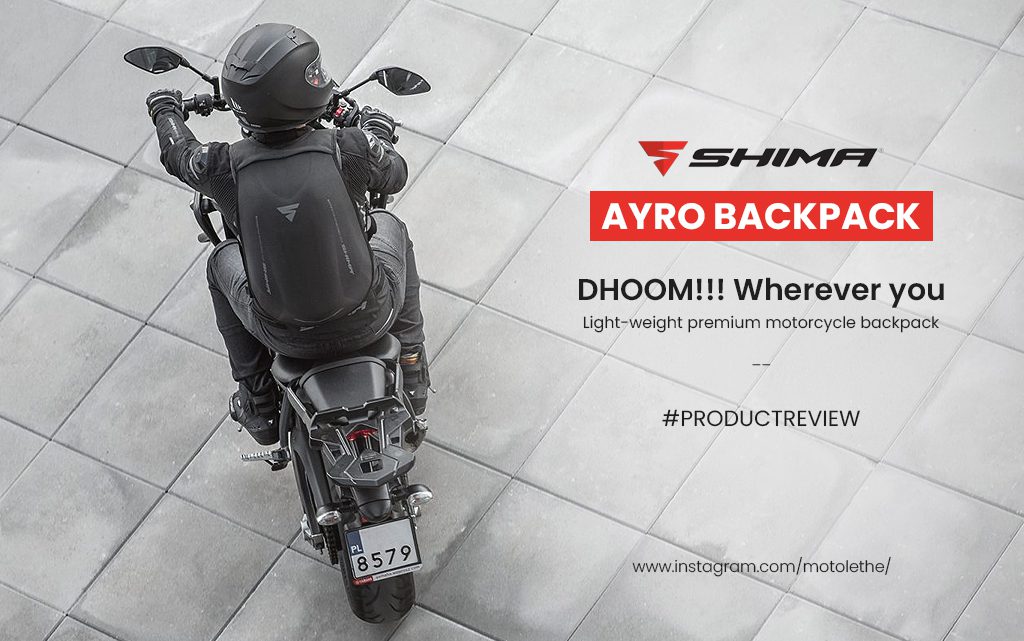 AYRO MOTORCYCLE BACKPACK Review – 1st impressions
April 27, 2022
Shima AYRO MOTORCYCLE BACKPACK Review – 1st impressions – featherlight powerlifter?
The Shima AYRO MOTORCYCLE BACKPACK is a sight to behold at Gear & Throttle House HQ.  Where on the planet did I see something like this? After all, this motorcycle backpack reminds me of a Bollywood flick. Then why on earth shell out almost double the price for which one can get a regular riding jacket. The plain jane looks got the better of me too..
What we are paying for is tucking in all those blemishes and apertures in an almost seamless design. Its simplicity is its style statement, just like that luxury car wrap in a single paint scheme with accents of chrome parked in an array of "hot Machines" and the like.
AYRO MOTORCYCLE BACKPACK – Keep it close
The AYRO backpack is perfect for one-day rides out of town or for urban commute. A compact form factor and a capacity of 24 litres with dedicated compartments for laptop, shoes or other necessary accessories. It offers to help you to accommodate the most needed items without any unnecessary effort. The foamed padding on the back provides adequate support and separation of luggage from the back. Also, offers free airflow in the area close to your body.
AYRO MOTORCYCLE BACKPACK – The lightweight cargo
The lightweight construction strikes a cord with those who appreciate functionality that goes hand in hand with comfort. The main shoulder straps are designed to fit the body and prevent pressure or abrasion. In addition, they can be adjusted according to your preference or your silhouette. The removable, horizontal hip and chest straps are also adjustable to stabilize luggage even better.
Shima AYRO MOTORCYCLE BACKPACK – Dhoom! Wherever you go
The aerodynamic shell construction of the AYRO is no coincidence.
It's rounded shape reduces the formation of turbulent air and its resulting drag at high speeds.
As an added bonus, it also makes a style statement when you get off your motorcycle.
The main zipper provides access to the backpack from the back only.
Also, there is an outside pocket to store documents, cellphones or other small items.
What is more? Be visible
The discreet Night Vision System reflective panels ensure that you are visible on the road, irrespective the POV.
Based on microspherical glass particles, the reflective panels are designed to offer excellent visibility after dark.
In addition, their discreet shape fits neatly into the construction elements of the backpack.
The splash-proof material of AYRO makes the contents of the backpack protected from fine rain and moisture and the outer shell is easy to clean from any dirt.
AYRO MOTORCYCLE BACKPACK – Our thoughts
At just around 800 grams, the Ayro is one of the lightest backpacks
The single color and compact design give it a discreet look
Sans the bells and whistles unlike standard backpacks it offers a lot of storage space
A mix of materials used make it easy to clean yet splash proof at the same time.
The removeable straps allow for better
offering to carry upto a 17″ laptop, your workcation is just a ride away!
Shima AYRO MOTORCYCLE BACKPACK – Specifications
COMFORT
AERODYNAMIC SHAPE
HARD SHELL CONSTRUCTION
ADJUSTABLE SHOULDER STRAPS
HORIZONTAL REMOVABLE CHEST AND WAIST STRAPS
FOAM PADDING ON THE BACK
PRACTICAL COMPARTMENTS AND MESH SECTIONS
EASY CLEANING MATERIAL
EXTRA:
NIGHT VISION SYSTEM (REFLECTIVE AREAS)
LAPTOP COMPARTMENT
EXTERNAL POCKET ON THE BACK
Click here to get your AYRO Backpack from GT HOUSE at just ₹6,299
About Gear And Throttle House
We bring you the best of motorcycle riding gear, that's well celebrated around the world, all at one place and to your doorstep. Tried and tested by us, these best in class wearables are chosen by our experts specifically for India. Our mission is to provide world-class, high performance & comfortable riding gear, all at an affordable price.

Still don't believe us? give us a shout & we will get back to you. (CLICK HERE TO CHAT WITH Gear And Throttle House )

Bringing premium & innovative motorcycle riding gear in India at an affordable cost. The place for all serious motorcycle enthusiasts.
Gear And Throttle House are exclusive importers & distributors for:
Shima Riding Gear Poland,
Racer gloves & protectors France,
Raleri Antifog visors Italy &
Zandona Protectors Italy
The Capital, B Wing, 501, 5th floor,
Baner – Pashan Link Rd, opposite Goodluck Cafe 
Baner, Pune – 411045
Connect with GT House –
On Social Media:
About Shima
Born out of Poland, Shima riding gear has been protecting riders for over 10 years now. One of the world's most technologically advanced riding gear brands, it was created out of pure passion of motorcyclists for motorcyclists. Keeping protection & comfort as their top priority, Shima riding gear is going to be your perfect companion for all genres of motorcycling. Shima riding gear consists of riding gloves, riding jackets, riding pants & riding boots.
Looking to beat the heat with a premium riding jacket? Click here to read about the Shima open Air Jacket