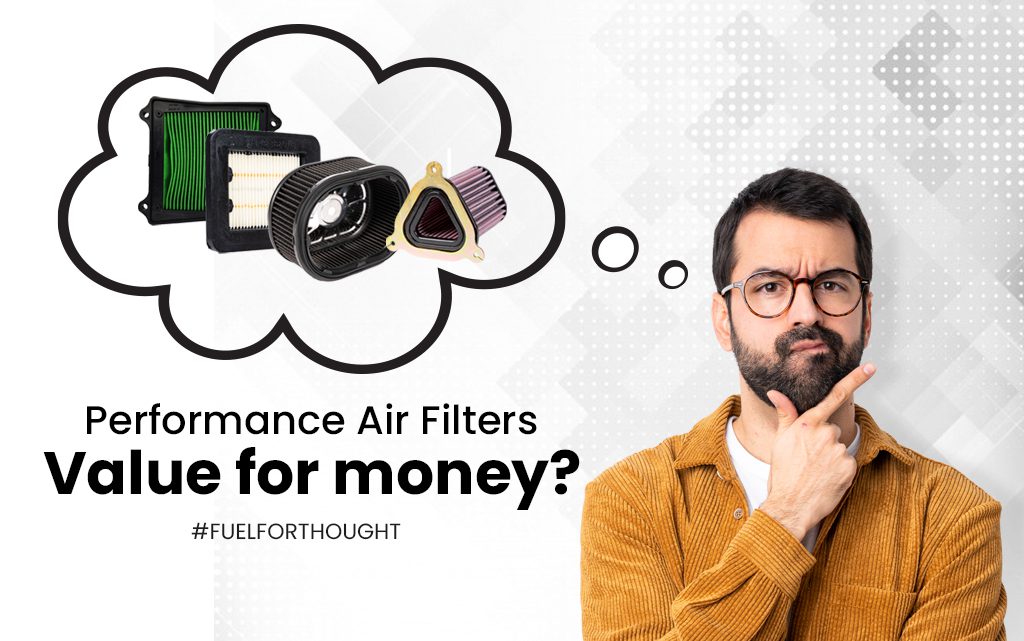 Performance Air Filters – Value for money??
April 22, 2022
Performance Air Filters – The premise of this Prose
The cost of Performance Air Filters varies basis the motorcycle brand and models. Add to this, the filters come in different shapes and sizes hence additional form factors. We are often asked the questions like:
What makes a Schorl air filter special?
For a made in India product why is it so expensive to buy Schorl air filter?
So to answer these questions and more we got to work.
Performance Air Filters – What's in a name, this is patented technology
Like some of our associates, we closely worked on the DT400 project with the Schorl team. This collaboration took a good amount of time before we were convinced about the reliability. Better mileage did happen, the extra bump in power indeed is a bonus. Add to this, the cost of technology and the research and development plays an important role when it comes to manufacturing any product that has an innovative edge. After all, when you aim for precision you do not compromise – it is all or nothing!
To begin with, Schorl air filters are developed from a patented technology. This is the world's first ever product that focuses on fuel efficiency and reduces carbon emissions compared to any other air filters available in the market.
Performance Air Filters – The Big Numbers
The cost of aftermarket performance air filters like K&N and BMC ranges anywhere between ₹5000 to ₹8,000 for motorcycles. In addition to this, one has to purchase a proprietary do it yourself "cleaning kit" to maintain the filtration media and integrity of the product which costs about ₹1200 to ₹1500 rupees. Thus, the total base cost ranges from ₹6200 to ₹9500 rupees. This for an additional 2 to 5bhp (average) bump in power. Not always a big bang for your buck?
Performance Air Filters – "Dominate the mileage game"
The DT400 project is based on the Bajaj Dominar 400 motorcycle. This motorcycle's air filter is the platform for the Bajaj RS200 and most KTM models. We are using the Bajaj Dominar 400 for our analysis to understand the cost of an air filter over a period of one lakh kilometers.
Why the Bajaj Dominar 400
Simple – in the past five years the Bajaj Dominar is the Volkswagen Beetle equivalent. Bajaj is a world's favourite Indian in over 70 countries, the Dominar 400 is India's favourite Sports Cruiser that has many an achievement to its name. The Dominar 400cc motorcycle is said to be the "package" when it comes down to a versatile cruiser. After all, we do ask "Kitna deti hai" and ultimately everyone wants to own a vehicle that is pocket friendly in terms of:
Running costs
Maintenance costs
Easy availability of spare parts
Also, there are compulsory costs like insurance and optional costs like touring accessories etc.
Bajaj Dominar 400 – Cost comparison of Stock Filter vs Performance filter vs Schorl Filter
A well maintained Dominar 400 give 26 kmpl on an average. Let's consider that the motorcyclist travels 20 kilometers a day for 25 days a month. Thus, he travels 500 kilometers a month (6000 kilometers a year). With current rate of fuel at ₹112.00 per liter (cost when this article was in development) the rider spends nearly ₹2100 per month.
K&N and BMC performance air filters cost ₹5500 on an average. One might be lucky to get 10% discount on it for knowing the retailer very well or from an online portal. It would still cost approximately ₹5000. You have bought the performance filter to get better acceleration and zip through the traffic quickly which suggests that there is no calculation of fuel expenses. So, lets consider it as per the stock figures.
With a bare minimum improvement of 15% after installing the Schorl Air Filter the Dominar 400 returns 30 Kilometers per liter. Thus, now the owner spends only ₹1800 per month thereby saving ₹300 every month for the next 10,000 kilometers before cleaning the air filter.
Schorl Filter – Maintenance  
We are familiar with the term WASH & WEAR. Yes, washing & cleaning the Schorl Air Filter is easier than washing the removable helmet cushions. To wash the helmet cushions, all you need is soap water and a bucket. Once you rinse the same for 15 to 20 minutes, you wash it again in clean water to rinse off the soup and dirt. Then you have to squeeze the padding gently and make sure that the attachments don't break. After all this, you keep it to dry.
In case of the Schorl Air Filters, you don't have to rinse it in another bucket and squeeze it. Instead, after 20 minutes of soaking, you hold it under the running tap water and the dust/ dirt will automatically come off. Now since the filter is wet, shake it to remove the water. Keep it aside to dry completely on its own for the next 4 to 6 hours. Once the filter is dried completely, install it back on the motorcycle and you are good to go. The cost of washing and cleaning the Schorl filter here is about ₹2 – the cost liquid soap sachet.
Wash & Clean – The cost to maintain branded performance air filters
Let's understand the cleaning procedure. After removing the filter, you have to gently tap it on the clean surface to loosen the dirt and debris. Apply the detergent on each and every pleat (the folded teeth like section of filter). Then gently pour water on each and every pleat. Then let the filter dry naturally for 4 to 6 hours. After it is completely dry apply oil on every pleat along the length. In terms of spray, make sure the sprayed oil is applied consistently.
Allow the oil to absorb on the level for about an hour or till it's completely colored on both sides. Then gently tap the excess oil from the filter then install the filter. After installing the filter on the motorcycle, make sure you scrub the area clean where the excess oil was tapped off or someone may just slip over it and get injury.
The Break Up
The DIY cleaning kit for K&N costs around ₹1500 for cleaning detergent & oil. This can be used a maximum 6 times on a fairly large size air filter. Thus, every time you wash the filter it costs ₹250.
Now that we have talked about the cost incurred on maintenance lets talk about the economics – bole toh "MONEY"
Economics of owning an air filter:
The Schorl Filter Cost is for the DT400 air filter for the Bajaj Dominar. (Check out https://www.smallsparkconcepts.com/products)
| | | | | |
| --- | --- | --- | --- | --- |
| Sr. No. | Discriminator | Stock Filter | Performance Filter | Schorl Filter DT400 |
| 1 | Cost of purchase | ₹250 | ₹5500 | ₹3200 |
| 2 | After 10,000 kms | ₹250 | ₹1500 (cleaning Kit) | N/A |
| 3 | After 20,000 kms | ₹250 | N/A | N/A |
| 4 | After 30,000 kms | ₹250 | N/A | N/A |
| 5 | After 40,000 kms | ₹250 | N/A | N/A |
| 6 | After 50,000 kms | ₹250 | N/A | N/A |
| 7 | After 60,000 kms | ₹250 | N/A | N/A |
| 8 | After 70,000 kms | ₹250 | ₹1500 (cleaning Kit) | N/A |
| 9 | After 80,000 kms | ₹250 | N/A | N/A |
| 10 | After 90,000 kms | ₹250 | N/A | N/A |
| 11 | After 1,00,000 kms | ₹250 | N/A | N/A |
| 12 | TOTAL EXPENSES | ₹2750 | ₹8500 | ₹3200 |
Performance Air Filters Total – The Fuel Factor:
Let's calculate how much the owner saves on fuel expenses over the period of 1,00,000 Kilometers. To travel 10,000 Kilometers @ minimum of 26 kmpl fuel economy, the rider with stock air filter has consumed approximately 385 Liters of fuel. Costing  ₹112 as of 31st March 2022 this totals to a whopping ₹ 43,120. For ease of calculation let's assume that the cost of fuel stays the same for the next 10 years. Also, fuel sources don't deplete nor any wars/ political influence hampers this considered cost. Lastly, there is no inflation on cost of air filters and on cleaning kits as well which is usually 10% Y-o-Y.
Performance Air Filters Total – Cost of ownership after 1,00,000 kilometers:
  Sr. No.

Discriminator

Stock Filter
Fuel Expense

Performance Filter Fuel Expense

Schorl Filter
Fuel Expense

1
Cost of filter
₹2750
₹5500
₹3200
2
Cost of fuel
₹ 4,31,200
4,31,200
₹ 3,73,300
3
Cost of Cleaning Kit
Nil
₹ 3000
Nil
4
TOTAL EXPENSE
₹ 4,33,950
4,39,700
₹ 3,76,500
*Cost of servicing every 10,000 kilometers is not included to keep the calculations easy to understand
Apart from the calculations lets quickly glance at engine maintenance issues:
Stock Filters & Schorl Filters are Tested for 99.2% & 99.59% dust filtration efficiency respectively under ISO 5011 Standard compared to 83% of those performance filter.
Sometimes being influenced blindly can damage your motorcycle's engine and eventually your pockets
The Conclusion:
At the outset the idea of this write up is to offer a paradigm shift to the standard thought process. Every product is designed to fulfill a purpose, however not every product is premium nor is it basic. What matters is the utility it offers the user in its current state. Over the years spent and the one's we will spend on "Continuous Improvement" in our lives, both personal & professional bring value or a return on investment is where one can make things better.
Without a doubt, there always will be Rookies and Legends. Let us also keep in mind that today's Legend was yesterday's Rookie. Today's Rookie can be tomorrow's Legend. We hope that this article answers your doubts on the "performance air filters". In case you have a question, do connect with us.
Ride Hard Ride Safe.