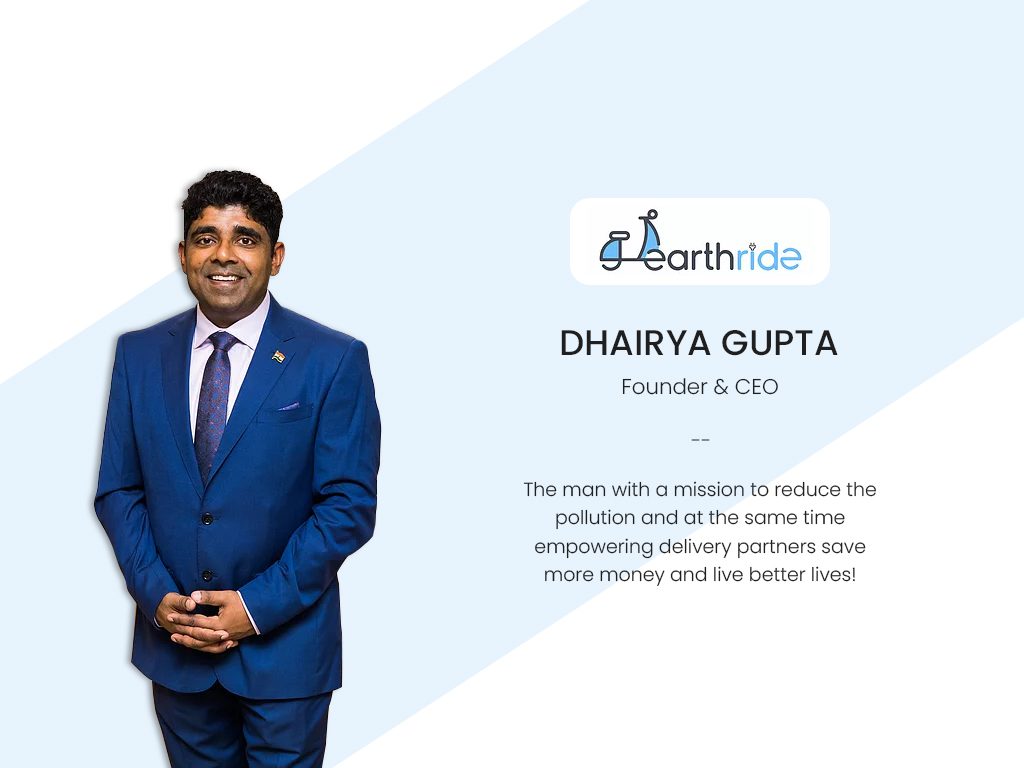 DHAIRYA GUPTA – The "Earthapreneur" Motopreneur
June 1, 2021
DHAIRYA GUPTA is a name that is synonymous amongst the automotive scribe fraternity. Being associated with one of India's first two-wheeler e-magazines for over a decade certainly takes a lot of grit and patience. Shakespeare once said what is in a name? Is it the person and the entrepreneur in him that makes DHAIRYA GUPTA stand out or is it the other way around?
When asked about DHAIRYA GUPTA, here's what a senior scribe and close acquaintance had to say, "Articulate, specific and precise with attention to detail he ensures that every aspect is covered in his story. He always a niche in what he does. To talk about Earth Ride, it is a wonderful initiative that not only offers incentives to the users but more so for his personal connect with every customer."
Well, to know more about The Motopreneur read on to find out…
Tell us about yourself – education, automotive related skills, car/motorcycling experience.
I have an MBA from Babson College which is #1 University in the world for entrepreneurship and have an electrical engineering degree from Delhi College of Engineering. I have also been awarded Rising Star Award by my alma mater Babson College in 2018.
As far as automotive skills are involved, I have always loved motorcycles and cars and started touring at relative late age of 25 years. I was further able to pursue my love for wheels when I started writing for Motoroids. It allowed me to experience beautiful machines – both in 4 wheels and 2 in their purest form. My first personal motorcycle being a Yamaha RXG which went into some neglect. However, I've restored it recently and now the motorcycle rides like a dream.
My best experience with four wheels was driving an Audi R8 LMX around BIC and participating in the Media race of VW Polo Cup driving a race specked VW Vento. I have participated in Raid de Himalaya in 2012 but had engine problems on day 2 and had to retire. Other than that, have done several road trips mostly on motorcycles. Have been to snow covered Gangotri, rode down snowed down roads of Badrinath, been to Spiti, ridden a 110cc scooter to Khadung-la (as part of TVS Motor Company event). Being a dirtdevil, I actively participate in dirt events and ride a dirt track regularly. Also, I Bought a Hero XPulse 200 last year after I felt my modified Bajaj Pulsar 220 couldn't keep up with heavy trail riding. When I was in USA, had a Kawasaki ZX7R for a few months on which I did some touring and rode on track twice.
Automotive Acquaintance– how did you become an automotive enthusiast. Eg. Influence from father, friends etc.
I always loved cars and motorcycles. I didn't get it from my family, as they always treated cars as utilitarian. Growing up in a small town I was hardly exposed to the automotive scene. My only access to information on cars and bikes was buying auto magazines instead of educative magazines. Since we lived outside of the city, my brother got a Hero Majestic Pacer moped to go to tuition. I, as a teenager would sneak out and ride it around the colony which annoyed him. He could not fathom why someone would burn petrol when they don't have to go anywhere in particular.
My love for two wheels and four blossomed when I joined xBhp and came in touch with many bikers. Sunday morning rides became a routine and I would take my Bajaj Pulsar 180 DTSi to those rides. Thus, I discovered a whole new hobby of touring when I went for a rafting trip on motorcycles with some xBhp folks. After that I would do a road trip on every long weekend and a motorcycle meet every weekend. I then started writing about my trips and would share it over email with friends along with posting it on forums. In 2009, after returning from USA, I bought a Bajaj Pulsar 220 and wrote a trip log for then newly launched e-magazine Motoroids in August 2009. I have been a part time writer and correspondent for them since then.
Life before turning a Motopreneur for DHAIRYA GUPTA
Earth Ride is my second startup. Prior to this, I was Co-Founder and Chief Marketing Officer of AllizHealth. The company got acquired by a Singapore based company in July 2018. I started Earth Ride in June 2019.
Before Earth Ride, I was a business consultant with IBM for more than five years. This was my first job after my MBA. I worked in USA and Canada during my MBA as a financial analyst for an Oil and Gas Company.
Before my MBA I worked in field of Electrical Projects with Siemens and Schneider Electric.
The "All Spark" inspiration– origin story to your venture
This goes back to me looking at what next? I wanted to do after selling my first startup and exiting it. I dug deep inside my conscious and realized that I wanted to be a capitalist with a social purpose. Economic growth is seen as detrimental to the environment and working class. This doesn't have to be the case. Sustainable Development is the future. India has a huge growth potential with the largest youth population in the world. India loves to ride on two wheels just like I do.
So there was definitely something there. I wanted to start a scalable business which would not only be about two wheelers. Also, it needed to offer employment opportunities and not have a negative impact on the environment. Most of the vehicular pollution in India comes form two wheelers. Not a lot of people know that. If we are able to reduce pollution from two wheelers, we can help the case of pollution immensely.
Solution is simple – Move Indians from petrol scooters and motorcycles to Electric Two Wheelers.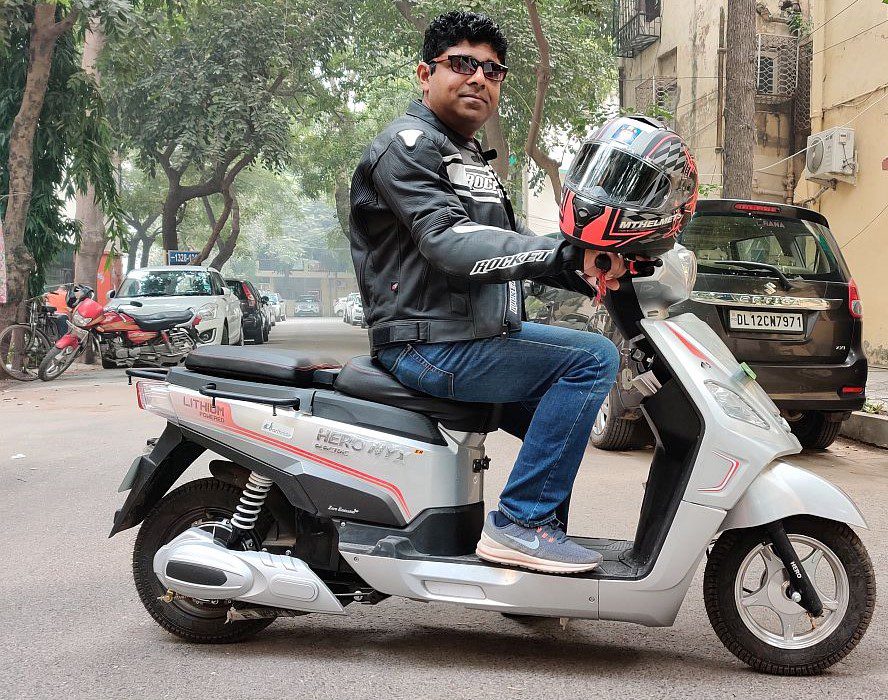 Then came about building a solution around it. I did a lot of research, talked to people in the field and looked at total cost of ownership. Additionally, I looked at different business models and identified a problem area I could address. I looked at pros and cons of different business ideas and came up with 'Lease Earn Own' model of leasing electric two wheelers. Last mile delivery business is growing in India and will grow in next few years.
At Earth Ride, we lease electric scooters to independent riders who work in the last mile delivery business.
So be it the guy bringing you Pizza or the one delivering your mobile phone you ordered on Amazon, we want them to be delivered on an electric two wheeler. A person can take an electric scooter on a monthly or a weekly lease, pay the lease amounts on a regular basis and after two years, they will own the electric scooter. Unlike other lease plans, not only can they become owners of the electric scooter, they don't have any restrictions on the number of kilometers they can do on it. They can also return the electric scooter after a minimum lease period of three months. We have kept a minimum lease period as we want only serious customers who want to be associated with us for a long time.
Spanner in the works– challenges faced and (how you overcame them)
One of the biggest challenge is keeping a track of the fleet. We track them using GPS and can disable the vehicle if needed. Next challenge we faced was limited capital. Being a new company in a new sector, banks were not ready to loan us the money to buy electric scooters. We saw a huge surge in demand but we have limited capital.
We launched a program called 'Earthapreneur'. Under this program, we create small business owners who can buy electric scooters and lease it to end customers and we enable that. We thus take care:
The demand generation
Paperwork for vehicle purchase
Getting the lease signed
Provide guarantee on the payments from the customers
We have already enabled four Earthapreneur lease out 9 units of electric scooters to customers.
Beast Mode– A memorable feat/ achievement /anecdote of your venture
Quiet a few in our small journey so far.
First was when an IAS aspirant approached us to lease an electric scooter. He was a delivery partner with Zomato and delivered food using a cycle. He came from a humble background and did not have enough money to buy one. We leased an electric scooter to him and a week later he called us thanking us for helping him in his endeavor. He was not tired at night and could study at night and also saved two hours everyday in commute time to his classes. We knew that we were on the right path.
Second was when we received a lovely message from one of our customers. He moved to a Diamond Partner status with an electric scooter and it almost doubled his income. Our customers treat us like family. He sent us picture of his new born daughter and said that it was due to our service that he can now provide a comfortable life to his daughter.
My way to the highway – The road ahead for DHAIRYA GUPTA & Team Earth Ride
We will be going national. Our plans are delayed due to the pandemic, however we have everything laid out and we will soon be launching our services outside of Delhi NCR.
Advice to Budding Motopreneurs –
Solve a problem, know your customer.
I worked as a Swiggy Delivery partner. For two weeks I did deliveries for Swiggy – first week on my Pulsar and second week on an electric scooter to understand if my solution would actually work. While on the job, I talked to several delivery boys. I had them try the electric scooter, took their feedback, understood their problem and then built my business plan.
"Be ready to change. As you start a business or a service, you discover new problems everyday.

You should be able to adapt to them quickly but with a plan. Be ready to change business model and improve it."

– DHAIRYA GUPTA
Live Location – To connect with DHAIRYA GUPTA & Earth Ride
Social Media links
Facebook
Website:
Official contact number: 9871562423