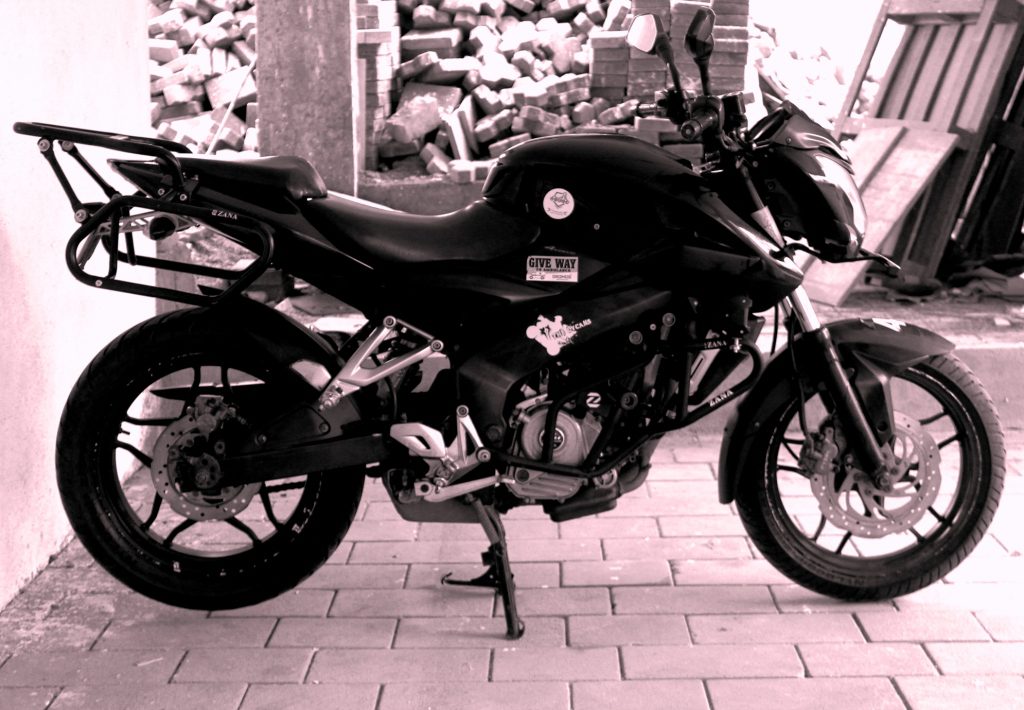 PULSAR NS BLACK SADDLE STAY WITH TOP RACK
August 12, 2019
PULSAR NS BLACK SADDLE STAY WITH TOP RACK – Bajaj Pulsar AS 200 compatible product
When Bajaj Auto launched the Pulsar 200 NS in June 2012 little did they know that they created more than an orange abomination, a thorough bred touring machine. Let alone a touring visor for pulsar NS 200, other accessories were unheard of. Cut to the present  – 2019 the concept called Bajaj CS 400 became the Bajaj Dominar 400 UG. Yes, finally everything but the color came in this version. Thus in the meanwhile, alongside others Zana too launched the PULSAR NS BLACK SADDLE STAY WITH TOP RACK.
After all, with the recently launched PULSAR CRASH GUARD WITH SLIDERS there had to be a line that needed to come a full circle. Being the professionals that they are with a keen eye on not just attention to detail but also functionality, Zana International developed the PULSAR NS BLACK SADDLE STAY WITH TOP RACK. With not just the national but also international presence of the largest Pulsar 200 NS owner's group and their zeal for touring, finally as it appears they dream of a touring kit is now a reality.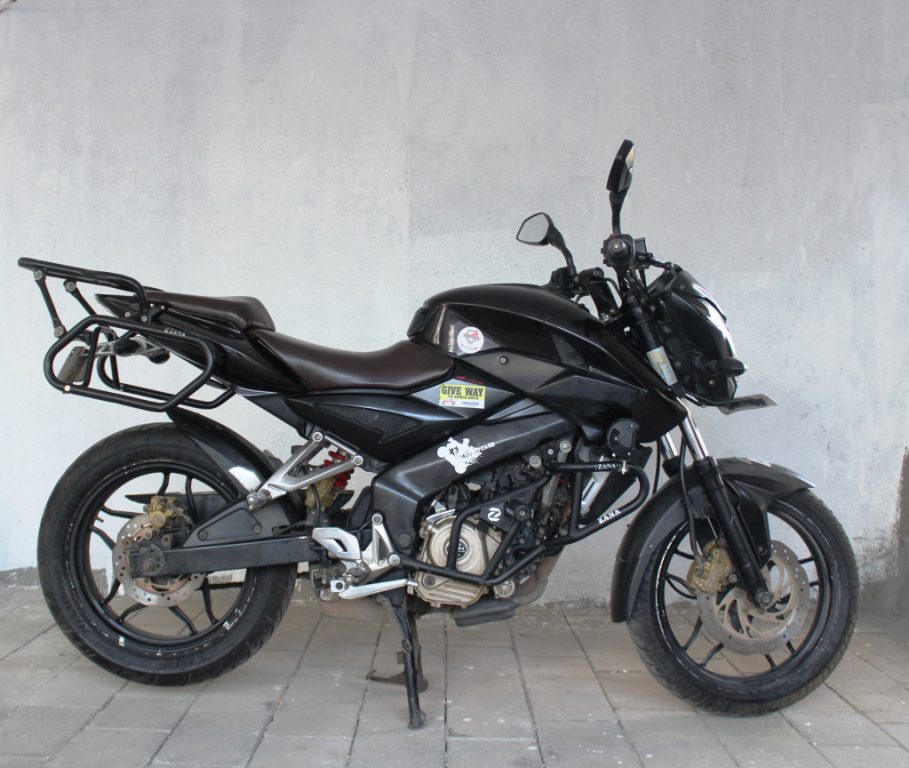 PULSAR NS BLACK SADDLE STAY WITH TOP RACK – INSTALLATION
For the purpose of a first impression test we used the Invictus Marshall Saddle Bags to get a visual understanding of the product fitment.Speaking of which the saddle stay took no longer than 30 minutes to install. This considering a few jammed bolts that needed some WD40 love. As you will see closely there are some abrasions. This was due a couple of unexpected "drop tests" by one of our subjects.
PULSAR NS BLACK SADDLE STAY WITH TOP RACK – The finer bits
The rounded metal makes it convenient to mount and dismount the central stand. Thus assuming it to be fully loaded this is a no brainer so as long as you've got the brawn and technique in place. The added weight does give you the feel of its presence, however it also seem to the rear end stability too. The compact design allows for mitigation through the tightest of corners in traffic with ease (sans the luggage).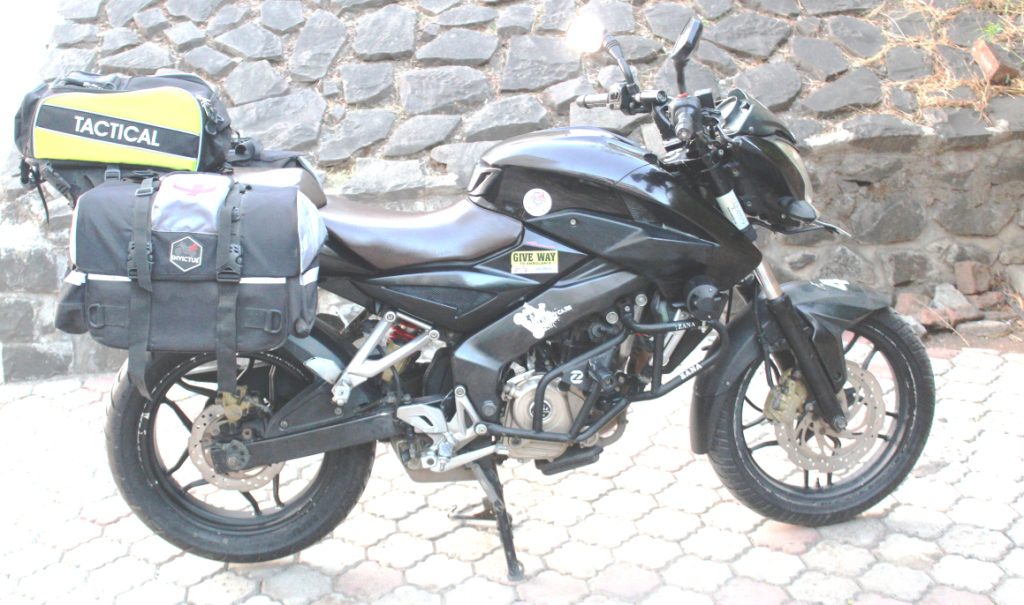 To buy the PULSAR NS BLACK SADDLE STAY WITH TOP RACK click HERE 
PULSAR NS BLACK SADDLE STAY WITH TOP RACK – PRODUCT DESCRIPTION
** Dispatch time from Zana warehouse 3 to 4 working days.  Courier time from Delhi to destination  3 to 8 days depending on the destination Saturday Sunday and public holidays are not included.
1. Copyright protected Design exclusively available from ZANA MOTORCYCLES
2. Mounted on 4mm steel plates for optimum rigidity.
3. Cold Rolled Powder Coated Steel Tubes used for manufacturing.
4. Precision Welding (Tungsten Inert Gas Welding) for uniform finish and strength.
5. All nuts and bolts of Stainless Steel (100% Rust free) included as standard.
6. Industrial grade polymer Spacers included to act as vibration dampeners.
7. Proper Strength reinforcement using support pipes.
8. 6 Months Paint/Powder Coating warranty (not against accidental).
9. Plastic wrapped for protection from scratches during transit.
10. Acts (to a limited extent) as tail protection of the bike as well.
11. Pillion Friendly.
12. DUE TO THE CONSTRUCTION OF THE TAIL OF THE BIKE WE RECOMMEND USING THE SADDLE STAYS AND THE TOP RACK AS A COMBINATION FOR BEST STRENGTH OF THE SET.
Terms and Conditions:
6 Months Paint/Powder Coating warranty (not against accidental)
Replacement against manufacturing defect. (Limited to replacement of Spare Part only)
About – ZANA INTERNATIONAL
Founded in 2001, Zana International is dedicated in providing high quality and world-class products and services in the TWO WHEELER INDUSTRY. Zana is India's leading manufacturers of Bullet and Luxury motorcycle accessories in India. They have also been exporting bike accessories to many countries like:
USA
Singapore
Spain
UK
Australia
Philippines
Portugal
They understand that motorcycling or long distance touring on a motorcycle is not just a sport or hobby. It is a lifestyle choice and they believe in making the experience of motorcycling all the more safe. At the same time adding style to their wide range of patented motorcycle accessories. Customer satisfaction is their primary goal. They endeavor to deliver only the best for their motorcyclist friends.
They also have customized accessories for the top brands of bikes like:
 KTM
Royal Enfield
Kawasaki
Harley Davidson
Triumph
and many more...
They believe in continuing our efforts in providing a vast range of products to their customers at competitive prices.
To connect With Zana Motorcycles:
HAVE A QUERY? Click here to drop them a line
You can also reach them at 9953112277
(Call in orders- Mon – Fri: 10.30 AM – 6.30 PM)
SHOP No. 4 Building number 2290, Arya Samaj Rd, Opp Bikanerwala, Block 25A, Beadonpura, Karol Bagh, New Delhi, Delhi 110005