Read Time:
5 Minute, 9 Second
The Motopreneur – Mayur Patil started his venture on a passing thought.
Today it has been recognised by various organisations and won him many an accolade. This is his story.
Tell us about yourself – education, automotive related skills, car/motorcycling experience.
I am Mayur Patil, active Director and Founder of Small Spark Concepts®. A mechanical engineer by degree who further studied chemical and textile engineering to give life to my passion project. I have also worked with different companies to learn the business insights.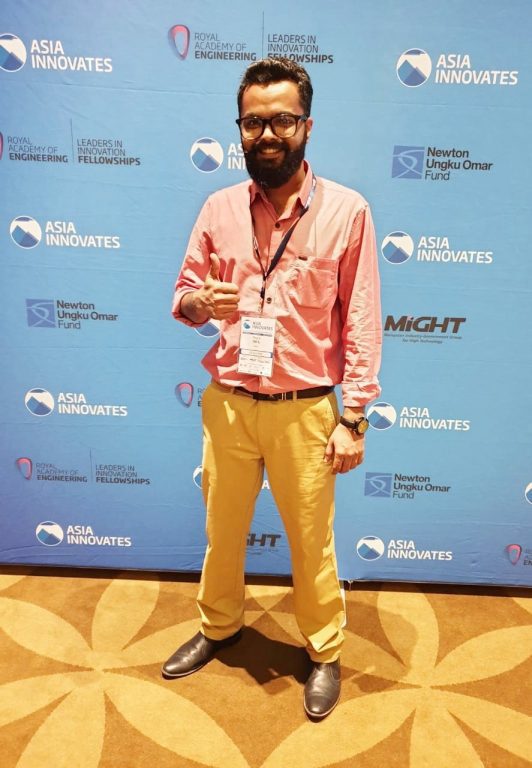 Automotive Acquaintance – how did you become an automotive enthusiast? 
I came to Pune in 2008 to pursue mechanical engineering in VIIT (Vishwakarma Institute of Information Technology). Like others I too wanted to pursue my dream to become a product designer someday. Motorcycles, automotive design and styling fascinated me from childhood. This planted the seed of sketching and designing. To further my skills and improve knowledge of automobile engineering, I started as a trainee technician at a Pune based superbikes garage Motobyte (formerly known as Xtreme Machines), while still in second year of engineering.
Life before turning a Motopreneur (work/ employment)
I switched to work as a senior mechanical designer in a Robotic startup SI Electronics. they raised INR 5 Crore through an undisclosed group of investors in 2010. However, it did not fulfill my dream of working in the automotive sector. After graduation and liquidating from SI Electronics, I joined a Go-Kart manufacturing company as a floor supervisor. This, in order to learn and experience the geometry of track vehicles. Within few months of my employment, I was appointed to work on production of performance engines for Go-Karts. Then I joined Harley Davidson dealership as a chrome consultant to customize every Harley that rolled out of the showroom.
The All Spark inspiration – origin story to your venture
However, my childhood dream of owning a company and the passion project was still a dream. A year and half later I was now seeking opportunities to launch my company and commercialize the product. The opportunity presented itself to me. I participated in a Pan India startup competition "The Power of Ideas at ciie, IIM-Ahmedabad".
The idea of an Intake Air Filter to increase the vehicular fuel efficiency and diminish pollution with my proprietary invention was shortlisted. Among 19,000 applications I made it to TOP 75 in 2015. Post 15 days residential program at IIM Ahmedabad I was mentored from many IIM professors and diverse industry experts. The program focused on how to start a startup and scale it to a technology and innovation driven company. The idea had won its first award of INR 5 Lakh which established Small Spark Concepts®. The dream of owning a company on paper had come true. Perhaps the question to be answered was about a sustainable business model for the upcoming years.
Spanner in the works – challenges faced and (how you overcame them)
The biggest challenge for auto-tech startup is to get heard by the automotive companies and the government. Auto-tech startups are young and not well recognized in the industry. A lot of startups fail in first couple of years despite having the state of the art technology. Ideally we wanted to have a strong B2B presence to cater to end users. This failed due to the paradigm of the industry. Thus we realized the technology lease and licensing model is going to take longer than expected. This led us to change the business model to focus on B2C aftermarket retail. Here we can now address the pain points of the motorcyclists on some scale.
Beast Mode – A memorable feat/ achievement /anecdote of your venture
The idea won various awards after POI'15. 2018 will always be a memorable year for the venture. "Royal Academy of Engineering London" invited Small Spark Concepts to participate. We showcased the technology under the "Leaders in innovation Fellowship Program. In the third quarter of the year Schörl Filters bagged a "Better Bus Challenge" award from WRI & FedEx. This assisted Small Spark Concepts to commercialize the product for Heavy Commercial Vehicles.
Small Spark Concepts has won more than 12 awards in 3 years and also got covered in the local newspapers (Daily Hindustan Times – Startup Saturday & Daily Lokmat) and a Radio Interview (Radio One – "HatkarPunekar").
My way to the highway Future plans (what your audience can look forward to)
We have commercialized the product for Royal Enfield 350 & 500 models.
In heavy commercial vehicles segment for Ashok Leyland and Eicher.
We will be launching products for RE 650 twins by February '20
This will expand to tourist cars and taxi segment post March'20.
Products for performance motorcycles in the segment 400cc and above is made by procuring the scrap filters from the dealerships/garages. The idea is to recycle and reuse the plastic frames. Once the custom SCHÖRL filters are made, they will last for 100,000 kms. This means 10 plastic filters  less per bike in the landfills. SCHÖRL is an eco-friendly product and reduces air pollution.  With this approach we will be able to contribute on small level towards go-green.
The Motopreneur – Mayur Patil's advice to Budding Motopreneurs
There are many opportunities to scale up. If one path takes longer to reach the destination, you can always look out for a different approach. There is no destination in business. There are only milestones and the way. Sometimes you go uphill, sometimes you cruise or even crash. However, you never stop riding your favorite motorcycle, do you? That's just the way the business is. Have fun at work, enjoy the journey!
Connect with The Motopreneur – Mayur Patil at:
Address: Small Spark Concepts
Motobyte,Sr. no. 38, Kingstone Court,
Opposite Ganga Florentina, NIBM Annex, 411028
Website – http://www.smallsparkconcepts.com/
Phone – +91 90117 77275
Social Media links
Facebook – https://business.facebook.com/smallsparkconcepts
Instagram – https://www.instagram.com/schorl_bysmallspark/
Linkedin – https://www.linkedin.com/company/small-spark-concepts
Schörl Automotive Air Filters is a brainchild of Small Spark Concepts