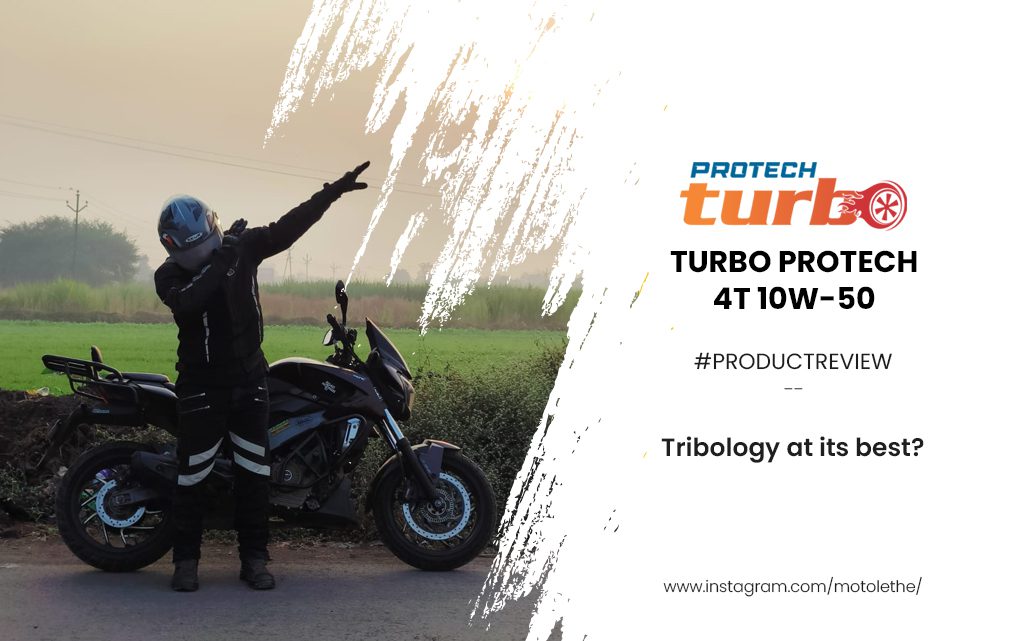 TURBO PROTECH 4T 10W 50 Review – Tribology at its best?
December 29, 2022
TURBO PROTECH 4T 10W 50 FULLY SYNTHETIC ENGINE OIL – The Who?
TURBO PROTECH 4T 10W-50 FULLY SYNTHETIC ENGINE OIL is a fairly new brand of lubricant. Certainly, without a doubt you'd ask yourself, "In this world of Goliath's who is this – a David or a David wannabe?". It is a known fact that the engine oil is the life blood of a machine. Failing here means a very bad death. Already there are so many brands in the market, then why another one?
Indeed, we asked the same question?
We got the obvious answer – In the premium segment, there is always room for more. The lubricant in question, has been tested by a bunch of individuals alpha testing a product and clocking kilometers. They motorcyclists who love their machines just as much as anyone could love their motorcycles the most. Afterall, love is infinite and immeasurable. Right?
TURBO PROTECH 4T 10W 50 – Installation
Installing a fresh batch of oil in a lockdown parked, sparingly used motorcycle needs utmost care to ensure that the motorcycle is ready to receive the new life blood. For this review, the Bajaj Dominar 400 is our benchmark motorcycle. The reason being that TURBO PROTECH 4T 10W 50 is a motorcycle lubricant that is widely used in a range of motorcycles including:
Bajaj Dominar 400
Bajaj Dominar 250
KTM Duke 390
KTM RC 390
DSK HYOSUNG AQUILA, HYOSUNG GT 650, HYOSUNG GT 250R
MAHINDRA MOJO
TRIUMPH TIGER, BONEVILLE, STREET
And a host of other sport motorcycles that use 10w 50 full synthetic oil
TURBO PROTECH 4T 10W-50 FULLY SYNTHETIC ENGINE OIL – 1st Impressions
Quite frankly, humans fear or resent the unknown until they befriend the unknown. Getting acquainted with a new brand is the same. Here we waited a good 6 months and over 1500 kms before giving a first impression on the lubricant. Keeping in mind that we are using the DT400 2022 production variant Schorl Air filter, here are our first observations:
Improved throttle response on every stage of gear shifting
Reduced vibrations from the engine
Smoother power delivery, even with regular grade of fuel
Also, when in heavy traffic the motorcycle is less prone to overheating
Usually when a vehicle is at standstill for over 6 months an engine oil change is recommended. In this case the motorcycle on its first ride after 6 months of sitting in the parking lot this wasn't necessary. The motorcycle was as much responsive when we installed the engine oil the first day.
TURBO PROTECH 4T 10W-50 – "Another point of view":
Looking for another point of view, review? Being part of the ecosystem where a bunch of friends share a common bond – their motorcycles, who would make better critics. Indeed, the product has been widely tested to its wits. The next step, obviously seek out your "best critics".
So, as part of the Beta Testing & review, along with us, we have fellow motorcyclists & Vloggers who are currently running their Bajaj Dominar 400 motorcycles charged with Tubo Protech.
Here's is the installation & first impression video by DNA VLOGS
Location Courtesy: SK Auto Care, Pune
TURBO PROTECH 4T 10W-50 FULLY SYNTHETIC ENGINE OIL – As per the manufacturer
Advanced high-performance synthetic ester-based, Motor Engine Oil for premium Sports Bikes
Premium quality Engine oil, Unbeatable quality, and unique advantages for your vehicle.
Turbo Protech 4T 10W-50 – Xtreme Performance

Exceeds API SN+ and JASO MA-2 standards.

Higher viscosity index (VI): Provides exceptional lubrication on bearings, cams & all moving parts.

Prevents corrosion, oxidation & engine wear in varying temperatures.

Delivers optimum power consistently, protects & prolongs engine life.

Compared to competition: – 30% more additives in formulation – which results in at least 10% better performance – and prolonged oil change interval

Butter smooth gear shifts, with anti-slip clutch technology
Best suited for motorbikes over 200+ cc capacity.

Product by discerning group of riders & tribology specialists for every other rider.

Synthetic hi-performance engine oil that offers superlative engine reliability & performance under extreme riding conditions.
Also, for our readers – Use
#MOTOLETHE10
to get a special 10% discount when you buy

online*
About Turbo Protech
TURBO PROTECH is manufacturer of premium quality lubricants, coolants and motor oils.
The finest raw materials, ongoing quality inspections and compliance with the very highest specifications guarantee unbeatable quality and unique advantages for to vehicles. In Turbo Protech, you buy more than just a product. You get maximum benefits, accompanied by personal advice, comprehensive service and an unparalleled focus on the customer.
Email sales@perennialturbo.com
https://turboprotech.com/
https://www.facebook.com/TurboProtech
https://www.instagram.com/turboprotech/
*PLEASE NOTE: OFFER ONLY AVAILABLE AT –
https://turboprotech.com/shop/